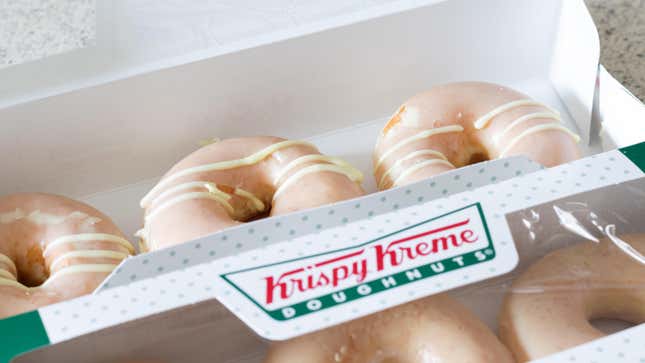 It's been a very long time since I've seen a standalone Krispy Kreme location in my area, yet I see its doughnuts every time I step inside a grocery store. These doughnuts are seemingly everywhere, even though the brick-and-mortars aren't, and even sans the iconic neon "HOT NOW" sign to guide us, the brand has never been more ubiquitous. Restaurant Business Online reports that, thanks to some clever behind-the-scenes strategies, 2022 was Krispy Kreme's best selling year yet.
It's all about Krispy Kreme's daily fresh deliveries
Given that a large portion of Krispy Kreme doughnuts are sold by the box at grocery stores, you might wonder how the product stays fresh and appetizing to customers all day instead of growing stale. Krispy Kreme relies on a "hub-and-spoke" system, where hub locations (the shops themselves) make the doughnuts and then deliver them fresh to locations such as grocery stores, pharmacies, and convenience stores. The company calls this process "Delivered Fresh Daily," or DFD.
This model has some obvious benefits. For one thing, if you plant your product in various locations that already get a lot of foot traffic, like the grocery store, you're catering to a massive customer base without having to expend any effort drawing them into your brick-and-mortar locations. Doughnuts are broadly appealing to virtually all demographics, and they're a treat people reach for pretty much any time of day (at least I do).
And Krispy Kreme is making inroads with other strategic locations, too. It's continuing to work with McDonald's in Louisville, Kentucky, selling doughnuts to customers in test locations. There's a potentially huge partnership there, because even though McDonald's has debuted itsown Glazed Pull-Apart Donut in the past, its quality doesn't approach that of a Krispy Kreme.
Krispy Kreme CEO Mike Tattersfeld said on an earnings call that there were challenges in working with a company like McDonald's, however. Unlike posting up in a grocery store, partnering with the nation's leading fast food chain means figuring out "how our brand also works with another brand." It's something for Krispy Kreme to puzzle over as the market testing continues.
Just how many doughnuts did Krispy Kreme sell in 2022?
Krispy Kreme sold a whopping 1.63 billion doughnuts globally in 2022. My mind cannot comprehend that many of anything, let alone doughnuts. That grew the company's revenue by 9%, to a total of $404.6 million. As Tattersfield said on the call, "That's a lot of doughnuts."
That sets the stage for a pretty good 2023. But just because the company's doing well doesn't mean we should expect to be courted with lavish giveaways and discounts. Instead, Krispy Kreme is taking virtually the opposite approach, drawing in customers with limited-time premium items, like this Biscoff Doughnut trio released earlier this year. Seasonal doughnuts are also expected to drive revenue this year, like the Valentine's Day Hershey heart-shaped lineup.
Some Krispy Kreme locations will close this year
With good news comes bad: While there aren't plans to shutter many locations, there are a few Krispy Kreme hubs that are losing money, which means they'll be closed in order to focus on the ones that are succeeding. Right now the company believes seven locations will be shut down during the first half of 2023.
With competitors like Dunkin' switching gears—the chain is now more known for its coffee, and it's even dropped "Donuts" from its name—it looks like Krispy Kreme might be poised for a bunch of sweet returns to come.