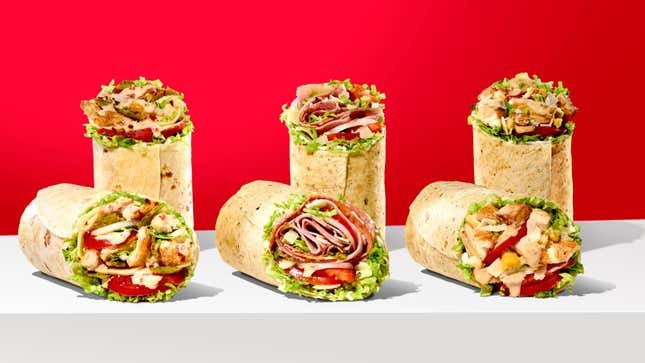 After two limited-time-only runs, Jimmy John's has decided to keep wraps on its permanent menu. Though it took some tinkering, the sandwich chain has landed on two proven flavors and one brand-new wrap to round out the lineup—but does this signal a possible new wave of wraps in the fast food world?
How To Dispose Of Cooking Grease The Easy Way After Frying
The classic Chicken Caesar Wrap, The spicy Jalapeño Ranch Chicken Wrap, and a new Tuscan Italian Wrap will now be fixtures on the Jimmy John's menu. The classic Chicken Caesar contains chicken, parmesan cheese, creamy Caesar dressing, and mini croutons in a garlic & herb wrap. The spicy Jalapeño Ranch Chicken Wrap debuted this summer, featuring chicken, provolone cheese, jalapeño ranch, crispy jalapeños, and red pepper flakes in a flour wrap. The brand-new Tuscan Italian Wrap is filled with salami, capocollo, ham, parmesan, oil, and vinegar on an oregano-basil and garlic wrap (inspired by the #9 Italian Night Club sandwich already on the menu).
This lineup is the culmination of a fair amount of experimentation on Jimmy John's part. Back in 2021, the classic Chicken Caesar Wrap debuted alongside the Beefy Ranch Wrap. Filled with roast beef, cheddar, onion, lettuce, tomato, mayo, cucumber, ranch dressing, and mini croutons, the Beefy Ranch Wrap had a lunchmeat quality to it that just didn't hit the right note. (Who wants to pay for something you can so easily make with tortillas and cold cuts at home?)
Then in 2022, Jimmy John's released the Thai Chicken Wrap, and to our surprise, it was pretty good. The wrap featured chicken breast, cucumbers, "crispy carrot noodles," mayo, and a Thai satay-style sauce. Although it did not wind up as a permanent menu item, the Thai wrap was an encouraging signal that Jimmy John's was exploring some new flavors.
"This is a big deal for our brand, as our menu hasn't changed much in nearly 40 years," said Dustin Hilinski, Director of Culinary Innovation at Jimmy John's in the latest announcement. "But our goal right now is to expand our flavor offerings and introduce new menu items."
Are wraps making a fast food comeback?
Pricing for the wraps will vary by location, but Jimmy John's confirmed to Restaurant Dive that its decision to add wraps to the permanent menu was based on sales data indicating the item will perform well nationwide. Jimmy John's is also not the only chain to explore wraps recently.
Despite years of fans begging McDonald's to bring back its Snack Wraps, the chain has yet to revisit this beloved menu item, confirming to The Takeout in late 2022 that there are currently no plans to resurrect it. With this gap in the market, it seems other chains are ready to usher in a new era of wraps.
Burger King released its own wraps at the end of August, and the trio of offerings were so similar to McDonald's past glory it was hard to ignore. When it comes to size and ingredients, the only real difference is that the Burger King wraps do not contain shredded cheese, do include tomato, and only come with fried chicken as the protein (no option for grilled).
Wendy's, another chain better known for its burgers, also tried to make wraps happen earlier this year for a limited time. Although the promotion involved only one type of wrap, the brand was bold in calling out McDonald's beloved Snack Wraps. In promoting its Grilled Chicken Ranch Wrap, Wendy's press release read in part, "Some say it's the only chicken wrap worth obsessing over."
Even KFC, one of the better entrants into the Chicken Sandwich Wars, also tried its hand at wraps in late 2022 in limited test markets. The KFC Classic Chicken Wrap, Mac & Cheese Chicken Wrap, and Spicy Slaw Chicken Wrap all had their time on KFC's regional menu, but unfortunately we found them lacking in execution. Overall, the wraps felt like a non-committal way to cash in on a latent trend, rather than a confident, headfirst dive into the Wrap Wars.
Jimmy John's seems to have full confidence in the newest additions to its menu. If the sandwich chain's calculations are correct, we might be seeing wraps ascend to their former early-'00s glory and become the go-to sandwich alternative once more.