A recent string of TikTok videos made viral by the collective wishful thinking of the internet has once again led to dashed dreams. For those who want McDonald's to bring back the long-discontinued Snack Wraps, it's yet another instance of heartbreak. This isn't the first time TikTok has done Snack Wrap fans dirty, but I sure hope it's the last, because this is starting to feel like a boy-who-cried-wolf situation in the worst possible way.

TikTok says the McDonald's Snack Wrap is back
TikTok user @Polothestud posted a few videos this week that gave the impression that McDonald's was bringing the Snack Wrap back to its menu. With the caption "GUESS WHAT'S BACK," the first video shows a McDonald's wrapper being unfurled to reveal chicken, lettuce, and cheese inside a tortilla, resembling the original Snack Wrap. However, after the video had been viewed more than 12 million times, a second TikTok was posted by the same user to clarify that the Snack Wrap hadn't actually returned to the McDonald's menu.
Instead, the wrap shown is a special request fulfilled by a particular location in Long Island. The wrap contains a piece of breaded chicken and a slice of American cheese—slightly different from the original Snack Wrap, which included a chicken strip and shredded cheese.
"But it tastes just as close as the original," reads a caption in the second video. "I rather eat this then a mc chicken."
G/O Media may get a commission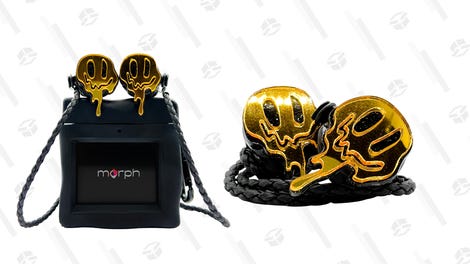 morph audio
Morph Earphones
"Go get it and be happy," the video concludes. "It's good enough for your cravings."
The Snack Wrap copycat custom order in the video above is the closest we've come to seeing an actual return of this beloved menu item. Earlier this year, another TikTok user put us all in a tizzy, claiming the Honey Mustard Snack Wrap was returning. Unfortunately, the whole thing was just a ploy to gain more TikTok followers; the videos were debunked by a McDonald's representative, who confirmed the wrap was not coming to any menus in the United States or Canada.
Before these most recent incidents, there was another letdown. In August 2021, a TikTok user claiming to be a McDonald's employee commented on a video about the tragic demise of Snack Wraps.
"As a McDonald's worker: they are supposed to be coming back soon," read the comment. "We are waiting to hear back from corporate to get us off the limited menu." However, McDonald's confirmed to The Takeout that there were Snack Wraps in the works. How many times will this cycle continue?
What McDonald's says about the Snack Wrap
Bottom line: It's not coming back, folks. Period. The company confirmed once more to The Takeout that it has no plans to bring Snack Wraps back to nationwide menus in the United States at this time. The Snack Wrap was nationally discontinued several years ago, and McDonald's USA also confirms Snack Wraps were phased out as a local offering in June 2020.
Unfortunately, aside from the internet's constant demands for it, there isn't much reason for the Snack Wrap to make a comeback. The reasons for its demise still stand: Snack Wraps were a precursor to the McDonald's McWrap, which the chain eliminated due to its long turnaround time and the fact that it complicated a menu the company was looking to simplify. Even in the Snack Wrap's slightly smaller format, those issues hold true. So until the demand outweighs the logistical and economic challenges, it's hard to see from a business perspective why McDonald's would explore bringing this menu item back at all.
No matter how much the internet pleads, and no matter how many TikTok users spark rumors of a comeback, it doesn't look like McDonald's will be succumbing to the pressure anytime soon. And each time a video is posted that tries to convince us our fast food prayers have been answered, we're snapped back by the reality that this is all just business. So please, TikTok, I beg you to let us all move on from the Snack Wrap. I don't think my heart can take much more of this teasing.