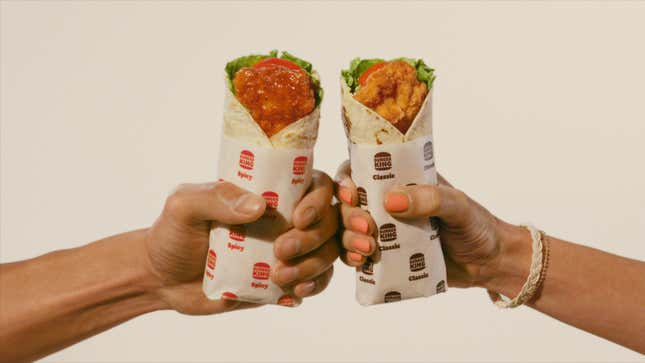 There are a select few discontinued McDonald's menu items that fans clamor for the most—one is the fried apple pie, and the other is the precious Snack Wrap. You know, those flour tortillas filled with a strip of chicken, shredded cheese, lettuce, and your choice of sauce. Every year a new rumor spreads that McDonald's USA is bringing back the Snack Wrap, but despite what TikTok says, it never comes to fruition.
How To Dispose Of Cooking Grease The Easy Way After Frying
Other fast food brands, including Wendy's and KFC, have previously tried to cash in on that unfulfilled Snack Wrap nostalgia. And now, yet another competitor is stepping up in the hopes of translating McDonald's nostalgia into a fun new menu item: Burger King is bringing BK Royal Crispy Wraps onto the scene.
Burger King's new wraps, explained
The new BK Royal Crispy Wraps will debut nationwide on August 14 at participating restaurants for a limited time. You can expect to see three varieties: Spicy, Honey Mustard, and Classic (featuring Burger King's Royal sauce).
Each wrap features a crispy strip of chicken, along with lettuce, tomato, and your choice of the three sauces. They'll cost $2.99 each (comparable to the price of a McDonald's Snack Wrap in the early 2000s, adjusting for inflation) and are, according to a press release, designed to be a "perfectly sized [and] delicious snack or addition to any Burger King meal."
BK Royal Crispy Wraps vs. McDonald's Snack Wraps
The new Burger King wrap isn't a carbon copy of the McDonald's Snack Wrap. For one thing, McDonald's offering didn't contain tomato slices, and it also contained unmelted shredded cheese, unlike Burger King's upcoming version, which seems to eschew cheese entirely. The BK Royal Crispy Wrap is definitely an on-the-go handheld, though, meant to suit lighter cravings and a lower price point just as the Snack Wrap once did.
It's a lot more similar to the McDonald's Snack Wrap than Wendy's Grilled Chicken Ranch Wrap, which replaced the Grilled Chicken Sandwich and is large enough to function as an entrée. For now, Burger King's Royal Crispy Wraps will have to fill the interminable void that McDonald's Snack Wraps have left behind. Those are some pretty big shoes to fill, but if BK pulls it off, it might have a new hit for the permanent menu.