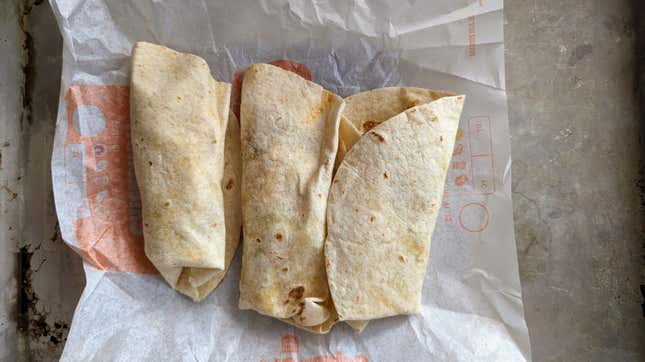 Burger King recently released a trio of wraps that will look awfully familiar to any fans of the dearly departed McDonald's Snack Wrap. That's because the new BK Royal Crispy Wraps are the spitting image of said Snack Wrap: crispy chicken, lettuce, tomatoes, and sauce all snugly wrapped in a flour tortilla. With such a simple execution and broad appeal, it's no wonder that BK has designed a copycat.
How To Dispose Of Cooking Grease The Easy Way After Frying
If we're going to nitpick, McDonald's Snack Wraps differed slightly in that they included shredded cheese and no tomato, and customers had the option between fried or grilled chicken. At BK, only the fried version is available, and there's no cheese on offer.
At $2.99 each, the BK Royal Crispy Wrap is also priced like a snack. Does it satisfy like the McDonald's Snack Wrap once did?
How big are BK's Royal Crispy Wraps?
Though the build on the new BK Royal Crispy Wrap differs ever so slightly from the McDonald's Snack Wrap, they're functionally the same. The new BK menu item is a one-hander, but for something more substantial, you can also order a combo meal that includes two wraps with a side and a drink.
As someone who used to eat the McDonald's Snack Wrap on occasion, I can confirm that the BK Royal Crispy Wraps are about the same size as their predecessors. A single wrap is the perfect size to fill a long gap between meals.
Burger King's new BK Royal Crispy Wraps, ranked
I'm happy to report that all three BK Royal Crispy Wraps are solid—which is really all you can ask for when it comes to fast food promotions. The crispy chicken strip is a fair size for what you pay, and each bite is crunchy, which does a lot to elevate the relatively unremarkable flour tortilla. Though the lettuce and tomato are admittedly not great, it's better to have them there than not, since they add a touch of freshness (albeit a rather bland and watery one). It's funny how far a little bit of veg can go to make you feel better about what you're eating from a fast food joint.
These BK Royal Crispy Wraps are all the same build aside from their sauces, but each sauce creates a markedly different experience. Here's how each one ranks.
3. Honey Mustard BK Royal Crispy Wrap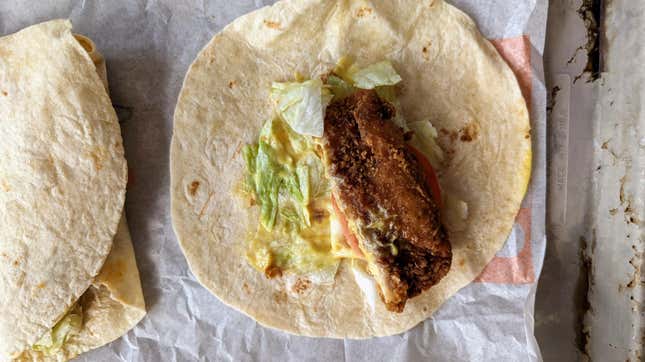 Maybe I'm not a big honey mustard person, but this wrap just doesn't really do it for me. The honey mustard is sweet and creamy, and my taste buds were left wanting less of a yellow mustard flavor and more of a whole grain or dijon one. The real dream would be to add McDonald's Hot Mustard to the BK wrap, but depending on where you live it's hard enough to find McDonald's Hot Mustard as it is, much less within proximity of a Burger King. Plus, mixing McDonald's and Burger King together may, in fact, be illegal. Don't ask me why I believe this to be true. I just do.
2. Classic BK Royal Crispy Wrap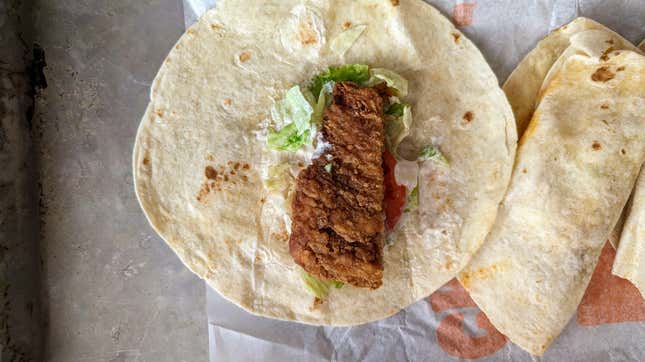 The Classic BK Royal Crispy Wrap features Burger King's so-called Royal Sauce, which also tops the brand's chicken sandwiches. In this application, it mostly tastes like tangy mayo; it's sort of hard to detect amidst the salty chicken and the disproportionate tortilla, but those mayo qualities hit all the notes of a traditional chicken wrap pretty well, keeping the wrap just interesting enough and preventing it from tasting too dry. If you're not a bells-and-whistles type of person and like to stick to tried-and-true formulas, then the Classic is the way to go.
1. Spicy BK Royal Crispy Wrap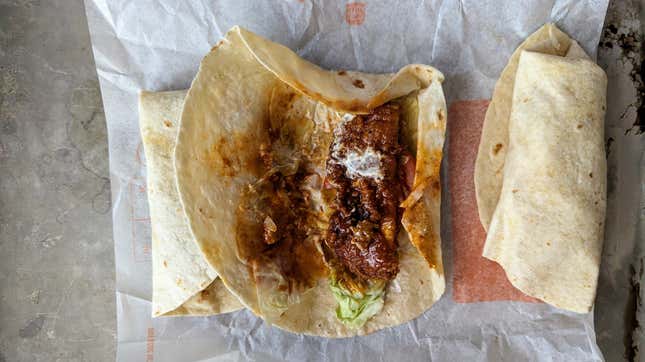 The winner is easily the Spicy BK Royal Crispy Wrap. Be warned, though, that the word "spicy" is a misnomer here. It's not spicy at all, even though based on its coloring it looks as though it's got a bit of a Nashville hot vibe. The "spice" in this wrap is more of a wet, peppery seasoning that carries some real flavor. This wrap comes with both a spicy glaze and Royal Sauce, and that combination is key to its success.
With twice the sauce, the inside of the wrap is kept moist, rescuing the somewhat dry chicken strip. The Royal Sauce gives it a shot of extra fat, and who doesn't love extra fat? Sure, it's a little messy, but you really do need a little extra sauce to give an otherwise simple wrap some personality. All the wraps hit the spot in some form or another, but the Spicy one manages to be the most memorable.
BK Royal Crispy Wraps vs. McDonald's Snack Wraps: Which is better?
I always thought the McDonald's Snack Wraps were mostly just okay, nothing worth getting excited about. The concept of a convenient snack at a low price point was the real draw, as was the option of grilled chicken, which you could select whenever you didn't want to be weighed down by too much salt and breading. But overall, the McDonald's Snack Wrap was never all that special—it's one of those things that might have been distorted by our sense of nostalgia for a discontinued menu item.
The BK version, meanwhile, has both lettuce and tomato, which makes the whole experience a little fresher (even though the quality of the veggies sort of sucks), and there's no lackluster shredded cheese dragging it down, a lesson McDonald's never learned. Cold shredded cheese doesn't taste like anything anyway.
So, although my conclusion might seem controversial, I'm going to go out on a limb and say I like the Burger King wraps better than the former McDonald's ones. Mostly because my favorite of the three, the Spicy BK Royal Crispy Wrap, is utterly shameless. "Fuck it, let's add all the sauce we can," it seems to shout.
If McDonald's did ever decide to bring back its much requested Snack Wrap, I sincerely believe there would be a bunch of disappointed folks who remembered it tasting a lot better. Plus, since there are no grilled chicken options at McDonald's anymore to speak of, so the wraps' unique selling point—for me, at least—would be moot.
There's certainly money to be made in fast food wraps. Wendy's replaced its grilled chicken sandwich with a wrap (which isn't very good, but points for creative thinking), Arby's quietly added chicken club wraps to its menu a few years back, and it makes sense that BK has jumped into the mix. The BK Royal Crispy Wrap was never going to be revolutionary, but that's okay. It's just a snack, remember?