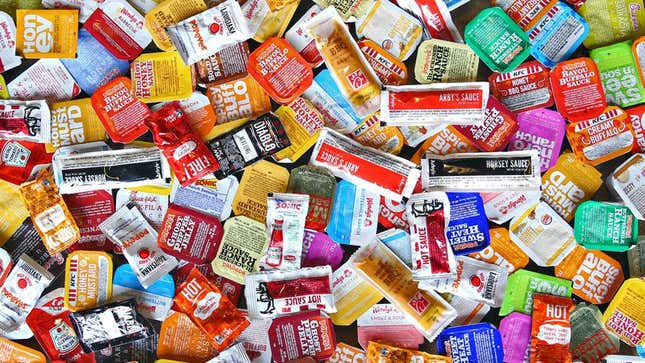 Let's spend a few minutes on the crucial topic of sauce. My biggest question is: Do we treat sauce as a vehicle, an embellishment, or the end goal? Is sauce optional or essential? As with all things food, these are subjective and personal questions dependent on circumstance. For example: If you're eating chips and queso, most would agree the chip's role is to deliver the cheese sauce. With a ribeye, Béarnaise sauce accentuates the steak's beefiness.
With fast food, there's the argument that burgers, nuggets, or tacos are, on their own, one-note and sodium-laden, and sauces are necessary to make the food taste halfway interesting. Which makes sauce an all-important consideration when dealing with chain restaurants. A Big Mac tastes like a Big Mac because of its special sauce. An Arby's roast beef sandwich requires the interplay of Horsey and its namesake sauce—otherwise it's just moist meat on damp bun.
For the betterment of our sauce comprehension, The Takeout procured dipping sauces from the major fast food chains, separated by category, and taste-tested each one on a recent afternoon. Let us never speak of that afternoon again, but nevertheless, find our eight favorites at the bottom of this piece, as well as the inaugural entrant into The Takeout Hall Of Suck (sauce division).
---
Ranch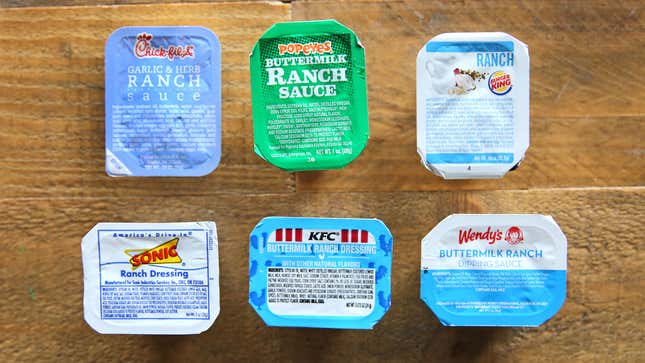 Wendy's Buttermilk Ranch Dipping Sauce: More umami and savory than other ranch dressings. A good balance of subtle sweetness.
Burger King's Ranch: Nothing particularly stands out. Eggy, on the tangier end of spectrum.
Chick-Fil-A's Garlic & Herb Ranch Sauce: A sharp tang on back end, with a linger of garlic and eggs.
Sonic Drive-In's Ranch: Standard, a little sweet, meh.
KFC's Buttermilk Ranch Dressing: A strong buttermilk tang with a prominent chive flavor.
Popeyes' Buttermilk Ranch Sauce: More creamy than tangy, and the most herbaceous and garlicky of the bunch.
Best in show: KFC
---
Specialty ranch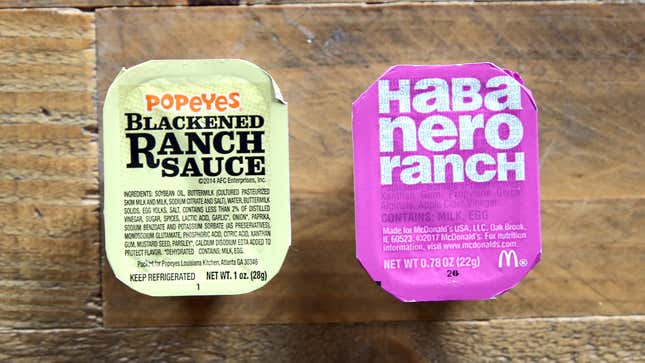 McDonald's Habanero Ranch: Legitimate spiciness that overpowers any semblance of ranch. Gritty texture, tastes of Creole seasoning.
Popeyes' Blackened Ranch Sauce: Excellent balance of flavors. You get the creaminess of ranch, but also a deep undertow of spicing, especially paprika.
Best in show: Popeyes
---
Mustard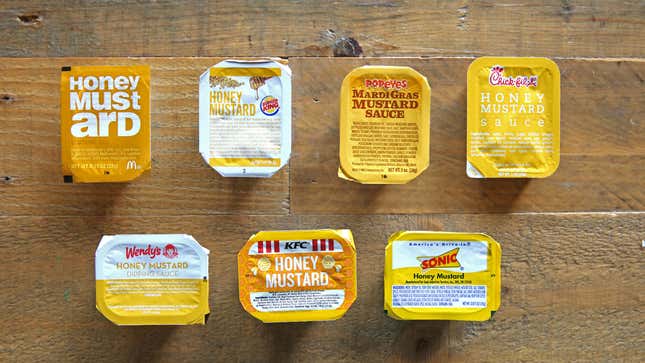 McDonald's Honey Mustard: Scales tipped toward the sweetness, as if it was two-thirds honey, one-third mustard.

Wendy's Honey Mustard Dipping Sauce: A thicker consistency than others. The honey and mustard are in the deep background—you mostly taste a creamy richness.

Burger King's Honey Mustard: The deep yellow of French's mustard. Sweet, though not particularly honey-like.

Chick-Fil-A's Honey Mustard Sauce: This has a nice spicy character countering a mellow sweetness, with the earthy mustard flavors coming through.

Sonic Drive-In's Honey Mustard: Completely smooth consistency resembling Dijon. Vinegar and mustard-forward; the inverse of McDonald's honey mustard.

KFC's Honey Mustard: Smooth, almost mayo-like in creaminess. Strikes the ideal honey and mustard equilibrium.

Popeyes' Mardi Gras Mustard Sauce: Dotted with ground mustard seeds. Not so much seed, more like a savory mustard sauce used in a baked chicken dish.

Best in show: KFC
---
Buffalo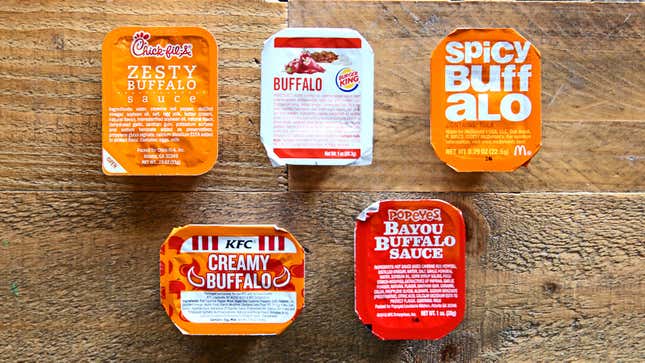 McDonald's Spicy Buffalo: Standard Buffalo sauce, perhaps more creamy character than a sports bar's butter-hot sauce combination.
Burger King's Buffalo: Wimpy by comparison to other Buffalo sauces, with only a trickle of heat.

KFC's Creamy Buffalo: Very buttery, very creamy. The zing of spices sneaks up on you. Loved this.

Chick-Fil-A's Zesty Buffalo: Excellent. Not as spicy as KFC's, thinner, with a sharper vinegar bite. Proves the chicken specialists know how to do Buffalo sauces.

Popeyes' Bayou Buffalo Sauce: Surprisingly, weaker and less assertive than its deep orange indicates. Less buttery tang, more of an underlying bell pepper flavor.

Best in show: KFC
---
Sweet and sour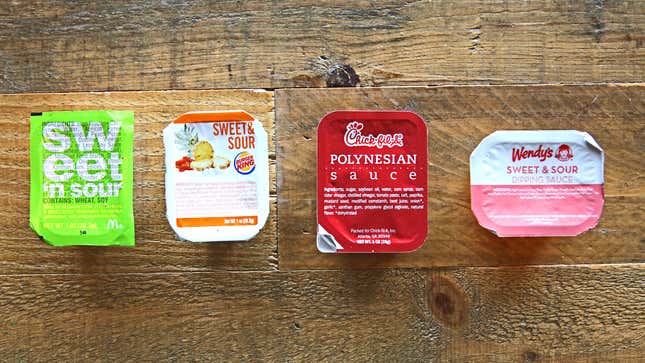 McDonald's Sweet 'N Sour: Tastes like peaches in applesauce form.
Wendy's Sweet & Sour Dipping Sauce: Flavors of pineapples and peppers. Reminds me of Chinese takeout.

Burger King's Sweet & Sour: Pineapple heavy. Straddles the sweet and sour line down the middle.

Chick-Fil-A's Polynesian Sauce: Somehow evokes tropical climate, but doesn't fit the standard mold of sweet-and-sour. Not fruity, more syrupy and vegetal.

Best in show: Wendy's
---
Barbecue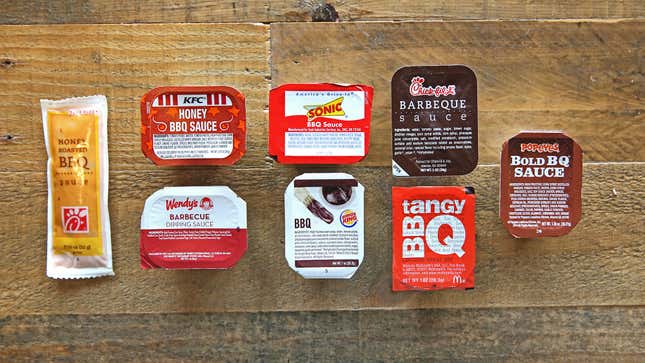 McDonald's Tangy BBQ: Like K.C. Masterpiece but meatier a touch more vinegar.

Wendy's Barbecue Dipping Sauce: Quite smokey, with a Worcestershire sauce-like savoriness.

Burger King's BBQ: Mostly tasting ketchup.

Chick-Fil-A's Barbecue Sauce: Fruitiest of all the barbecue sauces, heavy on the pineapple.

Chick-Fil-A's Honey Roasted BBQ: Perplexed as to why they'd call this barbecue sauce. Tastes like Chick-Fil-A sauce but more eggy mayonnaise quality and a touch more honey.

Sonic Drive-In's BBQ: A one-note sauce, with not a lot of character besides soup seasoning mix.

KFC's Honey BBQ Sauce: Feels like I was oversold on the honey, because I can barely taste any. Instead I'm getting seasoning salt.

Popeyes' BoldBQ Sauce: Lots of soy sauce and sharp tang. Woodsy, almost beef jerkyish.

Best in show: McDonald's
---
Hot sauce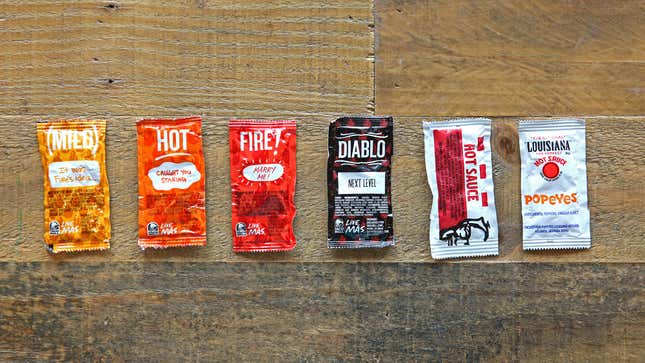 Taco Bell's Mild Border Sauce: Tomato sauce with the barest hint of earthy peppers.

Taco Bell's Hot Border Sauce: Instantly conjures up a Taco Bell taco. Not that much spicier than mild version.
Taco Bell Fire Border Sauce: Chunky, like standard-fare supermarket salsa.
Taco Bell Diablo Hot Sauce: Appealing lime-citrus hit, smooth tomato undertow, spiciness that lingers and lingers.
KFC's Hot Sauce: A smooth, viscous mouthfeel, with good vinegar picker.
Popeyes' Louisiana Hot Sauce: Thinner than KFC's, with more fruit and peppery zing.
Best in show: Taco Bell's Diablo
---
Miscellaneous savory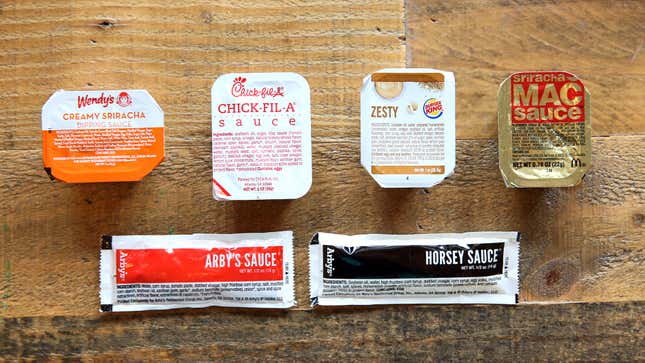 McDonald's Sriracha Mac Sauce: Recognizably Big Mac sauce—a thinner Thousand Island, basically—but with a deeper, more complex heat. Dug the pickle bits.
Wendy's Creamy Sriracha Sauce: Literally just mayonnaise plus Sriracha.

Burger King's Zesty Sauce: What fresh hell is this? The taste of bitter, acrid mayo.

Chick-Fil-A Sauce: What happens when you combine mayo and BBQ sauce together in just the right balance. A versatile, all-purpose dip.

Arby's Sauce: Tastes like three parts ketchup, two parts vinegar, one part barbecue sauce, with spice lingering in the back end.

Arby's Horsey Sauce: A sharp, pungent flavor of horseradish permeates this silky smooth mayonnaise-based sauce.

Best in show: Chick-fil-A Sauce
---
Specialty spicy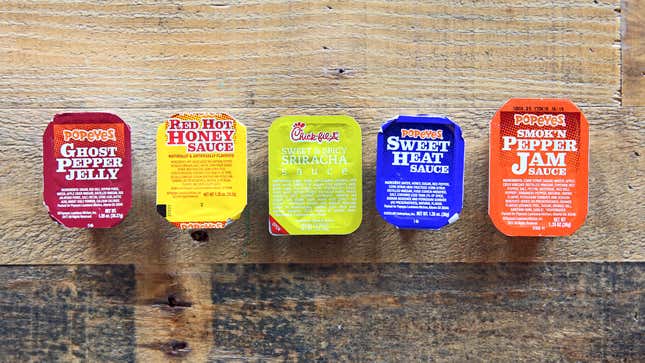 Popeyes' Ghost Pepper Jelly: Despite advertising itself as ghost pepper, it's not spicy. Jam-like thickness, would be great on biscuits.

Popeyes' Red Hot Honey Sauce: Chili-infused honey with an appealing, subtle heat.
Chick-Fil-A's Sweet & Spicy Sriracha: Tastes just like mae ploy, the Southeast Asian chili sauce. Savory and sweet, with sustained heat and bursting with umami.
Popeyes' Sweet Heat Sauce: Suffused with a habanero-like fruitiness, but nothing too spicy.
Popeyes' Smok'n Pepper Jam Sauce: Notes of orange peel and pepper, with a slow build of heat. Tastes like something jarred and sold at farmer's market for $10 a bottle.
Best in show: Popeyes' Smok'n Pepper Jam Sauce
---
Our verdict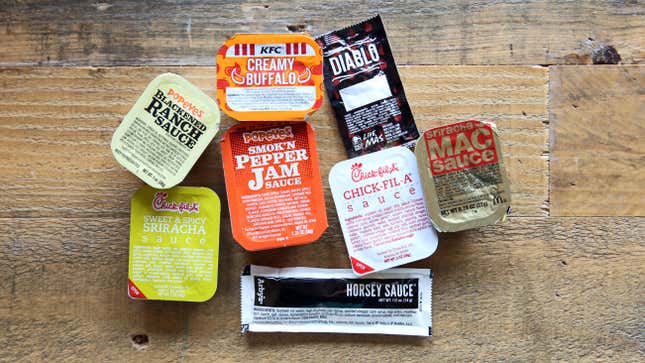 The Takeout's Hall Of Suck (sauce division)
Burger King's Zesty Sauce. There's a chemically taste of burnt garlic that makes it all but impossible to consume. It tasted so awful we thought it was a spoiled batch. But that acrid taste was consistent with a second and third packet.
Awesome sauces
8. McDonald's Sriracha Mac Sauce
7. KFC's Creamy Buffalo
6. Chick-Fil-A's Sweet & Spicy Sriracha
5. Arby's Horsey Sauce
4. Taco Bell's Diablo Hot Sauce
3. Popeyes' Blackened Ranch
2. Popeyes' Smok'n Pepper Jam Sauce
1. Chick-Fil-A Sauce
Late addition
After this taste test was conducted, we were able to sample the Cajun-inflected Cane's Sauce at chicken finger-purveyors Raising Cane's. We really liked it. If we had to slot it in the list above, it would be between no. 4 and 5.