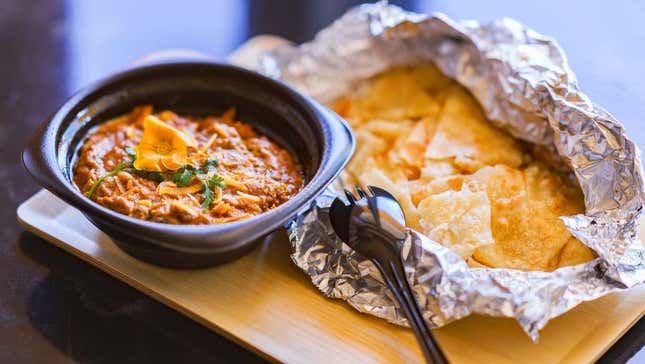 Ordering food from the comfort of the couch is a luxury fewer Americans are indulging in as they once did. Recent data shows delivery sales dropping at many restaurants—and while some chains are doing what they can to bring those numbers back up, other businesses are simply responding in kind, pivoting to focus on the dine-in experience.
How To Dispose Of Cooking Grease The Easy Way After Frying
Industry experts tell Bloomberg that, from a customer perspective, delivery is just too expensive, once you factor in the delivery fees, service fees, and tips, plus the generally higher price of food right now due to inflation. Chipotle, Cava, and Sweetgreen have all reported significant declines in delivery sales; reports indicate Chipotle's delivery decreased 15.8% last quarter compared to Q2 last year. CNBC reports that Sweetgreen's Q2 sales did not meet expectations, partially due to a consumer shift away from delivery orders, and similarly, Cava's CFO Tricia Tolivar noted a slight shift from delivery to pickup with customer orders.
"Many consumers have begun to watch their spending more closely," said Victor Fernandez, research provider Black Box's vice president of insights, in an email to Bloomberg. "The total cost difference for the consumer is usually substantial, and we believe this has been a driving factor behind restaurant guests moving away from delivery in many cases."
Food delivery is falling everywhere
On its most recent earnings call, Red Robin reported delivery check sizes were down 12%. Contributing to that decline was also the chain's decision to end its partnership with MrBeast Burger because the business had become too complex. (Although, considering the current legal drama surrounding the virtual brand, Red Robin may have dodged a bullet in the long run).
"Like many in the industry, we experienced year-over-year sales declines in the off-premise portion of our business," said Red Robin Chief Financial Officer Todd Wilson on the call, "and the third-party delivery segment in particular." Regardless, Red Robin does not seem too concerned about the decline, as it has shifted its focus heavily to improving the dine-in experience.
By contrast, faced with slumping delivery sales, Domino's has taken the opposite approach, clinging to its delivery segment as best it can. Chief financial officer Sandeep Reddy said on a recent earnings call that delivery sales declined 3.5% last quarter.
"We are executing our plan to restore delivery growth in the U.S.," said Russell Weiner, Domino's Chief Executive Officer, in the most recent earnings release.
Domino's recent efforts to revive delivery have included the launch of its Pinpoint delivery system, which allows for pizzas to be delivered virtually anywhere via pin drop; the brand has also expanded its electric vehicle fleet and established a new partnership with Uber Eats.
Unlike Red Robin, Domino's, having long prided itself on its delivery capabilities, is not so eager to move away from those order types. However, considering the moves being made by its peers and the general tightening of consumers' wallets, there might eventually come a time when Domino's must bend to the winds of change. However, as America's top pizza chain, it can certainly afford to wait out what might be a short-term change in consumer behavior.