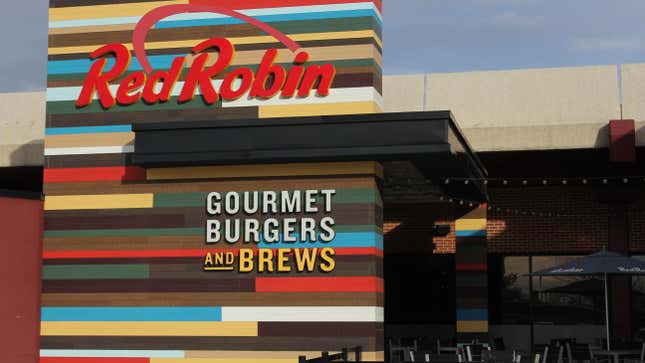 In addition to its long, musical "yummmm," Red Robin has always been associated with gourmet burger offerings. But as Nation's Restaurant News reports, the brand has lost sight of that lately and is trying to course-correct.
McDonald's Shrinks Its Restaurant for the Digital Age
At a recent conference, the burger chain's CEO, G.J. Hart, was reportedly candid about the shortcomings of Red Robin and how the company plans to overcome those issues. Hart noted that there is a major gap between the brand's highest performing locations and its lowest performers when it comes to foot traffic, guest satisfaction, and sales, citing a 38% difference in sales, 32% better traffic, and 7% higher guest satisfaction levels at the better locations.
Red Robin is making two major changes to its operations to improve performance—or rather, it's reversing two changes from the recent past. To bring the chain back to its former glory and prepare for the future, it's scrapping some earlier decisions that turned out to cause nothing but trouble.
Red Robin is bringing back bussers
"In early 2018, the company got rid of bussers," Hart told attendees of the ICR Conference. "When you take the bussers out, the servers have more work to do." As someone who has dined at Red Robin in the era of no bussers, I can attest to the fact that eliminating this position was a bad move.
Sure, removing bussers likely saved the company some money in the short term, with fewer employees staffed during each shift. But the long-term consequences of that decision were evident when I sat down in a Red Robin a few years back and saw that many of the tables around me had not been cleared, even though the customers who had dined there were long gone.
When a business is understaffed, not everything can run smoothly. But from a customer perspective, seeing multiple tables littered with leftover food and dishes does not inspire confidence in the quality of the service or the food. Bussers have been restored to Red Robin locations, as have kitchen managers, a role that had also been eliminated in an (unsuccessful) effort to streamline operations.
Red Robin wants to put the "yum" back on the menu
As a sit-down restaurant with table service, you'd think Red Robin's operations would be similar to that of other dine-in restaurants like TGI Fridays or Chili's, but that's not the case.
"We are going to invest in becoming the best at gourmet burgers," said Hart. "Our cooking platform was created in the fast-food industry. It's belt-driven. If you have gourmet burgers and a promise to have the best burgers in the casual dining space, you have to look at yourself in the mirror and ask if you're executing on that."
Many Red Robin locations display the tagline "Gourmet Burgers and Brews" under the moniker, yet the restaurant's own CEO describes Red Robin's current cooking process as closer to how fast food chains make their burgers. On top of trying to make a fast food cooking method work in a casual sit-down restaurant, over the past few years Red Robin has simultaneously attempted to broaden its food offerings through various partnerships and expansions.
In early 2021, Red Robin introduced The Wing Dept., a delivery-only digital brand (or "non-burger virtual concept") that's currently in the process of rolling out nationwide. In 2018, the brand added Donatos Pizza to the menu at a few Red Robin locations and continued the rollout into 2021. The plan was to have Donatos in all Red Robin restaurants by the end of 2023, but nationwide rollout of the pizza has been put on pause so that the company can focus on Hart's five-point comeback plan.
Taken together, it sounds like Red Robin has spent the past several years trying to be two things at once and failing at both. Making burgers like a drive-thru business while attempting to live up to the "gourmet" expectations of a dine-in restaurant was, by its own CEO's admission, a poor strategy. And expecting servers to essentially take on additional jobs while maintaining the same level of customer service was also a misstep. But if Red Robin lost sight of its identity, let's hope a renewed focus on the fundamentals will help.