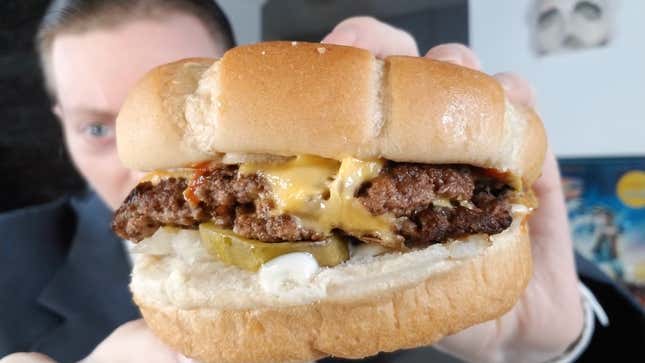 If you've been following the MrBeast Burger drama lately (if you haven't, I don't blame you), you know that things have gotten pretty hairy. The YouTube influencer known as MrBeast, real name Jimmy Donaldson, launched his digital restaurant brand MrBeast Burger in 2020 in partnership with a company called Virtual Dining Concepts (VDC), which operates various restaurant brands out of ghost kitchens. Since then, it has turned out to be a match made in hell.
How To Dispose Of Cooking Grease The Easy Way After Frying
The relationship has gone all the way sour, with MrBeast filing a lawsuit against VDC with the aim of not only terminating the partnership, but shuttering the virtual burger brand altogether. This, however, is no small partnership: MrBeast Burger currently has over 2,000 virtual locations and one brick-and-mortar location in New Jersey. In response to the MrBeast lawsuit, VDC is now hitting back with a lawsuit of its own.
Why MrBeast is suing the owner of MrBeast Burger
Quick refresher: A few weeks ago, Donaldson's company, Beast Investments, filed a lawsuit against VDC claiming that the alleged low quality of MrBeast Burger's food was damaging the reputation of MrBeast himself. The filing included countless exhibits of negative reviews for MrBeast Burger, with people ragging on the burgers themselves (which have been described as "damp," among other things).
Beast Investments claims that despite Donaldson allegedly raising the alarm with VDC about the bad food, the company didn't work to improve the quality of MrBeast Burger because its primary goal was (again, allegedly) aggressive expansion at all costs. The lawsuit also alleges that Donaldson hasn't been paid "one dime" in royalties for being the face of the brand, and that he is owed an estimated $10 million.
When the lawsuit was filed, VDC shot back with a statement calling MrBeast's claims "misguided," "bullying," and "meritless." Apparently, it was enough to motivate the company to sue.
Virtual Dining Concepts' lawsuit against MrBeast, explained
In a statement announcing its new lawsuit, VDC accuses MrBeast of tortious interference—that is, it alleges that Donaldson intentionally tried to tank MrBeast Burger after VDC denied him a larger stake in the brand. Allegedly, only after VDC denied him a bigger piece of the pie did Donaldson take to social media to publicly trash MrBeast Burger and file a lawsuit against VDC.
"In the Complaint, VDC states that the case is about a social media celebrity who believes his fame means that his word does not matter and that he can renege on his contractual obligations without consequence," reads the latest VDC statement in part.
Much as Donaldson says MrBeast Burger's low quality tarnished his reputation, VDC alleges that Donaldson has tarnished VDC's reputation with his previous statements about the MrBeast Burger brand, and the company estimates that the damages amount to a nine-figure sum.
The statement claims that Beast Investments "materially damaged the reputation of MrBeast Burger and VDC, turned away customers, and shattered hard-won relationships with vendors and suppliers, damaging the bottom lines of hundreds of restaurants across the country and around the world."

Since both of these lawsuits have just been filed (MrBeast's on July 31, VDC's on August 7), we're still early on in the legal process here. But we know that corporate battles over food can grow contentious, so we fully expect this drama to drag on for months, if not years.