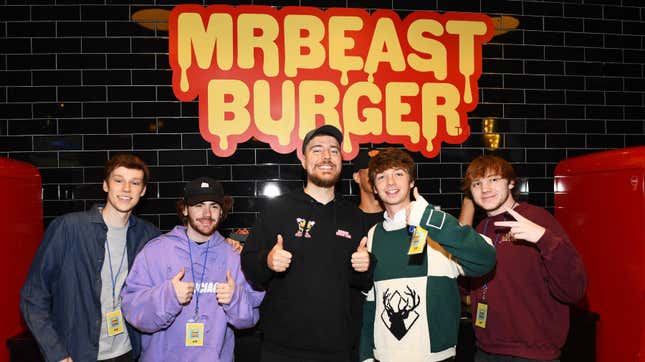 When ghost kitchens took off as a way to bring food to the masses, just about every chain restaurant or celebrity jumped on the bandwagon. From DJ Kahled's chicken wings to Mariah Carey's cookies, there wasn't any food in sight that a celeb wouldn't slap their name on. From this melee emerged MrBeast Burger, and much like other celebrity-backed concepts, both the hype and reputation of this virtual brand have severely diminished since its debut.
How To Dispose Of Cooking Grease The Easy Way After Frying
Jimmy Donaldson, the YouTube star better known as MrBeast, launched his digital restaurant concept MrBeast Burger in late 2020 to much acclaim (even if the burgers weren't always so great). Now, however, the shine is off the apple, and Nation's Restaurant News reports the social media celebrity wants out of the business entirely.
First, who is MrBeast?
For those outside of the YouTube community, MrBeast is a 25-year-old personality on the platform with an estimated net worth of $500 million and a following of 162 million on YouTube alone. He's best known for videos of he and his friends doing expensive or just generally over-the-top stunts and challenges ("I Ate a $70,000 Golden Pizza"), as well as hyperbolically generous donation videos ("I Gave My 40,000,000th Subscriber 40 Cars").
Since a lot of his stunts involve food, it's only natural that MrBeast would open a pandemic-era restaurant brand of his own, capitalizing on his fame, his personal brand, and his ability to capture the attention of young people.
The rise and fall of MrBeast Burger
MrBeast Burger was launched in late 2020. The ghost kitchen burger concept is simple: Customers order via their delivery app of choice and an affiliated restaurant prepares the burger. Unfortunately, in its 2.5 years of operation, the execution across the virtual brand's 2,000-plus kitchens has had mixed success.

On the one hand, MrBeast Burger opened its first physical restaurant at the American Dream mall in New Jersey in September 2022 and had such a successful turnout that the namesake owner hinted at the possibility of franchising. However, though the MrBeast name may have attracted customers, the quality of the food has not been consistent. A review from the New York Post describes the fare as "a catfish Tinder date." After the burgers received rave reviews from YouTubers, a number of customers took to Twitter to call out the burger concept for serving them either raw or fully charred burgers.

In now deleted tweets, MrBeast posted that he'd like to step away from the business because it's hurting his own brand and he cannot guarantee the quality of the food across all locations, reports Restaurant Business. Donaldson explained that he wanted to shut down MrBeast Burger altogether, but the company that he partnered with to create the business, Virtual Dining Concepts—which also runs Mariah Carey's Cookies—would not allow him to terminate the brand. In another deleted tweet Donaldson wrote, "Young Beast signed a bad deal."
In tweet that is still posted, MrBeast added that he is much more passionate about his snack brand, Feastables, because "Making snacks is awesome." To anyone who has ever run a restaurant, MrBeast's complaints about consistency and the unwieldy nature of an operation at this scale will sound mighty familiar. For now, however, it appears the YouTube mogul can't escape this beast of his own making.