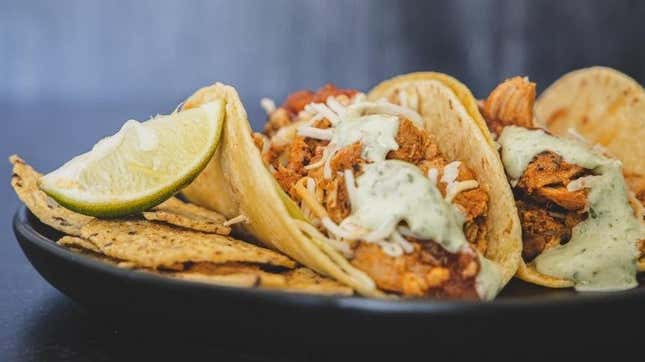 Our very foundations of government were built on the premise of being of the people, by the people, for the people, and yet our freedom to celebrate Tex-Mex food has been shackled by a single powerful restaurant chain. Yes, "Taco Tuesday," a beautiful occasion for all, is the rightful property of just one fast food brand—but Taco Bell has decided it's time for that to change.
McDonald's Shrinks Its Restaurant for the Digital Age
Who owns Taco Tuesdays?
I've posed the question before: Who would dare trademark Taco Tuesday? Answer: Taco John's.
Legally, the phrase "Taco Tuesday" cannot be used by any restaurant or business other than the Wyoming-based Taco John's, sort of like how the NFL owns the trademark to "Super Bowl." Taco John's claims to have invented the concept of setting aside an alliterative day of the week for eating tacos, though many have disputed that claim (read more about it here).
The earliest use of the phrase Taco Tuesday, multiple sources claim, occurred at Snow White Drive-In, which had it printed in South Dakota's Rapid City Journal in 1973. Other documented uses of the phrase occurred long before 1979, when Taco John's claims to have started it, and 1989, when the brand obtained the trademark.
As if staking claim to such a commonly used phrase wasn't enough, Taco Johns has acted on its rights by sending out cease and desist letters to many businesses over the years. Today, the chain is not shy in boasting about its ownership of the phrase. The brand's website reads, "Ever hear of Taco Tuesday®? We started it! We even trademarked it. That's how seriously we take tacos."
Given the dubiousness of these claims and the fact that restriction of the phrase hurts all taco joints equally, Taco Bell has announced that it will join the legal fight to liberate the phrase "Taco Tuesday" once and for all. Leave it to Taco Bell to fight the good fight.
What Taco Bell is doing about Taco Tuesday
Taco Bell has filed a legal petition to cancel the trademark registration of "Taco Tuesday" via the United States Patent and Trademark Office. What exactly does that mean? Importantly, Taco Bell is not seeking to own the trademark itself. Rather, its intentions are, on paper at least, surprisingly altruistic.
"Taco Bell seeks no damages or trademark rights in 'Taco Tuesday,'" reads the press release in part. "It simply seeks common sense for usage of a common term. In filing the legal petitions, Taco Bell is honoring people's right to come together and celebrate the joys of tacos, on Tuesdays and every other day."
Also notable is the fact that Taco John's owns the trademark in 49 states, but in the 50th state, New Jersey, the trademark is owned by Gregory's, a small local business. Taco Bell has also filed a petition to cancel the trademark there as well; the brand's aim is full nationwide liberation. 
Tacos are a cultural staple, one that ought to be shared and enjoyed communally. And sure, I don't need a dedicated day to enjoy a tortilla filled with the good stuff, but setting aside at least one day a week for savoring this glorious creation is a worthy project for us all. It's time to let go, John.