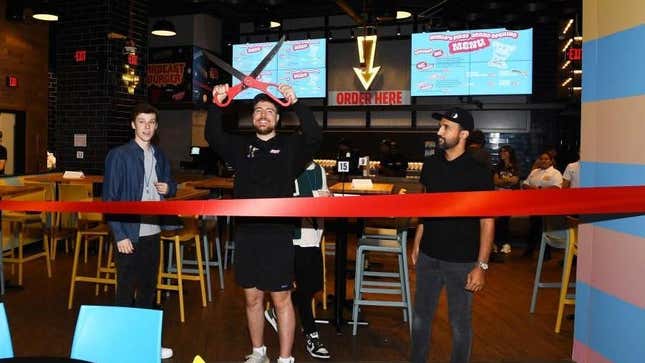 YouTube sensation MrBeast made it known to the public earlier this summer that he wants to shutter MrBeast Burger, his namesake virtual restaurant brand. Now, a filing in the Southern District of New York (sent to The Takeout by the MrBeast team) proves he's not kidding.

How To Dispose Of Cooking Grease The Easy Way After Frying
In June, the YouTube star Jimmy Donaldson, better known as MrBeast, posted a series of now deleted tweets in which he said that he wanted out of the MrBeast Burger business and would rather focus on Feastables, his snack brand founded in 2022.
MrBeast Burger was launched in late 2020, a partnership between MrBeast himself and the company Virtual Dining Concepts, spurred by the pandemic boom of ghost kitchens. Since its inception, the MrBeast Burger brand has expanded to 2,000-plus kitchens globally, plus one dedicated brick-and-mortar location.
Now, let's get into the (possibly undercooked) meat of the current legal battle.
What MrBeast alleges
Although the lawsuit provides specific examples of customer dissatisfaction with MrBeast Burger, it doesn't take legal exhibits to understand that the public thinks these burgers are terrible. A review from the New York Post describes the fare as "a catfish Tinder date." Fellow G/O Media website Kotaku also criticized the quality of the food on two fronts: Zack Zwiezen compared his burger to a school lunchroom meal and Mike Fahey described the "Beast Style" burger as "a damp bunsplosion with pickles."
Nevertheless, Donaldson chose to expand the business to a brick-and-mortar location, which opened at the American Dream Mall in New Jersey in 2022. The lawsuit alleges that he chose to do this in the hopes that the new restaurant would " allow for stricter oversight of customer experience and quality control—something lacking from the virtual experience—as well as provide unique destination-based experiences to MrBeast fans and allow for an expanded menu of healthy and sustainable options."
The lawsuit explains that because MrBeast is quite literally the face of the burger brand and therefore bears the brunt of the public criticism of its low-quality food, Virtual Dining Concepts has caused material damage to Donaldson's reputation.

Beast Investments, LLC alleges in the filing that as quality control diminished, VDC didn't appear to consider the feedback nor attempt to improve the customer experience or food quality because it was focused on rapid expansion of the MrBeast Burger brand.
VDC operates other celebrity brands as well, including Mariah's Cookies and Buddy V's Cake Slice, the virtual brand that sells Cake Boss Chef Buddy Valastro's cakes. However, the lawsuit states that "The MrBeast Burger virtual business…accounts for approximately 90% of Virtual Dining Concepts' revenues." Despite this major share of VDC's business, MrBeast alleges VDC didn't make any effort to improve overall quality of the brand even after Donaldson's team set up regular meetings with VDC to work on the issues.
Beast Investments claims that VDC was primarily concerned with expanding MrBeast Burger as a "selling point... to secure other celebrity endorsement deals." Thus, it was not incentivized to provide an improved customer experience.
And in VDC's pursuit of that rapid expansion, the complaint alleges that VDC violated the agreement with MrBeast by registering at least six trademarks globally without his knowledge or consent and continues to use his name, image, and likeness in advertising and marketing without his consent.

Finally, there's talk of money: The lawsuit alleges that on top of damaging MrBeast's reputation with low-quality food, VDC has neglected to pay any royalties owed to its partner. "Beast Investments has not been paid a dime," the complaint reads in part (emphasis theirs).

What the MrBeast lawsuit is seeking
So, after all this alleged mistreatment, what exactly does the YouTube star want to happen with MrBeast Burger? Well, first off, as he previously stated, MrBeast wants out of the business—but he also wants to shut the whole operation down.
If his claims about this three-year business fiasco are even half true, then it makes sense that Donaldson would be eager to close up shop before his personal brand is damaged any further. For that reason, Beast Investments is also asking that the court prevent VDC from using MrBeast's name, image, likeness, intellectual property, and brand as a whole to promote its business.
Despite wanting to wash his hands of the virtual chain, MrBeast isn't necessarily looking to walk away empty-handed. Since VDC has handled all the financial records throughout the life of the business, Beast Investments can't determine the exact amount of profit share and royalties it's owed. However, the LLC is estimating that it is owed more than $10 million.
How Virtual Dining Concepts has responded to the MrBeast Burger claims
In a statement emailed to The Takeout, VDC resolutely denies Donaldson's claims about MrBeast Burger. The response—titled "VIRTUAL DINING CONCEPTS® RESPONDS TO MISGUIDED, BULLYING COMPLAINT FILED BY MRBEAST: INDICATES HE WILL FACE THE CONSEQUENCES IN COURT"—is scorching.
VDC claims the Beast Investments complaint is "riddled with false statements and inaccuracies" and that its claims are designed to distract from MrBeast's own alleged breach of the agreement between the parties.
"Mr. Donaldson recently attempted to negotiate a new deal to serve his own monetary interests," the response reads in part. "When VDC refused to accede to his bullying tactics to give up more of the company to him, he filed this ill-advised and meritless lawsuit seeking to undermine the MrBeast Burger brand and terminate his existing contractual obligations without cause."
While the Beast Investments complaint includes an 85-page exhibit linking to negative reviews of MrBeast Burger's food, VDC says the criticism is coming from a "very small minority" of customers, and that the company takes customer satisfaction seriously.
Interestingly, VDC directly calls out Donaldson's claim that his reputation has suffered as a result of the partnership (emphasis ours):
"The alleged basis for Mr. Donaldson's complaint is that his reputation has been 'materially and irreparably' tarnished by the MrBeast Burger brand. In reality, Mr. Donaldson's notoriety has grown exponentially over the life of the MrBeast Burger brand, in part because of the MrBeast Burger brand itself."
Just as Donaldson's legal team will have to successfully argue that his damages amount to an excess of $10 million, VDC will have to argue that Donaldson's star rose from 2020 to 2023 on some level thanks to his virtual restaurant brand. It seems this legal battle is going to get a whole lot uglier before it gets better—in fact, VDC seems to promise as much.
"We had hoped Mr. Donaldson would act honorably," the company writes. "Instead, having elevated greed over his word and the truth, he will face the consequences in court when VDC files [its] claims against him."