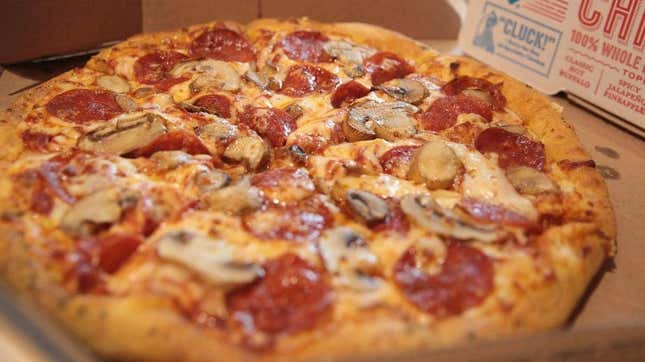 The Domino's pizza tracker launched in 2008 and has since been a source of pride for the brand. The chain has always boasted about its delivery service being fast, reliable, and widely used, but right now there isn't as much to brag about. The shift in customer habits this year has made Domino's seemingly willing to try just about anything to boost its delivery business.
How To Dispose Of Cooking Grease The Easy Way After Frying
Domino's U.S. delivery sales declined 3.5% last quarter, chief financial officer Sandeep Reddy announced on the most recent earnings call. Compare this to carryout sales, which saw a 5.6% increase during that timeframe, and a 1.7% increase in overall sales. Reddy added that the company expects similar challenges to hit delivery numbers in Q3, but that a slight improvement in delivery sales is forecast for Q4.
Domino's delivery is declining
On the earnings call, Reddy noted that "The U.S. delivery business continues to be challenged." This has been an ongoing issue for Domino's since the fourth quarter of 2022, Nation's Restaurant News reports.
Initially, to offset the decline, Domino's shifted strategies to focus on amping up its carryout business. At the end of 2022, the chain offered "Carryout Tips," a promotion in which customers who ordered carryout received a $3 "tip" to be used on their next carryout order. Then in April of this year, the company partnered with Apple CarPlay to offer customers the ability to order ahead from their car for a seamless pickup.
Still, Domino's isn't leaving a single path unventured in an effort to get delivery back on track. "We are executing our plan to restore delivery growth in the U.S.," said Russell Weiner, Domino's Chief Executive Officer, in the most recent earnings release.
How Domino's is trying to save delivery
First, the brand launched its Pinpoint delivery system, making it so that a Domino's pizza could be delivered virtually anywhere. Rather than delivering to a provided address, Domino's can now use a pin-drop feature on a delivery map to ferry pizzas to customers whether they're walking through a park or relaxing on the beach.
Next came an expansion of the brand's electric vehicle fleet. Domino's announced it would be adding 1,100 more such delivery vehicles by the end of the year, emphasizing that these deliveries will be fulfilled by Domino's own crew and not a third-party delivery service like Seamless, Grubhub, or Uber Eats. Despite its struggles, the brand has managed to stand its ground on only allowing delivery by its in-house crew—but given delivery's ongoing struggles, that hard line might not last much longer.
Domino's announced this month that it will be partnering with Uber Eats to expand its delivery capabilities. Uber Eats and Postmates users in the four U.S. test markets, including Las Vegas, can now order Domino's through those thid-party apps, and the rest of the country is expected to gain the same capability by the end of 2023. However, the delivery itself will still be made by a Domino's employee and can still be tracked through the brand's proprietary tracking system.
"Given certain customers only order their delivery from the Uber Eats app, this deal could make Domino's available to millions of new customers around the world," said Weiner in the announcement. "Domino's will still be the face our customers see at the door, while Uber will be providing us with adequate data to understand delivery efficiency and incrementality."
Domino's is obviously doing its best to keep every bit of the business under one roof, but if delivery sales continue to dip, it might be faced with more concessions, whether it wants to or not.