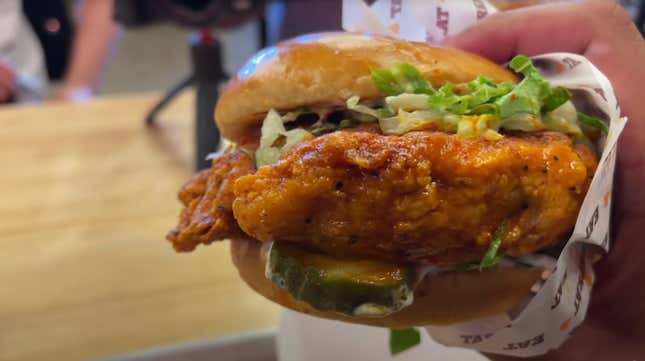 Celebrity restaurants aren't new, but they're still an object of fascination to the dining public. After all, celebrities aren't exactly known for their normal approach to food, so when they commit to a restaurant brand, it's hard not to be curious about how and why they chose to sell what they're selling. Case in point: NBC 5 Chicago reports that former basketball star Shaquille O'Neal will be opening a restaurant just outside Chicago next week. It's called Big Chicken.

How To Dispose Of Cooking Grease The Easy Way After Frying
Shaq's restaurant, explained
We first wrote about Big Chicken five years ago when he opened up its second outpost in a fairly unique location: on board a cruise ship. Shaq is one of the investors in the chain and serves as its spokesperson (much like he has served on the board of directors of Papa Johns since 2019). It serves up fried chicken, but not the bone-in stuff—Shaq seems to understand the sway of the chicken sandwich wars, because that's what's on the menu at Big Chicken. There's an array of sandwich offerings, from Nashville Hot topped with lettuce, mayo, and pickles, to Buffalo-style (inexplicably called "Chicago") with blue cheese, buffalo sauce, mayo, and coleslaw.
For those who prefer to dip their fried bird in sauces, there's also popcorn chicken and chicken tenders on the menu, along with sliders and salads. I'll cheekily point out that Big Chicken missed the opportunity to call itself Chicken Shaq, but I will also (grudgingly) note that the restaurant's Twitter handle is @bigchickenshaq.
Earlier this year, Nation's Restaurant News named it one of the national chicken chains "poised to take flight" and that Shaq's popularity has been instrumental in building out the chain's breakfast menu and drive-thru concept.
Shaq isn't the only celebrity with a fried chicken restaurant
Fried chicken has caught the attention of many celebrities in recent years. Guy Fieri, of course, has his own restaurant chain called Chicken Guy with 11 locations; much like Big Chicken, which has a presence in 14 states, Chicken Guy features boneless chicken in the form of chicken tenders and sandwiches.
Drake has also been known to be interested in slinging fried chicken. He took a significant ownership stake in Dave's Hot Chicken back in 2021, a rapidly growing chain that sells Nashville hot-style chicken tenders. And rapper Rick Ross also owns a number of Wingstop franchises, though it was reported that his business group violated labor laws at some of those locations.
Personally, I'm a bigger fan of bone-in fried chicken, so hopefully a celebrity invests in that kind of chicken restaurant next (preferably without the labor violations). Clooney's Cluckers? Depp's Dippers? It's time for the celebrity-fried chicken wars to commence.