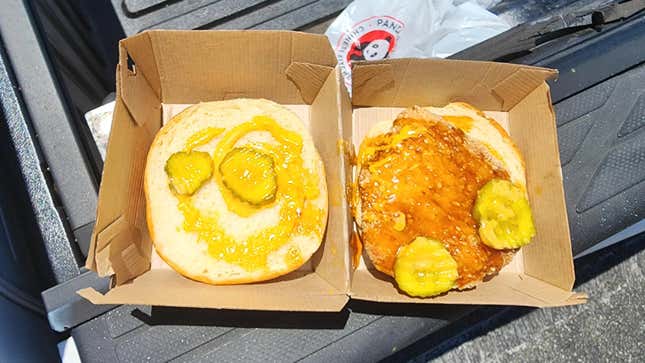 Popeyes will go down in history as the chain that began the great fried chicken sandwich wars of the fast food realm, though it's likely the chain had no idea what it was igniting back in 2019 when it released its most famous menu item. Since then, Burger King, KFC, McDonald's, Hardee's, and many more have all unleashed their own iterations of the Southern-style chicken sandwich, some of which arguably surpassed the predecessors.
How To Dispose Of Cooking Grease The Easy Way After Frying
But at this point, we've all seen a fried chicken sandwich with pickles on it. We get it. The classic fried chicken sandwich with mayo and pickles is well-regarded, but any such sandwich is now part of a sea of mimics. Chain restaurants nationwide are likely noticing consumers' dwindling amazement at what is now essentially a staple of any fast food or fast casual menu. Thus, a new era in the fried chicken sandwich wars has begun.
The evolution of fast food chicken sandwiches
In the new era, it's not so much about the fried chicken breast itself, but more about what's on top of it, piling on various new layers of flavor. Take, for example, McDonald's recent revamp of its Crispy Chicken Sandwich, now known as the McCrispy. The baseline McCrispy is a pure product of the fried chicken sandwich wars, with nothing but the protein, pickles, and bun on display. However, McDonald's also briefly introduced a limited-time Bacon Ranch McCrispy featuring applewood smoked bacon, pickles, and a ranch sauce. Nation's Restaurant News reports that McDonald's CEO Chris Kempczinski said in a recent earnings call that "Chicken is a big opportunity for us."
Panda Express also recently entered a new era with a market test of its Orange Chicken Sandwich. The Chinese American chain has long been known for its orange chicken, and so, capitalizing on that, it tested a sandwich glazed in the brand's orange sauce, topped with pickles and a sriracha aioli on a potato bun. In our taste test, we found the sweet and tangy sandwich to be a welcome departure from the typical offerings across the oversaturated chicken sandwich landscape.
KFC, perhaps the most direct competitor of Popeyes, is also taking its chicken sandwich on a new journey. The Ultimate BBQ Chicken Sandwich is a limited-time offering that consists of a crispy fried white meat fillet topped with hickory smoked bacon, KFC's honey BBQ sauce, crispy fried onions, melted cheese, and pickles on a brioche bun. It's a far cry from the stripped-down offering put forth in early 2021, indicating that KFC has established the fundamentals and now hopes to treat its sandwich like a blank canvas for further innovation.

It's not enough that the fast-food-eating public loves fried chicken sandwiches—the menu must always be evolving. When a concept grows stale, it's time to lay on the sauce and toppings and hope that paves a new path forward.