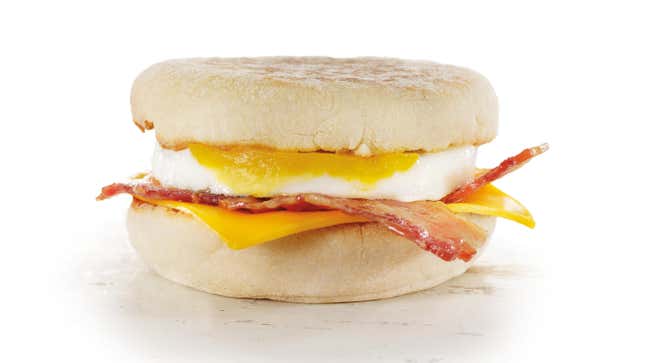 Wendy's recently announced it would be adding two new permanent English Muffin Sandwiches to the breakfast menu. One of them, featuring sausage, a freshly cooked egg, and American cheese, is the spitting image of an Egg McMuffin with Sausage from McDonald's. The other Wendy's sandwich has all the same components, except it swaps the sausage patty for crispy strips of bacon. It's hard to say no to bacon.
How To Dispose Of Cooking Grease The Easy Way After Frying
It makes me wonder about McDonald's own McMuffins. When ordering an Egg McMuffin, customers in the U.S. have two meat options: a sausage patty or a circular slice of Canadian bacon. Why is there no option to order a McMuffin with regular bacon? That seems like a no-brainer, right?
Which McDonald's breakfast sandwiches contain bacon?
It would be one thing if McDonald's didn't have bacon available in its inventory, but there's bacon on all kinds of McDonald's menu items already—in fact, it's already an existing ingredient on some of McDonald's other breakfast sandwiches.
The streaky, salty goodness is on the Bacon, Egg, and Cheese Biscuit, along with the Bacon McGriddles sandwich, and the Bacon, Egg, and Cheese Bagel sandwich (only available in select markets). In 2018, bacon was also a key feature of the limited-time Triple Breakfast Stacks. If bacon is so plentiful at McDonald's, why doesn't it ever nestle into an English muffin?
It turns out that bacon is present on McMuffins, just not in the United States. The McDonald's Canada menu features a Bacon 'N Egg McMuffin as part of the regular breakfast menu. And no, you smartasses, it's not Canadian bacon up there, but rather the crispy strips. How ironic that the US is stuck with Canadian bacon and Canada enjoys the streaky stuff.
Could the bacon strips be more costly to stock? Does it take a longer time to prepare them on the flattop? These are all possibilities, but they remain unconfirmed, as McDonald's declined to comment on the lack of Bacon McMuffins.
Short of making a this breakfast sandwich for yourself at home (which you can certainly do), there's one way to get what you truly want at McDonald's. Fair warning, though: it'll cost you.
How to order a Bacon McMuffin at McDonald's
Eggs, at least, are something you can customize on your McDonald's breakfast sandwiches; check out our explainer on the multiple types of eggs you can order and the benefits of each. However, customizing the meat option on a McMuffin isn't nearly as simple.
You can order a Bacon McMuffin at McDonald's, via some tinkering in the mobile app or at the order kiosk. Select an Egg McMuffin (it has to be an Egg McMuffin specifically), and here's where you have to be a little eagle-eyed: Click "Customize," then in the customization section, scroll all the way down to the bottom.
There's an option to "Substitute Bacon," where you can swap out the Canadian version for the pork belly one. Click that box and voila, you've got a Bacon McMuffin with no extra charge. A little button mashing gets you where you want to go, without having to make your own at home. Hunting around in the app is better than making my whole kitchen smell like frying bacon for days on end.
[Editor's note: An earlier version of this article contained incomplete information about the customization options on the McDonald's breakfast menu. It has been corrected to accurately reflect the ordering options in the app.]