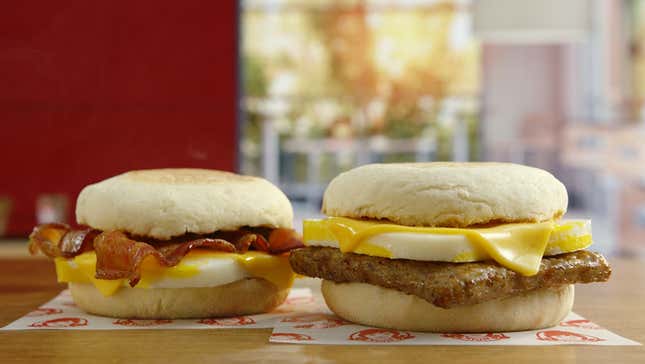 There's no doubt that fast food breakfast brings in the big bucks, which is why Wendy's entered the breakfast space in 2020 with a whole new morning lineup. That menu helped drive the chain's business during the earliest months of the pandemic and beyond, and the company has been tinkering with its breakfast menu offerings ever since.
How To Dispose Of Cooking Grease The Easy Way After Frying
Up until now, the Wendy's breakfast menu has featured a breakfast biscuit, croissant, and sandwiches on buns (aka breakfast rolls). Wendy's latest offering, however, introduces a new type of breakfasty bread, one that signals a direct challenge to McDonald's classic offerings. Watch your back, Ronald—another fast food redhead is closing in on you.
Wendy's new breakfast sandwiches
Wendy's two new breakfast offerings are English Muffin Sandwiches. That means they're going head-to-head with McDonald's Egg McMuffin, a category-defining sandwich and the one I almost always opt for when I order McDonald's breakfast. The new Wendy's handhelds will be available nationwide starting August 22, and they're a permanent addition to Wendy's breakfast menu.
One of the new sandwiches features a square sausage patty, a fresh cracked egg, and American cheese, which is the exact same build as a Sausage McMuffin at McDonald's. The other Wendy's sandwich features bacon, egg, and cheese. McDonald's doesn't have a McMuffin that features bacon (just Canadian bacon), which makes this offering unique to Wendy's—a chain that prides itself on finding new ways to incorporate bacon in all things. (In the meantime, Burger King's just chillin' in the corner with its Croissan'wiches.)
While McDonald's menu specifies that Egg McMuffins are made with "real butter," the press release for Wendy's new English Muffin Sandwiches notes that the muffins feature "a one-of-a-kind savory buttery spread that marries a hint of brown butter sweetness with fresh black pepper."
If you want to get the best deal for Wendy's English Muffin breakfast combo meal, which comes with a sandwich, potato wedges, and a drink, you can get $2 off using a coupon in the Wendy's mobile app from August 22 through September 3.
While an English muffin might not exactly be an inventive addition to the Wendy's breakfast menu, it does show that Wendy's is confident enough in its product to try chipping away at McDonald's supremacy in the breakfast space. The competition is heating up.