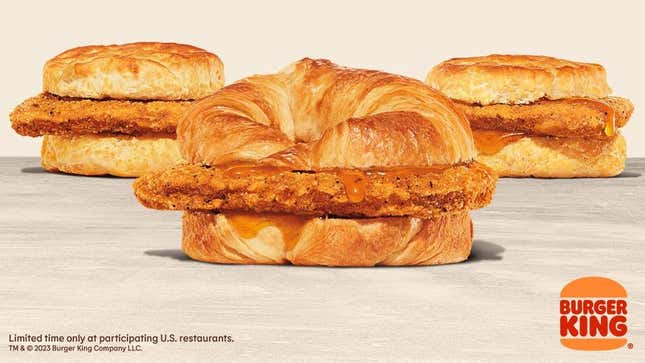 Breakfast has, in recent years, become the darling of the fast food industry. Its simple ingredients and on-the-go convenience make fast food breakfast enticing for both customers and the businesses themselves. However, with breakfast's proven track record as drive-thru gold, the competition is getting stiff.
How To Dispose Of Cooking Grease The Easy Way After Frying
On June 5, Burger King will begin testing a new Smoky Maple Chicken Biscuit sandwich in Kansas City and Orlando-Daytona Beach. The new breakfast offering features breaded white meat chicken with a smoky maple glaze on a warm buttermilk biscuit. It will also be available as a Croissan'wich, which in BK terms means it can be served up on a croissant instead of a biscuit.
Burger King's new offering is strikingly similar to two items on Wendy's beloved breakfast menu, which offers a Maple Bacon Chicken Croissant and a Honey Butter Chicken Biscuit. This could just speak to the fact that the typical popular breakfast ingredients are fairly limited in the fast food space and there's bound to be some overlap, but it wouldn't be outlandish to presume that BK badly wants what Wendy's has.

As Burger King attempts to "Reclaim the Flame", or revamp its image in hopes of boosting profits, company leadership has surely set its sights on the success its competitors have found in the breakfast category. Wendy's launched its breakfast menu in early 2020, and amid the pandemic it was the beacon (bacon) that kept the business moving forward. Wendy's same-store sales rose 7% in the third quarter of 2020 and 6.6% that October. Those increases were the chain's strongest in more than 15 years, and they were largely driven by breakfast. It was a mixture of clever marketing tactics and the fact that, at the end of the day (or technically the beginning), people just really love bacon.
Even if Burger King isn't directly taking aim at Wendy's offerings, it's certainly tapping into a market with some established contenders. Other bacon, egg, and chicken-based breakfast menus had better hold onto their biscuits.