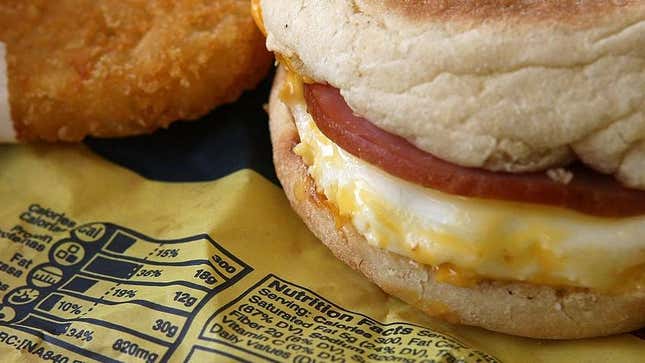 The fast food industry has had its sights set on breakfast for a while now. You'll be hard pressed to find a drive-thru that doesn't have some sort of egg sandwich at the ready between the hours of 6 and 9 a.m.. Despite the many contenders, however, a new survey indicates that one chain has the breakfast game on lock.
How To Dispose Of Cooking Grease The Easy Way After Frying
Online gaming website Casino.org conducted a survey of 10,000 U.S. adults throughout May 2023 that asked about their breakfast habits. The pool of respondents ranged in age from 18 to 70 and consisted of 50% male, 47% female, 3% nonbinary individuals. Per the survey results, more than half of Americans usually skip breakfast, despite the common insistence that it's the most important meal of the day. And of those who do eat breakfast, 91% said they do so at home rather than buying it from a restaurant.
For survey respondents who said they do purchase their breakfast, 58.6% said their average spend is between $5–$10, with nearly 18% saying their average spend is between $10–$15, and only around 5% spending more than $15. With the majority of respondents keeping their breakfast spending on the cheaper side, it's no wonder fast food chains would be the ideal spot. According to the NPD Group, from January to August 2022, traffic to major fast food chains in the mornings increased by 2% from the previous year, whereas lunch time traffic decreased by 3%.
A map of America's favorite fast food breakfast
But, which chain has the most popular breakfast in the nation? Per the survey, McDonald's dominates in breakfast, just as it does in many other aspects of the fast food industry.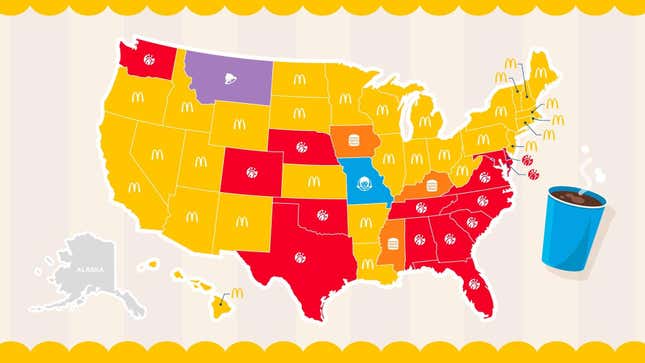 The Golden Arches reign supreme across the country, with 30 states naming it their top fast food breakfast. In a not-so-close second comes Chick-fil-A, with 14 states considering its breakfast menu the best. The other top three trail well behind, with Wendy's earning the bronze, Burger King in fourth place, and Taco Bell in fifth place. (We see you, Montana.)
Granted, this survey is rather limited in scope; as you can see in the map above, Alaska didn't even provide enough data to glean meaningful information about its fast food breakfast preferences. Still, these poll results align quite closely with the nation's actual top-performing fast food chains, and the share of the market they each enjoy. The top five in terms of overall sales are McDonald's, Starbucks, Chick-fil-A, Taco Bell, and Wendy's, with Burger King ranking in seventh place—though it's currently trying to beef up its breakfast offerings.
From chicken biscuits to eggy burritos, breakfast menus at fast food restaurants all offer similarly satisfying options, once you compare them. Perhaps standout items aren't the key, though. If consumers don't often grab breakfast at the drive-thru to begin with, and are looking to limit their spending to $10 when they do, then keeping things handheld and affordable is the name of the game. McDonald's breakfast menu is a classic, and its un-flashy constancy might be its greatest asset. That kind of nostalgia is hard to beat.