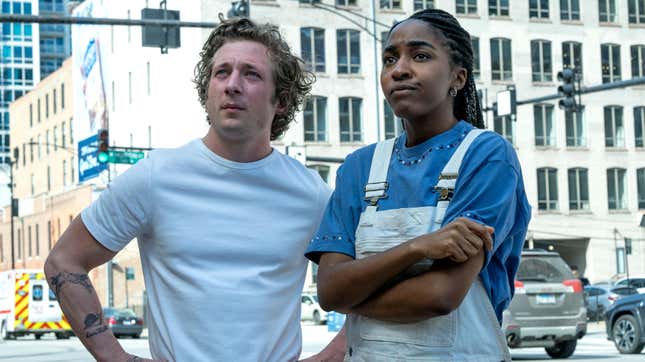 It's hard to believe it's been a year since FX's The Bear touched down on Hulu and had everyone shouting "YES, CHEF" and thirsting for Jeremy Allen White for about six wild weeks. The show about a struggling Italian beef joint was so popular, in fact, that a collective fascination with Chicago's regional dish spread across the national restaurant scene. Tomorrow, The Bear returns for season two, and though it appears to have shifted its focus to chaos cooking and away from Italian beef, there's no reason you can't have a BYOB(eef) viewing party, giardiniera and all.
How To Dispose Of Cooking Grease The Easy Way After Frying
But where can enthusiastic viewers secure their sandwiches? Well, you can always make one for yourself at home—regardless of whether you're an overachiever, a cheater, or an innovator—or you can order some from Chicago's local vendors, who have been preparing for this exact moment ever since Chef Carmy Berzatto donned his apron at the Original Beef of Chicagoland and changed the way people think about restaurants.
Here's where to order a Chicago Italian beef online, no matter where you find yourself when the craving hits.
Buona
Although this popular Illinois-based chain is currently spreading across the country, many areas might not yet have access to its Italian beef (or its capable plant-based equivalent). Thankfully, Buona ships Italian beef kits and Italian Beefless kits nationwide. The price is a little steep—$109 for a kit that makes 8 sandwiches—but shipping is free, and you'll be left with precious giardiniera oil at the end.
Portillo's
An 8-sandwich kit from Portillo's can be shipped nationwide for $89.99. If you're entertaining a crowd, you can upgrade to the 20-sandwich kit for $185.99. You can also select the 8-sandwich combo kit, which includes Italian sausage, for $109.99 Each kit features rave reviews from customers, whose only complaints seem to be that they wish for even more delicious Portillo's beef. As lifelong Chicagoans, we know that's right.
Vienna Beef
Though many fans love Vienna Beef primarily for its hot dogs, the brand also makes a mean beef, and it wants to share the iconic sandwich with the world. This kit costs $54.95 plus shipping and serves four. This kit for $51.95 includes the ingredients for a combo—kinda. There are no French rolls included in the latter kit, and a true combo nestles an Italian sausage beneath the sliced beef, not a hot dog. Still, any effort to bring Vienna Beef hot dogs to the masses ought to be celebrated.
Any strong preferences between the beefs above? Let us know, because we're always looking for an excuse to conduct further research into the matter.