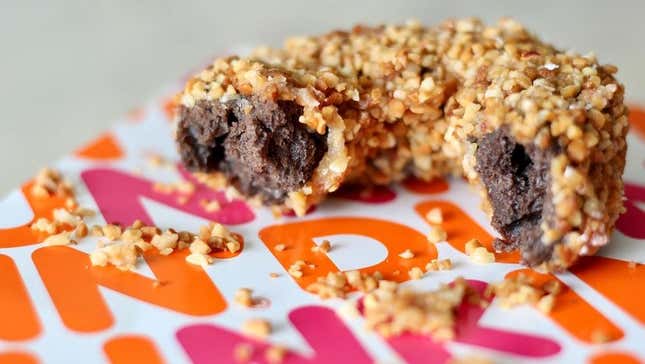 We here at The Takeout are dedicated to finding ways to score free and discount food. It's all about the thrill of the chase, and any treasure hunt is that much more rewarding when the prize at the end is edible. And while it's one thing to click around on your fast food mobile apps to sniff out daily promotions and members-only deals, there's one app that delivers the goods every single week, and it's one you probably haven't thought of. The only catch is that you have to be a T-Mobile customer.

How To Dispose Of Cooking Grease The Easy Way After Frying
T-Mobile Tuesdays, explained
T-Mobile Tuesdays is a weekly customer appreciation program that the company has maintained for years now. You participate by using a standalone mobile app on your phone—it's not the same as the general T-Mobile app—and new items, deals, and promotions become active every Tuesday.
All you do is open the app weekly and scroll through the offers. Most of them are coupons for non-food-related services, like hotel stays and cable discounts, but that's not important—when there's free food on offer, it's worth snatching up. 
For example, one recent week, T-Mobile awarded those customers who use the Jersey Mike's mobile app a free sandwich, no strings attached, by adding rewards points to their Jersey Mike's accounts. There are frequent deals on Little Caesars as well, including free pizzas, and you'll often find Burger King Whopper giveaways that usually include the Impossible Whoppers as well.
The only catch is that most free food can only be redeemed if you have the partnering fast food mobile app downloaded on your phone, and/or if you're a member of those chains' rewards programs. When you redeem an offer on the T-Mobile Tuesdays app, it usually copies a unique coupon code for you, opens the relevant fast food app, and applies it automatically. So if you want to take advantage, you'll have to lend some storage space on your phone to additional apps, if you don't have them already.
Sure, it's a gimmick, but it's an edible one, and that will always be exciting. Maybe you're an existing T-Mobile customer who had no idea you were entitled to so much free fast food. A whole pizza, sandwich, or burger really does taste that much better when you haven't paid jack squat for it.