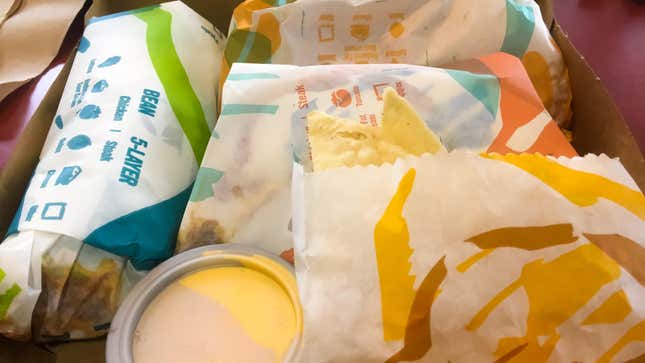 I'm not ashamed to say just how much I love Taco Bell. I like how playful and inventive the chain is with its food, and one of my favorite things about it is just how extensively you can mess with its customizations. If I have one gripe with Taco Bell, it's that this fast food doesn't always come cheap.
How To Dispose Of Cooking Grease The Easy Way After Frying
Granted, my neighborhood location is more expensive than most, but an order of Nachos BellGrande is up to $7.29 now. One of my favorite items, the Burrito Supreme, is $6.09. All this to say, when I order from Taco Bell, I'm hunting around for a deal—and that's how I came upon a nice little discovery.
By monkeying around enough on Taco Bell's mobile app or website, you can sometimes cobble together an accidental deal. And while perusing the menu today, I found a potential glitch that netted me one of the biggest unintentional discounts I've seen yet.
How to order cheap discount Taco Bell burritos
I'm going to note something very important right now: This loophole has only been found to work via Taco Bell's website, not the mobile app. If you want to try this for yourself, visit tacobell.com on your browser (either mobile or desktop is fine).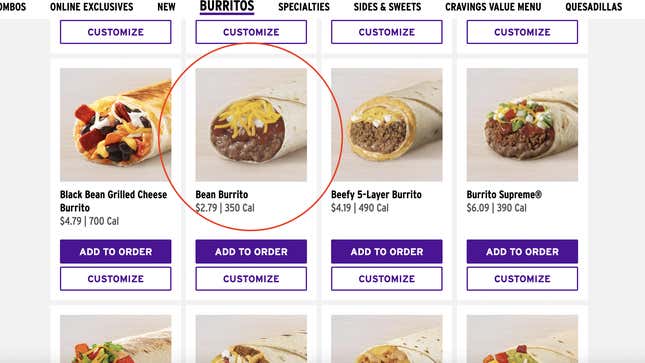 Set your nearest location via the store finder on the top right portion of the page.
Click on "Menu."
When the menu pops up on the main screen, click on "Burritos."
This part is very important: Locate the bean burrito on the menu, and click on the image of the bean burrito. Do not click on the "add to order" or "customize" buttons beneath the picture (you'll be able to customize it on the next screen).
You'll be taken to what appears to be the regular landing page for the bean burrito, but you should see something unusual: The calories displayed will read as "0," and the price will have dropped significantly from what is listed on the previous page. There is, I can only assume, some sort of glitch here.
From here, you can either add it directly to your cart, or upgrade it in any manner you wish. That includes doing things like adding seasoned beef, tomatoes, sour cream, etc. None of those customizations appear to cause the price to "snap back" to normal.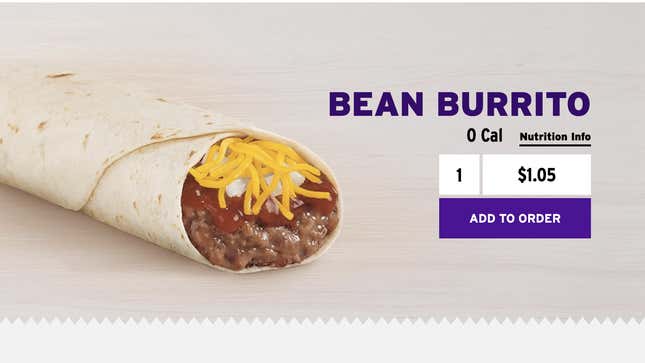 The mobile browser and the desktop browser both appear to cause this glitch (the ordering process is the same). I've tested this via multiple devices and to multiple locations, and half a dozen other users were able to independently verify the results for various Taco Bell locations in multiple states. As previously noted, the discount does not apply when placing an order through the Taco Bell app, which (in addition to the missing calorie count) is what leads me to believe it's a glitch rather than a promotion.
Now, your discount is going to vary greatly by region and location, but in our limited test of the loophole, the price of a bean burrito typically saw around a 50% drop. The discount seems to be dependent on the base price of your bean burrito, but the size of the discount varies. (The $1.05 base price makes it cheaper than almost anything on the Cravings Value Menu.)
If, say, you want to upgrade the bean burrito to the exact same build as a Burrito Supreme, you can click on "make it supreme," which adds tomato and sour cream, then add seasoned beef and lettuce, and voila: Your Burrito Supreme will be extremely discounted. For example, mine cost $3.55 now as opposed to the typical $6.09.

This, my friends, is better than finding buried treasure. And if you're wondering whether or not it works once you actually place the order, the answer is yes—I followed through by checking out, paying the discounted price, and picking up my order at our local Taco Bell as usual. The order was exactly how I placed it, down to the discounts.
Once Taco Bell gets wind of this, it's likely the error will be fixed quickly. (We've reached out to the company for comment and we'll update this piece if we hear back.) If you're interested in trying this, I'd do it right now before the loop is closed. In the meantime, I'll be enjoying this bounty of bean burritos, which, by the way, microwave pretty damn well as leftovers. We love you, Taco Bell.