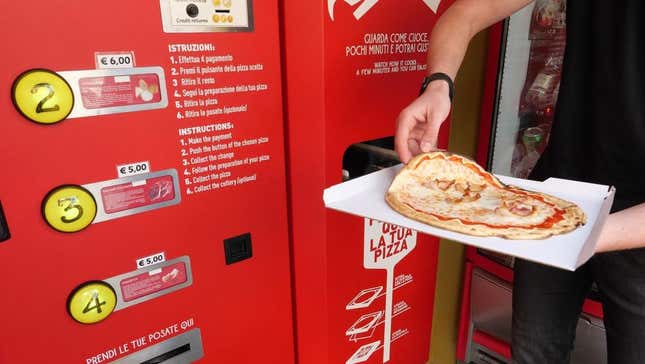 The Takeout has discussed just about every style of pizza possible, whether we're detailing the merits of deep dish or the best way to attack a Detroit-style pie or the rise of handheld pizza spin-offs or whatever the hell this is. But the newest pizza innovation isn't so much a style. It's more a means of pizza production.
How To Dispose Of Cooking Grease The Easy Way After Frying
Donatos Pizza, known for thin crust pizza covered with toppings from "edge to edge," recently announced it will be partnering with the robotics company Appetronix to create a pizza vending machine. The very first machine born of this partnership will launch in the pizza chain's hometown of Columbus, Ohio, but the timeline of its debut is not clear.
The autonomous pizza machine "will leverage state-of-the-art robotics and data science technologies — enabling a seamless and efficient dining experience for customers, from placing orders to receiving their pizza," per the press release. Although the announcement is a bit vague on the details when it comes to how this pizza vending machine will actually function, we can infer plenty because it's not the first or only pizza technology of its kind currently out there.
On an international level, pizza vending machines have been around for years. In 2021, The Mr. Go Pizza vending machine debuted in Rome to extremely negative reviews that cited the poor quality of the pizza. Understandably, the Italian community was heavily critical of a machine doling out one of their most culturally significant dishes. However, Let's Pizza, a machine which makes pies from scratch and is sold across multiple European countries, including Italy, has had a bit more success in winning over public sentiment. PizzaForno, another pizza vending machine, began rolling out in Canada in 2020 and has since expanded to the U.S. with locations in Michigan.
These autonomous pizza creators are now growing domestically. PizzaForno announced in May that it would be expanding into Atlanta with three new locations. Piestro, another robotics company, and 800 Degrees Pizza, a small global pizza chain, announced a partnership in 2021 that would roll out 3,600 automated pizza machines over the span of five years. Last year, Piestro also announced plans to start offering autonomous delivery from automated pizza kiosks, expanding the robotic pizza experience from beginning to delivery.
Instinct may tell us that the quality of pizza coming from a machine that spits out pies on-command might not be the best. The initial launch of Mr. Go Pizza is one example of those concerns being confirmed. However, the potential of these machines is undeniable. With the right locations (heavy foot traffic areas like airports and stadiums), high quality ingredients, and a carefully researched, standardized way to make the pizza, who wouldn't appreciate a hot slice in under three minutes?
Whether or not the pizza community is on board, these vending machines are only becoming more present. It may be time to embrace the high-tech pie.