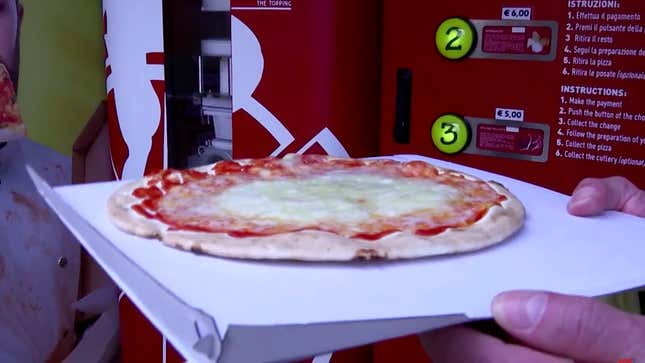 Update, June 7, 2021: The Mr. Go Pizza vending machine has shaken the citizens of Rome to their core, and the New York Times has boots on the ground covering the situation. As you may have guessed there have been plenty of scathing reviews and irate reactions from pizza traditionalists, but those are not the most interesting takeaways from the Times piece. These four are:
You can grab a slice of pizza in the Amazon
One food writer hated Mr. Go's pizza so much, she compared it to "a pizza she'd eaten in a rundown area of the Ecuadorean Amazon while on a mission with Oxfam." This factoid probably shouldn't surprise me—after all, there's hot, fresh pizza available in the Antarctic—but I had simply never thought about a regional pizza style thriving in the depths of the Amazon rainforest. If I was reviewing the joint it would be an immediate five star review, simply because I'm so pleasantly surprised by the notion. The only way it could be that bad is if it were covered in Ranch dressing.
Dr. Pepper Strawberries & Cream Is Tearing Us Apart
This is not the only pizza vending machine taking over the world
In particular the Times shouts out Europe's Let's Pizza machines, Canada's PizzaForno, and the Pizza ATM that's been infiltrating our nation's colleges and universities. When will the pizza machines come for your town? They might already be there, lying in wait for the exact right moment to reveal themselves and begin their conquest of your local pizza racket.
Domino's is blowing up in Italy?
Domino's opened its first location in Northern Italy in 2015 and has since added an additional 33 locations, with five of them in Rome. Good for Domino's, I guess!
Italians' choice of pizza toppings is... surprising
The Times reached out to Chiara Valenti, the marketing manager of Domino's Pizza Italia, who said that Italians have been enthusiastic about "new tastes," like cheeseburger pizza or barbecue chicken pizza. Even more shocking: "These are people who are not afraid of putting pineapple on a pizza," Valenti said. I have no idea how to emotionally process that information.
As for the Mr. Go pizza vending machine, it offers only four styles of pizza: a classic margherita, four cheese, spicy salami, and... bacon? Even in bacon-crazy America it's never really taken off as a pizza topping, and yet it's popular enough in Italy to warrant a coveted spot in the Mr. Go rotation. You learn something new every day, folks.
---
Original post, May 12, 2021: Last week, an automated pizza machine debuted in Rome, one of the first of its kind in the city. It's called Mr. Go Pizza and it cranks out pizza in just three minutes. You can even watch the pizza bake while you wait. Pizzas between €4.50 and €6 ($5.20-$7.20), and there are four varieties available: margherita, four cheese, spicy salame, and pancetta. But not everyone is excited about the new contraption, Reuters reports.

Check out the video of how this thing works:
The machine does everything from kneading and topping the dough to baking, but the reviews of the pizzas themselves are very mixed. "It looks good but it is much smaller than in a restaurant and there is less topping," said Claudio Zampiga, a retiree.
Fabrizia Pugliese, a university student originally from Naples, gave the pizza a thumbs down, saying it was more like a piadina, a thin unleavened bread wrap.
And Gina, another retiree who wanted to keep her last name anonymous (probably because she was ashamed she tried this machine pizza in the first place), said, "It's OK but it's not pizza. Terrible. Pizza really needs to be eaten hot, immediately. This doesn't work for me."
Robots appear to be taking over the pizza game in multiple ways, not only cooking it, but delivering it, too. You know, I'd certainly give this vending machine a shot, but so far, based on the photos and video, I'm not particularly impressed. If it eventually becomes good, though, there's nothing to stop me from enjoying it. I still think it's way more fun to see people making your pizza, and there's a lot to be said for the way a cook's instincts kick in to make sure your food is the best it can be. So I don't think pizza professionals have all that much to worry about. For now.