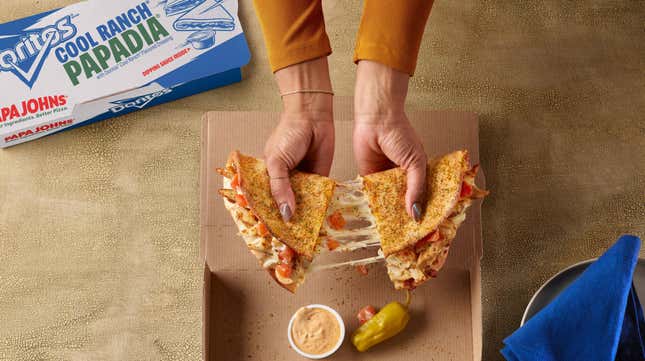 Is there anything Doritos can't do? From Taco Bell's Doritos Locos Tacos to good old fashioned schnitzel, it seems like Doritos concoctions are seemingly everywhere. (If you can't get enough, we have a homemade seasoning powder recipe for you.) And now, one more restaurant chain has joined the list of Doritos collaborators. That's right, a Cool Ranch Doritos–centric menu item is about to hit your local Papa Johns.
McDonald's Shrinks Its Restaurant for the Digital Age
What is the Papa Johns Cool Ranch Doritos Papadia?
Papa Johns' Papadia is a pizza crust that's filled with various pizza toppings, then folded over to create sort of a quesadilla-pizza hybrid, which we've typically enjoyed in its many previous iterations. Part of what we love about the Papadia concept is its single-serving size and format, an approach that has proved successful at Pizza Hut, too, with the introduction of its hugely popular Melts.
The crossover draw, in this case, is a special Cool Ranch Doritos seasoning that's dusted on top of a Papadia. The Papadia can be filled with whichever pizza toppings your heart desires, and you'll also receive your sauce of choice on the side for dipping. (Team garlic, all the way.)
"Our partnership with PepsiCo Foodservice allowed us to leverage the bold taste of Doritos Cool Ranch to reimagine a specialty seasoning for the Papadia, which offers new and current consumers the ultimate chip and sandwich experience and gives them a bold taste in every bite, so delicious you'll wish you had thought of it first," Kimberly Bean, vice president of Menu Strategy and Calendar Planning at Papa Johns, said in the press release.
Though I'd hesitate to say this is a combination I've ever daydreamed about, based off the crossover success of the Cool Ranch Doritos Locos Taco at Taco Bell, I'm not surprised another brand is seeking to cash in on a partnership. Imagine how much money Papa Johns could have drummed up if this thing had been released on 4/20.
If you want to be the first to get your hands on one, Papa Rewards members can get them early, starting on May 1. Otherwise, the new limited-time Papadia will be available nationwide starting May 4. Time to get your fingertips covered in that Cool Ranch dust, everyone.