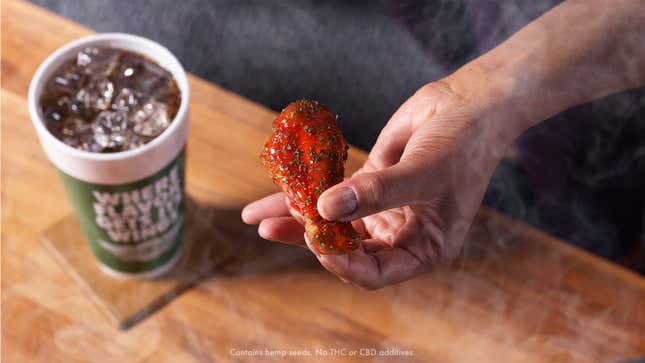 April 20 is almost here, and if that doesn't immediately stand out in your mind as a national holiday, you probably don't get blazed too often. It's a day on the calendar to unofficially celebrate all things cannabis, and you can bet that fast food companies are ready to feed you in your hour of need.

McDonald's Shrinks Its Restaurant for the Digital Age
These are some of the best deals for when you're high and hungry on 4/20. Even if weed's not your thing, you can still reap the benefits of this holiday by taking (toking?) advantage of some of these fast food discounts.
Carl's Jr.: This burger chain is coming in hot with a Snack Sack, which includes a six-piece jalapeño popper, small fry, and onion rings. The cost? Exactly $4.20. For that much finger food, $4.20 is a pretty good price. This bundle is available now through April 24, so if you've decided to blaze one down early, you've already got access. Back in 2019, Carl's Jr. notably served a burger with CBD in it as a 4/20 promotion. (Note that this promotion is only happening at Carl's Jr. restaurants, not Hardee's restaurants.)
Del Taco: For those of you who don't feel like getting off the couch, Del Taco delivery is free on 4/20, plus you can score eight Snack Tacos for, yes, $4.20. From April 20-22, customers can order special items from the Del After Dark Menu from 9 p.m. to 4 a.m., including the Stoner Burrito and Bun Taco. See the full list here.
Fatburger: This underrated chain is offering its classic burger for $4.20 on 4/20. If you're more of an edibles person, Fatburger has also teamed up with Kiva Confections, a company known for its THC-infused sweets, to create a ketchup that can get you high. One serving has 10 milligrams of THC in it; you can get the limited-edition condiment in Los Angeles at participating Artist Tree and Sweet Flower Los Angeles dispensary locations.
Genghis Grill: This national chain specializing in rice and noodle bowls is offering a discount of $4.20 on all of its small and medium bowls on 4/20. The deal is good online and in-store, but you'll need to use the promotional code that Genghis Grill will soon share on its Instagram page, as well as via email, text, and mobile app.
Jack in the Box: The restaurant's popular Pineapple Express will return to stores for $4.20. As you can guess by the name, it's a pineapple milkshake whose name is a nod to both a strain of weed and one of the most entertaining movies I've ever seen about weed. There's also a Pineapple Express Red Bull Infusion, which has pineapple and passionfruit flavors. In select test markets in Los Angeles, Salt Lake City, and Las Vegas, customers will even be able to snag a Pineapple Express sandwich, which features a crispy chicken filet, smoky pineapple barbecue sauce, fire roasted pineapple, and hickory smoked bacon on a Hawaiian bun.
Jimmy John's: The Munchie Crusher is a one-day-only offering at Jimmy John's with the best name of any menu item on this list. The sandwich features turkey, provolone, avocado spread, cucumbers, lettuce, tomatoes, sliced pickles, and mayo on wheat bread. Here's where the deal comes in: Order this beast exclusively through the Jimmy John's website or app and use promo code FREESIDE for free chips to go alongside your Regular or Giant size sandwich.

Red Lobster: Endless Shrimp fans, this one's for you. Red Lobster is bringing back its Ultimate Endless Shrimp special for $20 from April 20-23. For this unlimited onslaught of all-you-can-eat shellfish, you can pick between Garlic Shrimp Scampi, Parrot Isle Jumbo Coconut Shrimp, Shrimp Linguini Alfredo, Walt's Favorite Shrimp, and a Grilled Shrimp Skewer.
Smashburger: On 4/20 only, both in-store and online at Smashburger you can purchase four single-patty Classic burgers for $20. These cheeseburgers come with lettuce, tomato, red onions, ketchup, Smash sauce, and pickles, all on a toasted bun. Considering the Classic single goes for $7.19 at our nearest location, four burgers for $20 (or five bucks a pop) is a great deal.
Smoothie King: Smoothie King has added new bowls to its menu, and if you order one through the app on 4/20, you'll get 420 reward points for doing so. (New app users will also get $2 off their order.) These bowls have a base of pitaya (dragonfruit) or açai and come topped with fruit, granola, peanut butter, and/or honey.
Wingstop: While Wingstop isn't offering a discount deal, it's celebrating 4/20 with a limited-time flavor combo. Your protein of choice will be tossed in a spicy cheesy rub, drizzled with spicy ranch, topped with cheese puff powder, then finished with an herb seasoning. This flavor combo is exclusively available from April 20-23.
Unrelated, but 4/20 also happens to be National Cold Brew Day. If you're in the mood for some coffee, Dunkin's offering a free cold brew with any purchase through its app on that day. (The catch: You've got to be a Dunkin' Rewards member.) So if you prefer something a little more stimulating than THC, you can opt for free caffeine.