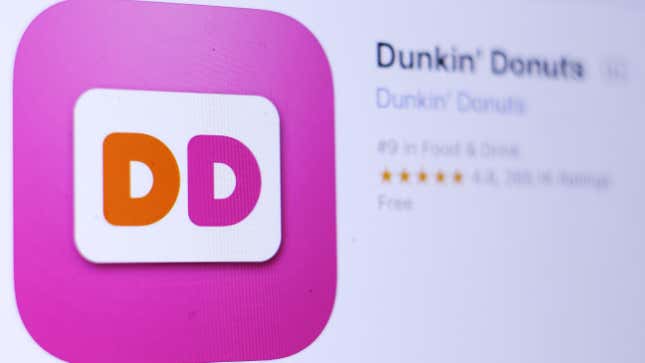 Here at The Takeout, we love messing around with fast food mobile apps (especially the Taco Bell one), because with enough button-mashing, you can usually unlock savings on the total cost of your order. One dedicated Dunkin' customer, however, claims that Dunkin's app does the opposite. Boston.com reports that the Boston resident is suing Dunkin' over its mobile app, claiming that it's adding undisclosed charges for add-ons like butter and cream cheese.
McDonald's Shrinks Its Restaurant for the Digital Age
To illustrate what it claims are deceptive overcharges on the part of Dunkin', the lawsuit cites one particular order as an example: The plaintiff purchased a large iced coffee for $3.69, along with an everything bagel for $3.09 with cream cheese on it. However, the app charged a pre-tax total of $8.03, which is $1.25 more than the combined price of those two items.
The lawsuit claims that such charges should not "simply be inserted, without notice, into the Sub-Total Charge," and that this violates Massachusetts law. It also notes that some locations forgo the extra charges for items such as cream cheese, which means prices can vary from location to location. (It is important to note, however, that the varying locational prices are acknowledged in the app's terms of service.)
The plaintiff is seeking $25 in statutory damages from Dunkin', as well as legal fee coverage. But he also requests that the Dunkin' app be modified to display the extra charges prior to being listed in the subtotal.
It's worth noting, as the lawsuit does, that the plaintiff is still using the app, despite these claims of deceptive practices. Why? Because he would, in part, be "less likely to earn Dunkin' rewards for the discounted purchase of additional items at Dunkin'." Gotta love those rewards benefits, even if they're not what they used to be.
This Dunkin' development is just the latest in what's shaping up to be an interesting year for food lawsuits. So far in 2023, we've already seen a lawsuit filed over the marketing of boneless wings, along with a legal battle between a rock band and a cereal brand. No matter how this plays out in the courts, let this be a good reminder to double-check your order before clicking "purchase," just in case.