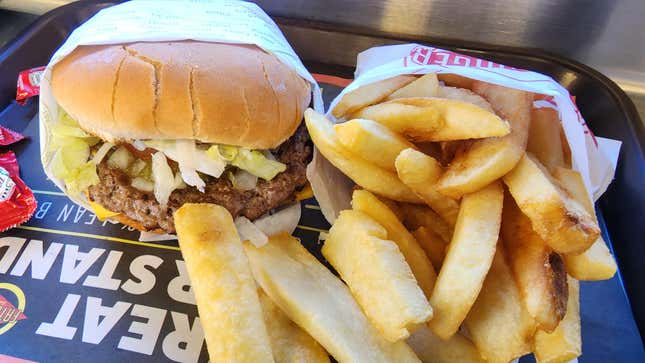 All the Southern California hamburger hype is usually directed toward In-N-Out, but for a lot of Angelenos, another burger chain supplants it: Fatburger. While there are nearly 100 locations in the United States, Los Angeles is where the beating heart of Fatburger resides. Depending on which location you visit, you might see a worn-out sign that says "the last great hamburger stand." In a city known for its rich history of hamburger joints, Fatburger makes a bold claim. And the more I think about it, the more I realize it makes a damn good point: Fatburger has aged well. The juicy, caramelized burger with a side of thick fries manages to feel modern, and it's a menu staple that countless business owners cashing in on the burger craze are actually trying to replicate.
How To Dispose Of Cooking Grease The Easy Way After Frying
Fatburger was founded in Los Angeles in 1947 by Lovie Yancey, a native Texan. The chain started out as Mr. Fatburger, but when Yancey and her boyfriend split, the "Mr." went with him. (What an absolute backbreaker if you're that dude.) And although Yancey sold the company in 1990, many notable figures have been connected to the brand. At different points in time, Magic Johnson, Queen Latifah, Pharrell Williams, and Montel Williams have either owned controlling interest or opened their own Fatburger franchises.
It's worth noting that the company is also fun as hell. Last year, for example, a promotion for $4.20 Fatburgers ran on 4/20. And though I haven't tried everything on the menu, I enjoy seeing vegan milkshakes, Impossible meat, and plant-based cheese available at Fatburger restaurants. It tells me the brand is evolving with the times—which is great news, because the burger combo is the real reason to visit this iconic Southern California institution.
What does Fatburger taste like?
It's not a smash burger exactly, but it's fatty, juicy, a tad bit greasy (which I love), and caramelized extremely well on a flat top, so you get a delicious burst of meaty flavor. While the patty itself is not paper thin, it's smooshed enough that it gets a crispy and crunchy edge. Order it with the works (the way God intended) and it'll come with lettuce, tomato, onion, mustard, mayo, pickles, and relish.
The burger functions as a quick, filling lunch before getting back to work—I always see construction workers inside my local Fatburger—or the perfect meal to counteract a long night of drinking. Its natural savory juices blend with the mayonnaise and mustard on top to form a mouthwatering sauce, yet the vegetables retain their fresh crispness. Fatburger uses a "sponge-dough" bun that, when toasted, is able to withstand that onslaught of condiments and juices. You can add chili, bacon, onion rings, or an egg to your burger, but the classic, medium ⅓ lb. Fatburger is a thing of beauty, the type of SoCal culinary tradition that's deeply satisfying in its simplicity.
Fatburger's fries rule
At Fatburger, you have a choice with your combo: fat fries or skinny fries. The skinny fries aren't as thin as a shoestring; in fact, they're thicker than the ones at McDonald's. A Wendy's fry is probably the best comparison, as they're crispy on the outside and perfectly creamy in the middle.
The fat fries are good, but taste like they could use some more time in the deep fryer. I'm sure you can order these fries well done, and if you do, you'll be rewarded with thick, creamy steak fries that perfectly complement the burger.
As a consumer, I can't figure out whether or not Fatburger's fries are fresh cut or frozen; they kind of have attributes of both. A little misshapen, but no starchy coating and a very creamy center. My gut says frozen. That might sound like a downgrade, but it would only make them better than In-N-Out.
Is Fatburger better than In-N-Out?
It's hard to decide which SoCal burger chain is best. Many people take sides in the Fatburger vs. In-N-Out debate, but really, it's a toss-up. I think the fries give an advantage to Fatburger. Thick steak fries are just better for dipping in condiments and provide a better burger companion than In-N-Out's disastrous offering.
On the other hand, I don't know if it's possible to beat In-N-Out's Double Double, which is so perfectly constructed that each component melds into the other, creating a singular bite that I would put up against any fast food burger in the country. Fatburger is also more expensive—the combo meal cost me $15.
Despite its potential status as second fiddle, Fatburger maintains its allure and deserves at least as much love as the other leading California chains. If I had to guess, Fatburger has had a quiet but powerful influence on many of the notable burgers trying to pave their own way in Los Angeles.