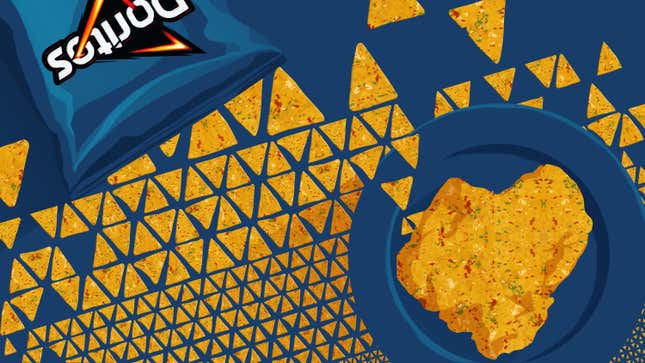 You know what's a great warm-weather dish? Schnitzel. Seriously, schnitzel. Think about it: It's fried chicken (or pork, or veal) without the bones, making it ideal for picnics and one-handed consumption (assuming a tallboy's in the other hand). It cooks quickly, saving you from heating your home with the oven or stove for long periods of time. It's protein-flexible. It can go elegant or casual, depending on the accompanying side dishes, and most importantly, the simplicity-to-deliciousness ratio is advantageous to the home cook.

How To Dispose Of Cooking Grease The Easy Way After Frying
Schnitzeling is a fairly easy technique, a pounded cutlet, breaded and panfried. Which is great. But what can take your schnitzel next level is getting a bit more creative with your breading. Swapping out basic breadcrumbs with a different breading can really up your schnitzel game. Seasoned bread crumbs instead of plain can certainly add some oomph. Panko is an obvious choice, extra crispy and light. Pulverized pretzels can be great and also eliminates the need to season with salt after cooking.

But if you really want a summer schnitzel that surprises as much as it wows, try a breading of crushed Cool Ranch Doritos.

Hear me out.
Traditional schnitzel is served with a wedge of lemon, because that punch of acid really makes the cutlets sing. The cool ranch flavoring offers the same tang that accentuates the flavor of the meat. The corn chips fry up nice and crunchy for excellent texture. Through my recipe testing, I decided a touch of ranch salad dressing powder in the flour dredge gives some extra support for the flavor of the coating.

And if you want to put some ranch on the side for dipping, no one here is going to give you the side-eye. Except maybe the Germans.
---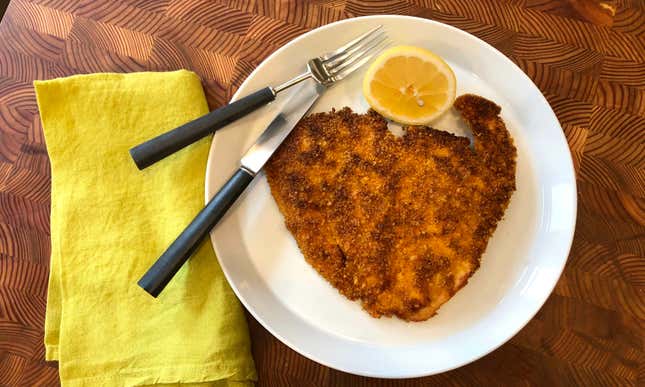 Cool Ranch Doritos Schnitzel
Serves 4
4 6-ounce portions of veal, pork, or skinless and boneless chicken breast cutlets, pounded to 1/8-inch thickness

1 cup all-purpose flour

3 large eggs

1 10 oz. bag Cool Ranch Doritos, pulsed in your food processor to the texture of fine breadcrumbs

1 packet Hidden Valley Ranch salad dressing powder mix

2 tablespoons grapeseed or canola oil, divided

2 tablespoons unsalted butter, divided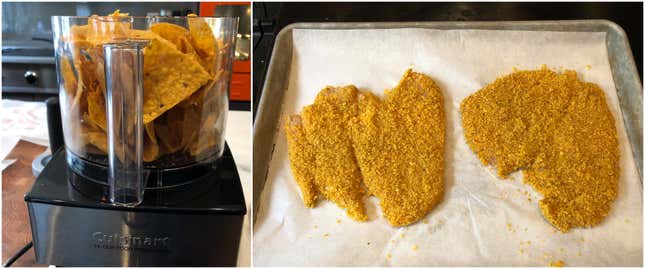 Line a baking sheet or casserole dish with parchment paper.

Set out three shallow dishes to create a dredging station. In the first dish mix flour with the packet of ranch mix until well blended. In the second dish beat the eggs with a tablespoon of water until smooth. Place one cup of the Doritos crumbs in the third dish and keep the second cup to the side to add as needed. Working with one piece of meat at a time, and keeping one hand for dry work and one for wet, dredge each piece in flour, patting off the excess, then dip into the egg mixture, turning to coat evenly, then carefully coat with the Doritos crumbs, pressing gently to make sure the crumbs stick in an even coating. Transfer the coated cutlets to the prepared baking sheet.

In a large nonstick skillet over medium-high heat, heat half of the oil and butter until the butter stops foaming. Add two of the meat cutlets to the skillet and cook until deep golden brown on both sides, about 8-10 minutes total. Transfer finished cutlets to a paper towel-lined plate or a rack over a sheet pan. Add remaining oil and butter to the skillet and repeat with the remaining cutlets. You can hold the cooked schnitzels in a 200 degree oven to keep hot.