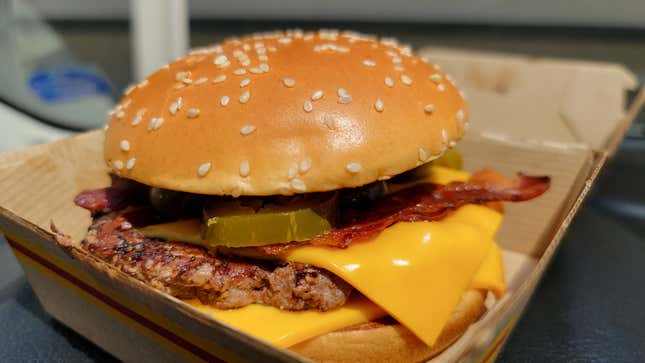 Spicy chicken, hot chips, a general hankering for heat—spice-forward foodstuffs have been surging in the marketplace, and I have to say, I'm all for the trend. So when I saw that McDonald's would be debuting a new Cheesy Jalapeño Bacon Quarter Pounder on Monday, July 10, I marked the date in my calendar.
How To Dispose Of Cooking Grease The Easy Way After Frying
For McDonald's, this is a small victory unto itself. I can't remember the last time I was excited to visit the Grave of Ronald McDonald, despite my fond childhood memories of Quarter Pounders and PlayPlaces. But with its "two slices of melty American cheese, three half strips of thick cut Applewood Smoked bacon, pickled jalapeño coins and cheddar cheese sauce," this new limited-time burger (along with McDonald's recent tweaks to its sandwiches) was enough to lure me to the drive-thru. You did it, ghost clown!
The new burger is available as either a single or a double, pegged at 650 and 870 calories, respectively. I went with the single, which I figured would offer a better balance of flavors. After just three minutes from menu board to departure (well done, McDonald's), I was parked and ready to eat.

What does McDonald's Cheesy Jalapeño Bacon QPC taste like?
From the very first bite of this new Quarter Pounder—bright with bacon smoke, pickled pepper zing, and a creamy tang from the cheese sauce—I was hooked. I actually stared down at the burger and said, "This might be the best McDonald's I've had."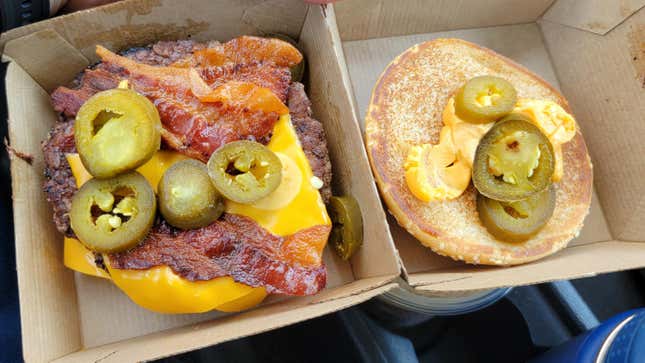 A second bite confirmed the sentiment. The flavor of the "100% fresh beef patty" asserted itself, and I found myself experiencing the impossible: genuine, active, unironic, and unqualified enjoyment. Miracle of miracles, my Cheesy Jalapeño Bacon Single was good. So good that I'll be grabbing another before this promotion runs out.
McDonald's did right by not cluttering this burger with additional sauces, lettuce, or onions. The main flavors are fat (from the bacon, beef, and American cheese) and acid (courtesy of the jalapeño coins). The added cheddar cheese sauce bridges the gap between the two and tastes like the nacho goop you'd get at a stadium, only thicker. As you'll see in the photo, my cheese sauce was clumped in the center of the top bun, which produced a bite or two where the sauce was a bit too dominant. But apart from the jalapeños themselves, this cheddar compound is the key component tying the flavors together.
A quick aside on the Quarter Pounder patty itself: it'd be interesting to see how one of these "fresh beef" pucks would perform if given the Culver's treatment, where a more prominent crust is developed. Am I wrong in thinking it might be less tasty? In my mind, the flavor of McDonald's burgers wouldn't benefit from a hard sear.
Let's quickly discuss the perception of spiciness around this new burger, which I referenced above. When you see "jalapeño" in the name, a certain level of mouth-tingling expectation is set. Yet nowhere in McDonald's description of its new burger does the word "spicy" actually appear. Instead, McDonald's says that the new QPC has "Got some bite." And this is true! But that extra zing comes from the vinegar in the pickled pepper slices and the upward inflection of the cheese sauce, not any perceptible capsaicin heat.
How to buy the new Cheesy Jalapeño Bacon QPC
Is the Cheesy Jalapeño Bacon Quarter Pounder worth the price? No, but also maybe. Here in Central Wisconsin, I paid $9.47 for one Cheesy Jalapeño Bacon Quarter Pounder and a small fry. That's for a single patty, not a double, and no drink. As much as I enjoyed the burger itself, that's pretty damned pricey for McDonald's. I can get similar portion sizes from both Culver's and Burger King for less money, minus the stress of having to catch a "limited time" promotion.
As always, the combos are going to be a better value. Bundle the fries and drink and you're looking at $10.79 for the single and $12.29 for the double, before tax. I won't go so far as to call this "price gouging," so let's settle on "inflated."
But is this going to keep me from going back to the promotional well? Probably not. I ate one of these things yesterday, and I'm thinking about returning this afternoon. Part of me is happy about the pricing, as it will keep this an occasional versus regular meal.
In short, McDonald's has finally snared me with one of its promos. I couldn't care less about the McRib or Grimace's horror-fueled birthday party, but if this Cheesy Jalapeño Bacon QPC rolls back around next year, I'll be among the first in the drive-thru line. It might be pricey, and it might not be the best fast food burger I've ever had, but it's the best I've had at McDonald's by a mile.