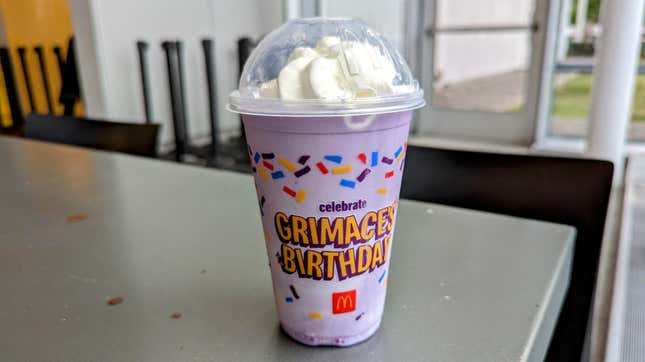 Did you know that for the first year of his existence, Grimace, longtime McDonald's mascot and the most vibrant character in McDonaldland, was one of the bad guys? Originally known as the Evil Grimace, he was a creature determined to steal shakes and sodas from the unsuspecting masses. Since his debut in 1971, however, he's changed his ways and become a beloved part of the McDonald's canon, so much so that a special menu is being rolled out this month in honor of the purple monster's fictional birthday.
How To Dispose Of Cooking Grease The Easy Way After Frying
June is officially Grimace's birthday month and McDonald's is celebrating with Grimace's Birthday Meal, featuring your choice of a Big Mac or 10-piece Chicken McNugget, plus an order of medium fries. But the real draw of the bundle is a limited-time-only purple shake, which combines vanilla soft serve and a berry flavoring.
The shake has a visually pleasing pastel color that only artificial food dye can provide. Considering McDonald's rarely tinkers with its core dessert lineup, it's worth giving this novelty shake a taste to see if the chain ought to play around with its flavors more often.
How does Grimace's purple shake taste?
I took the shake for a proverbial spin with a Big Mac and fries. The berry flavor in the shake is actually pretty delightful, but in the one I received, there was barely a whisper of it. This isn't a strawberry type of berry flavor, more of the generic blueberry or blackberry sort, which I particularly enjoyed. And if the flavor were dialed up a few notches, I'm pretty sure I'd have gone from liking it to loving it.
This shake should not be part of a meal bundle, though, because it only works as an a la carte item. It's difficult to taste the berry flavor at all if you're pairing it with food. When I washed a bite of burger down with a sip of the shake, all I got was a sweet and creamy flavor, no fruity notes whatsoever. The same thing happened when I followed up a bite of fry dipped into ketchup with another sip. The assertive flavors of the Big Mac, fries, and ketchup eclipsed the delicious dessert entirely, which is a shame, given what a fun new menu item it is; I felt like I partially squandered my limited-time-only purchase.
Is McDonald's Grimace Shake worth ordering?
So, is it worth a buy? As a standalone shake, the answer would have been yes. But since it's only available as part of the Birthday Meal bundle, it depends on how much you want to spend, and/or whether you can split the meal with a friend who wants either the Big Mac or Chicken McNuggets. (No Quarter Pounder or McCrispy substitutions allowed at this birthday party.)
Grimace's Birthday Meal is a good reminder that burgers and shakes are not an ideal combo for many of us. Drinking a hefty dessert with an already satiating meal has always been too much for me. Maybe I'm just a delicate flower. It's Grimace's birthday, and the birthday boy gets to call the shots. Everyone's invited, but you'd better show up hungry.