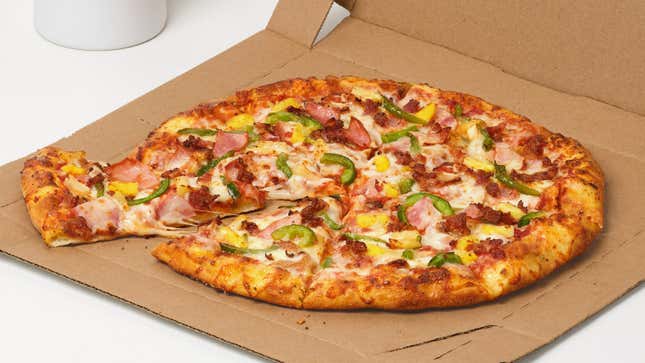 Domino's, like so many other fast food, fast casual, and full-service restaurant brands, has announced a newly revamped loyalty program to replace its existing one. Previously, it was less of a rewards program and more of a "reward" program, singular, since you could only get one thing: You'd rack up 10 points with every order of $10 or more, and when you accrued 60 points (aka spent at least $60 on a collective six orders), you'd get a free medium two-topping pizza. That was it. The new Domino's Rewards does things a little differently, however, and there are new ways to redeem points—so pay attention if you want to get the best free stuff.
How To Dispose Of Cooking Grease The Easy Way After Frying
Domino's new loyalty program, explained
Domino's has technically halved the amount of money you need to spend on each order to earn points, meaning you now accrue 10 points for every order of $5 or more (instead of the previous $10 threshold). Multiple tiers have also been added to the rewards system, which means you don't have to save 60 points in order to get a free medium two-topping pizza—you can redeem lower amounts of points for smaller free items if you so choose. Here are the rewards you're eligible for at each tier:
20 points: Free dipping cup, a 16-piece order of Parmesan Bread Bites, or a 20-oz. bottled drink
40 points: Order of Bread Twists or Stuffed Cheesy Bread
60 points: Medium two-topping pizza, pasta, Oven-Baked Sandwich, or a 3-piece order of Chocolate Lava Crunch Cakes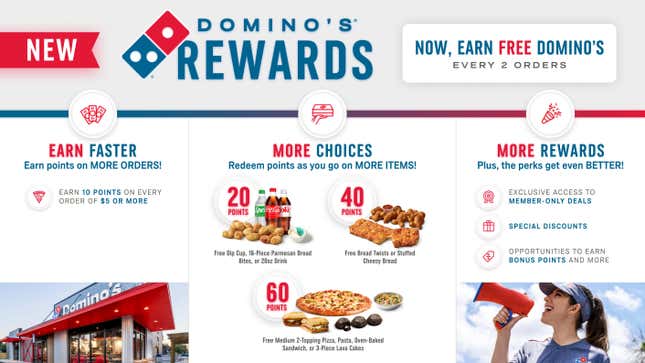 How to redeem Domino's Rewards points
Not all rewards systems are created equal, so let's comb through each tier to determine the item that gives you the most bang for your buck points. These picks are based off the prices at my local Domino's; your menu prices may vary.
The best item for 20 points: 16-piece Parmesan Bread Bites, worth $4.99. The other items are worth much less: a 20-oz. drink costs $2.49 and the dipping cup is a measly $0.90.
The best item for 40 points: It's a tie—both the Stuffed Cheesy Bread and any of the Bread Twists are worth $7.99. So, it's up to you. Personally, I'm a fan of the Stuffed Cheesy Bread, but that's just me.
The best item for 60 points: Medium two-topping pizza, worth $17.99. The 3-piece Chocolate Lava Crunch Cakes and pasta both cost $8.99, while an Oven-Baked Sandwich is $7.99.
Do Domino's Rewards points expire?
If you've got enough points to redeem a free pizza, you'd better not hoard them. If your account hasn't been active for 180 days—as in, you haven't ordered anything from Domino's for three months—the points will expire and disappear from your account. So go ahead and cash in when you can. Nobody likes to waste food, especially pizza, which just tastes so much better when it's free.