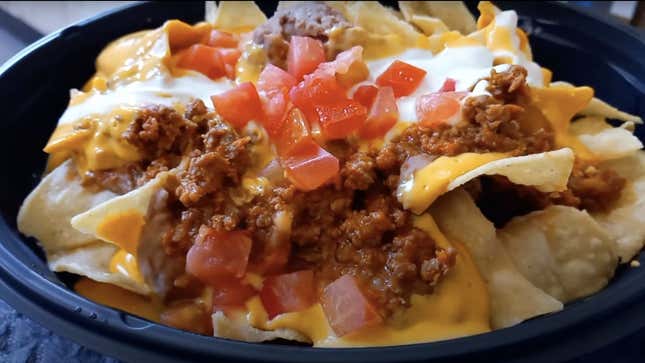 If you're part of any rewards program, you know the best part about it is getting to the point where you've accrued enough points on purchases to finally redeem some free food. But we all know that rewards programs can change on a dime, and when they do, they usually change for the worse. Such is the case with Taco Bell.
Dr. Pepper Strawberries & Cream Is Tearing Us Apart
The chain recently announced some updates to the Taco Bell Rewards program, most notably which items can now be "purchased" with accrued points. Though some excellent menu items are being added to the list of its redeemable freebies, Taco Bell is quietly removing one item from the list, and the change is sure to make a few people grumble.
How Taco Bell Rewards work
It starts just like any other loyalty program: You download the app, then you buy stuff. Each dollar spent will net you 10 points, and when you hit 250, you're eligible for a reward.
What's interesting is that Taco Bell has tiered rewards: Hot and Fire. The Hot version allows you to get a lower tier of rewards, and if you unlock Fire by racking up 2,000 points (aka spending $200) within a calendar year, each subsequent dollar you spend nets you 11 points, and you'll gain access to a better set of rewards for every 250 points you hit.
What's changing in Taco Bell's reward program?
The notable change is happening in Taco Bell's Fire tier, beginning April 17. I was first alerted to the changes in my Taco Bell mobile app, but this Reddit thread breaks down the information neatly. As user @jayfromrehab has handily noted, here's a list of which freebies are staying the same at the 250-point level of the Fire tier, which ones are being added to that level, and most importantly, what's being removed.
Here's what staying the same:
Chalupa Supreme
Doritos Locos Tacos
Mtn Dew Baja Blast Freeze (Regular)
Bean Burrito
Chips and Nacho Cheese Sauce
Cinnamon Twists
Crunchy Taco
Cheesy Toasted Breakfast Burrito Sausage
Medium Fountain Drink
Here's which items are being added: 
Cheesy Bean and Rice Burrito
Cinnabon Delights 2 Pack
Beefy Melt Burrito
Fiesta Veggie Burrito
Cheesy Gordita Crunch
Chicken Chipotle Melt
Breakfast Quesadilla (Sausage)
Soft Taco
Spicy Potato Soft Taco
Cheesy Fiesta Potatoes
Cheesy Roll Up
And there's one lone item being removed:
The Nachos BellGrande are being removed from Taco Bell Rewards
Alas, the Nachos BellGrande will no longer eligible as a freebie starting on April 17. While it may not seem like that remarkable of a menu item—it's just chips, nacho cheese, seasoned beef, sour cream, and tomatoes—what's notable is that it's currently the most expensive item on Taco Bell's Fire tier rewards.
To put that into perspective, my location charges a somewhat surprising $7.29 for the Nachos BellGrande. (It is important to note that if you don't put in your location, the price on the website defaults to $4.99; I've found that our Taco Bell is quite expensive.) So getting one for free after $25 in purchases is a pretty good deal. But no longer.
That leaves the Cheesy Gordita Crunch (a crispy taco wrapped in flatbread with seasoned beef, shredded cheddar, lettuce, and spicy ranch) in the top spot, in terms of monetary value. My location sells those for $5.09, and the website defaults to a listed price of $4.59.
Again, the change in Taco Bell Rewards freebies takes effect on April 17, so there are a few more days for members of the Fire tier to cash in on any free Nachos BellGrandes they might have racked up. Otherwise, if you're craving this stalwart of the Taco Bell menu in the near future, you're going to have to pony up the full amount, which might leave a bad taste in your mouth.