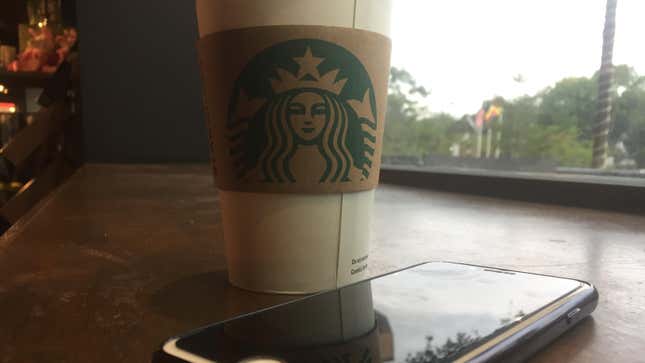 The day many of us have been dreading is coming up fast. No, it's not Valentine's Day (there's still time to spend way too much on a heart-shaped something) or the Super Bowl (when you can distract yourself with chicken wings). The day we all hoped would never come is Monday, February 13, the day on which Starbucks Rewards will change forever.
How To Dispose Of Cooking Grease The Easy Way After Frying
If you've been squirreling away your Starbucks Stars for a big freebie payoff, now is the time to go nuts. Starting next week, those Stars be worth about as much as heart-shaped chocolates in March.
What's happening to Starbucks Rewards?
In December 2022, Starbucks sent an email to customers informing them that the terms of use for the Starbucks Rewards loyalty program would be changing in February 2023. What it failed to say outright is that the program would no longer be quite so rewarding.
For those unfamiliar with the program, anyone who signs up for an account can use the Starbucks app to scan a barcode and earn Stars with each purchase. Scanning the barcode in store (regardless of whether you pay with cash or card) earns one Star per dollar spent. You can earn two Stars per dollar spent if you link your payment method to the Starbucks app and use the barcode to pay directly from the app, either via mobile order or in store. This aspect of Starbucks Rewards will remain the same—everyone will still earn Stars the same way.
However, the amount of Stars it takes to earn a reward is changing for the worse. At the moment, Starbucks Rewards looks like this:
25 Stars: Free drink customization (extra shot, alternative milk, flavor syrup, etc.)
50 Stars: Free hot coffee, a pastry, or a hot tea (note that this is "plain" coffee and tea, not lattes, cappuccinos, etc.)
150 Stars: Free "handcrafted drink" (such as lattes, macchiatos, etc.), hot breakfast item (such as the Impossible breakfast sandwich), or yogurt parfait
200 Stars: Free lunch sandwich, protein box, or salad
400 Stars: Free merchandise (specific items) or bagged coffee for at-home use
After February 13, the way you can redeem Stars for Starbucks products will be changing. Here's how the email to Starbucks customers summarized the changes:
100 Stars may be redeemed for one (1) of the following items: hot brewed coffee or hot steeped tea, iced brewed coffee or iced brewed tea, OR a bakery item (such as a cake pop or cookie), OR a packaged snack (such as popcorn or potato chips) OR one (1) Cold Siren Logo Plastic To-Go Cup (24 oz only) or one (1) Siren Logo Plastic Hot Cup (16 oz only).
200 Stars may be redeemed for one (1) of the following items: any handcrafted beverage (such as a latte or Frappuccino® blended beverage) OR any hot breakfast item (such as a breakfast sandwich or oatmeal).
300 Stars may be redeemed for one (1) packaged salad or lunch sandwich OR one (1) packaged protein box, OR one (1) packaged coffee item (such as whole bean coffee). Packaged coffee availability may vary by store location.
What this all means is that it will now cost more Stars—often twice as many—to redeem any freebies as a Rewards member. These changes will go into effect at Starbucks locations nationwide on February 13, and to say that Starbucks fans are upset would be downplaying the situation.
How customers are reacting to Starbucks Rewards changes
Twitter users are already communally advising each other to use up their Stars now, while the Rewards still carry their maximum value. After the changes go into effect on February 13, many are claiming they'll take their coffee business elsewhere or, at the very least, cut back on their Starbucks runs.
"After I use up what stars I have left I'm done with @starbucks," one Twitter user wrote. "I mean 5.00 for a basic iced coffee and now this [sic] solong."
Another user vowed to stop buying coffee altogether, tweeting, "Woww Starbucks is upping the amount of stars it costs to redeem rewards. Man I hate there [sic] greedy ass companies. I will definitely be making coffee at home now."
Despite the outrage, there are no signs that Starbucks will be reversing its decision. So, heed our warning: Spend those Stars before Doomsday.