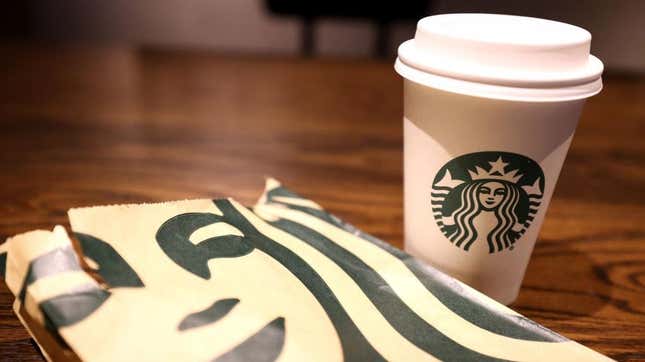 What type of loyalty program user are you? Do you like to spend your loyalty points on small discounts and freebies (a small order of french fries, say) as soon as you rack up enough points to do so? Or are you someone who likes to accrue tons of points to unlock some of the better stuff at the higher tiers, waiting until that sweet moment when you can redeem them for something great, like a free double cheeseburger? Whichever group you're in, you might want to redeem your Starbucks Rewards points very soon, because they're about to be worth significantly less.
How To Dispose Of Cooking Grease The Easy Way After Frying
According to an email sent to Starbucks customers on December 28, the terms of use for the Starbucks Rewards program will be changing in February 2023. If you're like me, you receive dozens of emails from various companies the last week of December each year, all of them bleating about various updates to their terms of service in the coming year. Many of you who saw the Starbucks email in your inbox might have deleted it. Here's the gist: Things are changing for the worse.
How Starbucks Rewards work
Currently, the way Starbucks Rewards works is that you scan a barcode in the Starbucks app to earn Stars with each purchase. If you scan the barcode and then pay manually in store with cash or card, that earns one Star per dollar spent. If you link your payment method to your Starbucks app's "Starbucks card" and use the barcode to pay with that (either via mobile order or in store), you earn two Stars per dollar spent.
Here's what you can currently redeem your Stars for:
25 Stars: Free drink customization (extra shot, alternative milk, flavor syrup, etc.)
50 Stars: Free hot coffee, a pastry, or a hot tea (note that this is "plain" coffee and tea, not lattes, cappuccinos, etc.)
150 Stars: Free "handcrafted drink" (such as lattes, macchiatos, etc.), hot breakfast item (such as the Impossible breakfast sandwich), or yogurt parfait
200 Stars: Free lunch sandwich, protein box, or salad
400 Stars: Free merchandise (specific items) or bagged coffee for at-home use
I typically save up my stars for the protein boxes, which have steadily creeped up in price over the years so that their lackluster bundle of soft grapes, chemically sprayed apple slices, and boring crackers now feel like a certifiable ripoff. Grabbing one for free always feels like the best deal, even though I gradually paid $100 for the privilege. Not anymore!
Under the new terms of use, the same amount of Stars can be earned for each purchase—1 Star per dollar for unlinked accounts, 2 Stars per dollar on linked accounts—but it will now cost more Stars to redeem any of the free items.
Effective February 13, 2023, here's how you'll be able to redeem Stars, per the new terms of use:
100 Stars may be redeemed for one (1) of the following items: hot brewed coffee or hot steeped tea, iced brewed coffee or iced brewed tea, OR a bakery item (such as a cake pop or cookie), OR a packaged snack (such as popcorn or potato chips) OR one (1) Cold Siren Logo Plastic To-Go Cup (24 oz only) or one (1) Siren Logo Plastic Hot Cup (16 oz only).
200 Stars may be redeemed for one (1) of the following items: any handcrafted beverage (such as a latte or Frappuccino® blended beverage) OR any hot breakfast item (such as a breakfast sandwich or oatmeal).
300 Stars may be redeemed for one (1) packaged salad or lunch sandwich OR one (1) packaged protein box, OR one (1) packaged coffee item (such as whole bean coffee). Packaged coffee availability may vary by store location.
Sure, they threw in some junky merch at the 100-star tier to distract us, but essentially, earning any of the free stuff we actually care about now costs twice as many Stars.
This is all too reminiscent of last year's changes to the DD Perks program (now rebranded as Dunkin' Rewards), which jacked up the number of required purchases to earn any free drink or upgrade. Dunkin' diehards, of which there are an astounding number, were outraged; daily users of the rewards program have fallen into a steady rhythm of purchases and freebies, and no one was deceived by the fresh new look of the program to consider it anything other than a ripoff. Many claimed that they would swear off Dunkin' entirely.
Ironically, the announcement of these changes at Starbucks comes just a few months after Investor Day last September, when Starbucks announced some grand plans for expanding the loyalty program to further entice customers to use it. These plans included expanding the rewards program to all licensed Starbucks outlets (such as those at supermarkets and Target stores, many of which don't yet offer Stars) and even allowing customers to put Starbucks purchases towards rewards from other companies—racking up airline miles with a daily cup of coffee, for example. For most casual non-daily consumers, however, earning points for a free cup of coffee feels a lot more relevant, and to make that harder to achieve just feels insulting.
I've currently got 210 Stars sitting in my account; that means a protein box is in my future. My very near future, it turns out, because in 39 short days the opportunity for that freebie will be snatched away from me, unless I spend another $45 before the current points expire. Yes, Stars expire after six months. It's worth remembering that the Starbucks Rewards program is a lot more rewarding to Starbucks than to the customer.