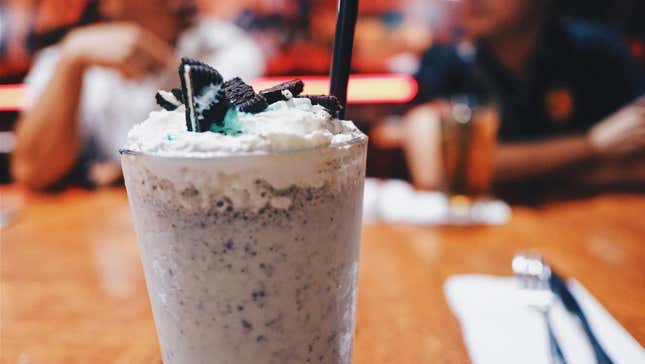 From fast food chains to full-service restaurants, loyalty programs are the defining feature of dining in 2023. As we've discussed, these programs are not only a way to draw in customers with the promise of a discount, but also keep them coming back to accrue points and unlock better deals the more they visit. Some even present member "challenges" for bonus rewards, in order to gamify the experience of spending money. Most of these programs rely on proprietary mobile apps, which help track purchases and give restaurants valuable customer data. But a recent announcement from TGI Fridays indicates the brand might be doing things a bit differently.
All the Best Finds at the Sweets & Snacks Expo
In a press release this week titled "TGI Fridays® Serves Up a Bigger, Better, and Easier to Use Rewards Program," the brand announced a revamped version of its Fridays Rewards program, which has a refreshingly straightforward structure: every dollar spent earns you one point, and you can unlock a free appetizer at 75 points or a free entree at 150 points. Nice and simple.
"The revamped Fridays Rewards program streamlines the restaurant loyalty experience, making it simpler than ever for fans," reads the press release in part. "With the free-to-join program, members are able to link with their cell phone number to automatically earn a point for every dollar spent – no app download or tedious sign up required."
The "no app download" element is sure to be appealing for some customers, since many of us have phones so stuffed with various loyalty apps that our Sweetgreen Sweetpass takes forever to load while we're standing at the register. Indeed, more restaurants seem to be finding ways to move away from app downloads to court reluctant customers who might otherwise join a loyalty program or otherwise patronize a business; Jet's Pizza, for example, has rolled out a text-message-based ordering system to great success.
"With the revamped program, we are helping guests redeem rewards as often as possible, so they know they can always get a delicious deal and meal at Fridays," said Lindsay Eichten, director of loyalty at TGI Fridays, in the release.
At a time when some restaurants are making their apps even more elaborate to court customers, it's interesting to see a popular chain restaurant swing in the opposite direction, catering to people who want to be on their phones less throughout the dining experience, not more. If it proves successful, it could signal to brands that they don't need to create Breath of the Wild–level digital experiences for their customers. Ultimately, we just want free stuff as often as possible.