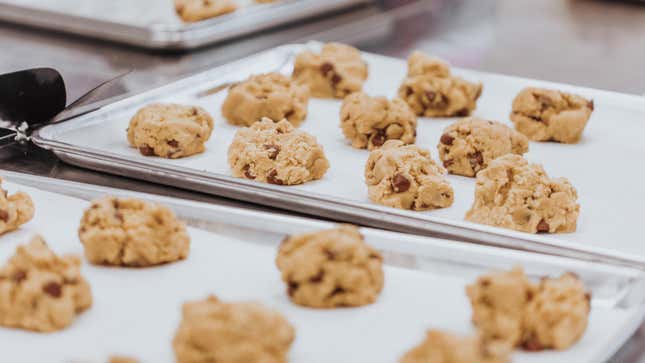 Crumbl, the massive cookie brand known for weekly flavor drops, social media prowess, and rapid expansion, has once again shown its not-so-sweet side when it comes to business. Although the cookie chain was ready to go for the jugular in an ongoing legal battle with a competitor, a federal judge has denied Crumbl's request for an injunction.
How To Dispose Of Cooking Grease The Easy Way After Frying
Two lawsuits filed by Crumbl in May 2022 allege that two separate competitors, Crave Cookies and Dirty Dough, have infringed on Crumbl's trademark and design. While both of these smaller competitors face similar allegations, it is the latter that is accused of outright stealing trade secrets and other information about Crumbl's business to benefit its own interests, reports The Salt Lake Tribune.

The Crumbl cookie lawsuit, explained
Per Crumbl's filing, Bennett and Bradley Maxwell, the brothers who started Dirty Dough, were both initially involved with Crumbl and, the filing alleges, used stolen proprietary information to inform their own business interests.
Bradley Maxwell worked for Crumbl as a process engineer from March 2019 to June 2019; in that time, he had access to the company's recipes, formulas, spices, mixes, and methods. The lawsuit alleges that Bradley downloaded 66 proprietary recipes and other confidential information from Crumbl's servers during his last week on the job. Some of the confidential information alleged to have been stolen includes the Crumbl "cookie calendar," which details the weekly flavor drops, and "Build Out Guides" for franchisees explaining how to open and operate a Crumbl location.

Both brothers invested in Dirty Dough in 2019, each amassing a 15% equity stake in the company. Dirty Dough originally denied the allegations in Crumbl's filing, but by September 2021 it was found that Bradley Maxwell had uploaded Crumbl's documents to Dirty Dough's Google Drive. "Although he denies 'reading' the Crumbl information his brother uploaded to the Dirty Dough Google Drive, Bennett Maxwell concedes that he 'reviewed those documents at some point to see what they were,'" the filing states. 
After an evidentiary hearing, the two parties agreed to Dirty Dough returning all of the stolen information and for Bradley Maxwell to swear under oath everything had been returned. Problem solved, right? Wrong.
Crumbl sought an order requiring Bennet Maxwell to issue a public statement admitting that Dirty Dough stole the information, and also sought an injunction preventing Dirty Dough from opening any more locations for the duration of the legal proceedings. Bennet Maxwell testified that these extra punishments would put the company out of business.
Unfortunately for Crumbl, a judge sided with Maxwell, writing in a recent ruling, "Crumbl has not come close to showing that it still faces irreparable injury that could justify an economic death sentence for its nascent rival." The judge went on to note that requiring a public statement from Maxwell would be, if not an outright violation of Maxwell's First Amendment rights, at least an unjustifiable demand given that there just isn't enough proof being offered to support Crumbl's claims that "Dirty Dough's extraordinarily rapid growth can only be attributed to its use of Crumbl's information."
On the bright side for the cookie giant, the judge also noted that Crumbl's lawsuit will likely succeed, and that there is little doubt both Maxwell brothers acted unlawfully. So, however badly Crumbl might want to see its competitor crushed in the short term, it seems the cookie has crumbled a different way, and the case will take longer to play out. In the meantime, we're sure that Crumbl will simply keep on winning, for better or for worse.