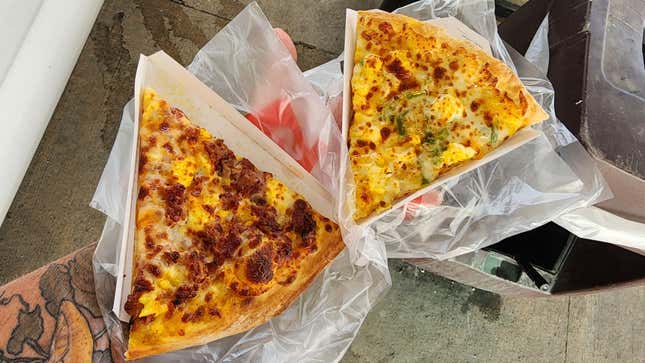 The first time I drove across the country, the road trip functioned as a way to blow off some steam. It was also a reason to experience a bucket list full of iconic American foods and restaurants. Conversely, this trip, completed last week from Los Angeles to Pittsburgh, was a catalog of regional horrors and wonderful culinary oddities. Think runzas, taco pizza, thick Utah milkshakes, pastrami burgers, fry sauce, and doughy Colorado-style pies. (You can expect a detailed report on these things in the coming weeks here at The Takeout.) Nothing I ate on this trip was glamorous or chef-driven (vroom vroom), but I did get to see many of the country's regional gas stations.
How To Dispose Of Cooking Grease The Easy Way After Frying
Gas stations are a crucial part of American food culture, and in some areas they actually function as a great dining option in place of restaurants. People love to champion their local truck stop delicacies, whether it be Sheetz's breakfast sandwiches, Wawa's hoagies, or Casey's breakfast pizza. And within the last decade, gas station food has become a source of intense regional pride. That's because these outposts understand the basic needs of local customers. Gas stations exist to sell consumers exactly what they want, sure, but that delivery system can be flavorful, unexpected, and dare I say fun.
Within each of these gas stations lies a treasure chest full of snacks—crunchy, sweet, salty, greasy, processed foods meant to make the road seem less wearisome. I think that we can all agree that most exciting part of any road trip is choosing the road trip snacks. Choose wisely, though, because greasy fingers, general bloat, and frantic trips to the bathroom are the enemy. My philosophy around selecting the perfect road trip snacks is pretty simple:
Nothing filling. I don't want to feel too bogged down while driving, and I want to save room to eat at my final destination.

High-protein snacks are key. Jerky is a must.
A good mix of healthy and junk food so as not to feel like total shit.
Regional chips, snacks, and prepared foods must be sampled. Otherwise, what's the point of driving across the country in the first place?
Here's where I got started.
---
Old Trapper Beef Jerky + Pine Nuts (from home, in Los Angeles)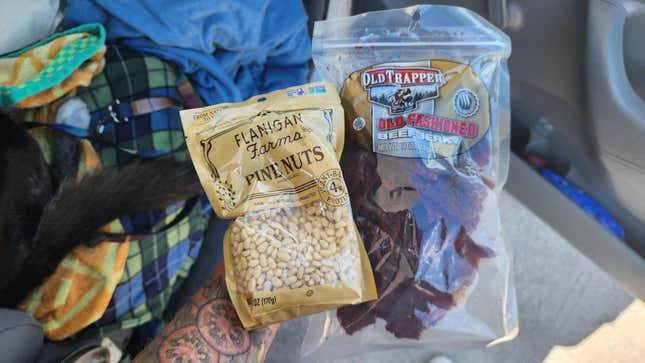 Let me first address the pine nuts. I didn't purchase these specifically for the trip; they were just lying around my apartment. As I was packing, I realized, oh hell yeah, I would happily munch on a handful of pine nuts while driving. I actually think the move (shameless plug) would be to toast the pine nuts at home, salt them, then put them in a Ziploc bag or plastic container for optimal road trip snacking. Roasted pine nuts far exceed un-roasted.

Old Trapper Beef Jerky is simply my favorite beef jerky, perfectly gnawable without being dry, and I wanted to start the trip out strong. Also, the sugar free version has soy sauce listed in the ingredients, lending the product a more meaty and savory flavor. More soy sauce powder in our snacks, please (it's in Spicy Sweet Chili Doritos, too).
Pizza Flavored Pringles, Gardetto's Garlic Rye Chips, + David Pumpkin Seeds (from Chevron in Cedar City, Utah)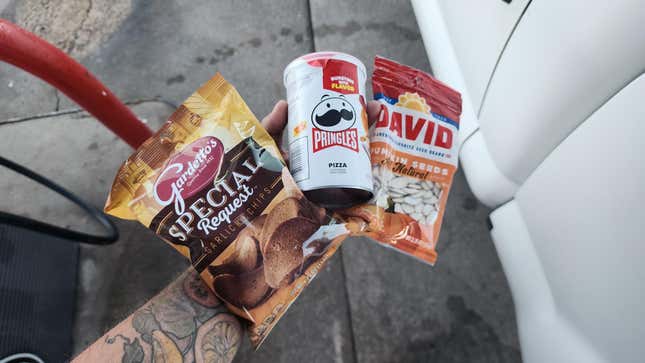 Now this is a snack haul that I would introduce to my parents.
I'm not a Pringles guy, but these pizza flavored Pringles satisfy every horrible flavor craving I have. They're simply Pringles seasoned with MSG, tomato powder, cheddar cheese, onion powder, garlic powder, buttermilk powder, and spices. One of those spices has to be oregano, as it's the defining flavor of most pizza flavored snacks. Pringles aren't very good to me because they don't taste anything like real potatoes (they're made of processed and dehydrated potato flakes), but the pizza flavor here is just magnificent garbage food.

Gardetto's garlic rye chips are perfect road trip food because they don't make a mess. They're not greasy, and they're so small and sturdy that crumbs aren't an issue. Gardetto's are quite polarizing for people; some find the breadstick, pretzel, and rye chip combination to be rather bland. However, if you're a fan, that means you love the rye chips. The garlic and wheat flavor is really pronounced, and a whole bag is too good to pass up. Beats eating a greasy, crumbly bag of Lay's behind the wheel.
Sunflower seeds don't do anything for me on a road trip—who wants to spit seeds into a cup while driving?—but pumpkin seed shells are safe and enjoyable to eat. They're super salty, fatty, and full of protein.
Chaos Flavored Kettle Chips + Charleston Chew Rollers (from Maverik in Fort Collins, Colorado)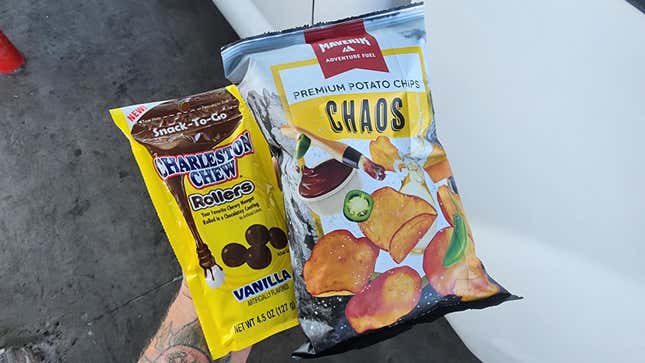 Maverik is the Clif Bar of gas stations. It positions itself as an active, outdoorsy, kayak-loving fuel stop. "Start your adventure today," the website suggests amid pictures of people on mountain bikes and a guy wearing a puffy vest. There are roughly 370 Maveriks located in 12 states, most of them located out West. I kept seeing them in Utah and Colorado, so I had to stop eventually.

Perhaps capitalizing on the chaos cooking trend, Maverik sells its own brand of Chaos chips, and they're some of the best I've had this year. They're a hodgepodge of multiple chip flavors: salt + vinegar, barbecue, and jalapeño. They're not the most well-made kettle chip in the world (the crunch could be better), but combining three flavors into one bag is an awesome idea. Sweet, salty, smoky, and spicy all in one, this bag of chips actually felt exciting—exactly the type of thing you need on your road trip. I know I said not to eat chips while driving, but shit, I've been practically living in my truck for the last five days.
Charleston Chew Rollers, meanwhile, are simply the classic Charleston Chew candy bar but in this bite size form. Each little "roller" is a blast of sugar, chocolate, and chewy marshmallow flavored nougat. This is an elite movie theater snack sold at a gas station. Perfect for any snacking situation, but ideal for driving. Dessert on the go makes the road feel far less monotonous.
Wenzel's Farm Beef Sticks (from Fat Dogs in Lincoln, Nebraska)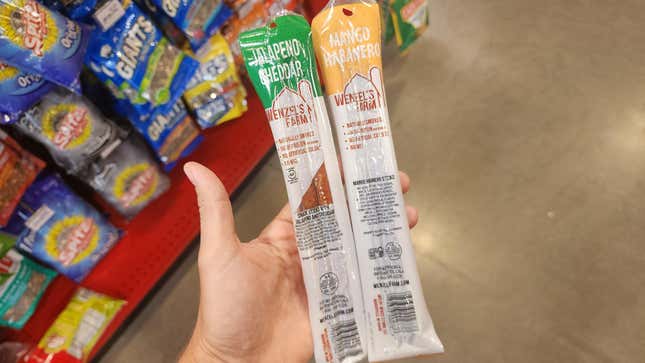 "You Are Nowhere." That's the Fat Dogs slogan. Pretty bleak stuff happening in Nebraska, a state I was happy to be out of (the drive is just real, real boring). I'm not really sure what Nebraska specializes in, but it very well could be meat sticks and beef jerky.
I remembered trying these Wenzel's Farm beef sticks for Sporked last year, so when I saw them in Nebraska I had to jump all over them. Fancy beef sticks are really on the come up, but they're kind of expensive. These Wenzel's Farm sticks, though, ended up being around $2.29 per stick. Not too bad, especially for a well-made product.

Wenzel's Farm Jalapeño Cheddar and Mango Habanero flavored beef sticks really hit the spot. The snap is incredible and not at all chewy like a Slim Jim, which has the unfortunate texture of waterlogged tree bark. Wenzel's, a Midwest company, touts its lack of artificial binders and fillers and uses buzzwords such as "small batches," "family recipe," and "premium beef and pork." Is it bullshit? I don't know, but it tastes great. I only found Wenzel's in Nebraska, nowhere else. Worth picking up because you deserve better than a Slim Jim. We all do.
Taco Pizza Kettle Chips (from Casey's in Cedar Rapids, Iowa)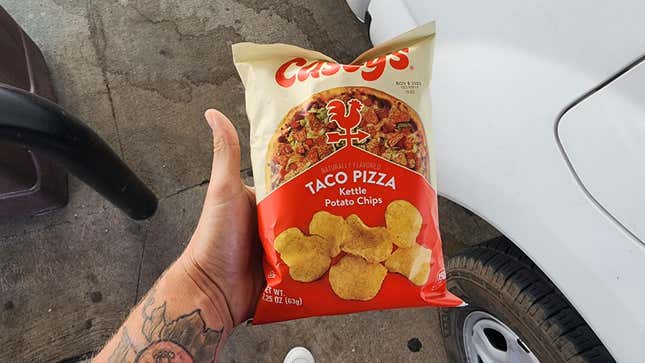 Iowa is known for its taco pizza, which you likely either consider a regional delicacy or a culinary atrocity. For merely suggesting that it could be the latter, I received a ton of backlash online. I enjoyed the hell out of my taco pizza experience, but it was still a horrible mess; I have to believe that there's a better version of taco pizza out there somewhere. Nevertheless, people acted like I came directly for their grandmother. Regional food pride is unrelenting.

Casey's is a gas station chain based in Iowa that has wonderful, wonderful breakfast pizza. Seriously, the Casey's breakfast pizza is the best thing I ate on this entire trip. Get the breakfast pizza, skip the taco pizza, and get these taco pizza flavored chips instead.
The chips taste like cumin, tomato powder, garlic powder, and cheese. There might be some oregano in there, but the only pizza flavor I really get is from the tomato and cheese. Still, these are very fun, and I had a blast eating them.
In fact, crazy as it might sound, the two best chip flavors I've had this year are ones I encountered on this road trip—Chaos chips from Maverik and Taco Pizza chips from Casey's—and they were both proprietary products from gas station brands. These companies are starting to realize not only that consumers want sloppy, chaotic flavor mash-ups, but also that they won't shy away from a house brand. Personally, I'm eating it up. Gas stations see us all in our hour of need, and as a result, they always know exactly what we want.