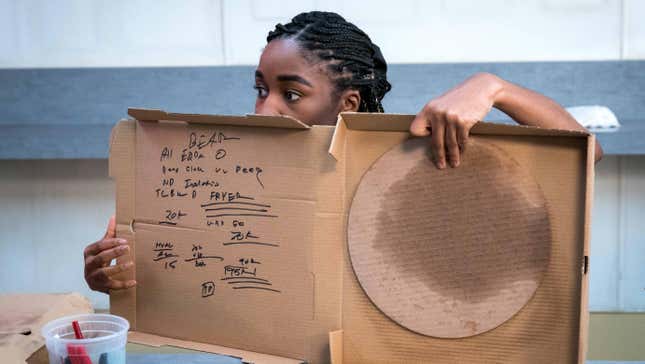 Warning: Spoilers ahead for season one of The Bear.
The Bear returns for season two on June 22, and for anyone who has worked in the food service industry, that's both good and bad news. This is a show I look forward to, but also one that stresses me the fuck out. Can the series really be that fraught with anxiety the second time around? Is its level of back-of-house panic sustainable? I think this next season is likely to be a little more chill, if only because it has to be.
How To Dispose Of Cooking Grease The Easy Way After Frying
With the Original Beef of Chicagoland biting the dust in season one after a dizzying final two episodes and an unexpected financial windfall now in play, a new restaurant concept will rise from the ashes, one aptly crowned The Bear.
"Family style? Two-tops, booths?" says Carmy to sous chef Sydney in the season one finale, looking apologetic.
Sydney stares back, realizing she's been sucked back into the operation she left behind. "Danish design, tasting menu at the bar," she chants, locked in step.
But what kind of food will the restaurant actually serve? Based on the new trailer for season two, it looks like the gang is going to take on chaos cooking.
What is "Chaos Cooking"?
"Still thinking chaos menu?" Sydney asks Carmy in the season two trailer as the pair test recipes together.
"Yeah, chaos menu, but, um, thoughtful?" he replies.
It's possible that this "chaos menu" concept is just a bump along the road (Carmy does spit out whatever dish they're concocting), a pit stop before they find an approach that works—or maybe embracing the chaos is exactly what will save Carmy in the end. But first, what even is chaos cooking? Like, exactly?
On paper, so-called chaos cooking might sound like a modern way to repackage fusion. The words "chaos" and "chaotic" are more integrated into our modern lexicon nowadays, with people describing personalities as "chaotic good" and so forth. "Fusion," on the other hand, has a lot of '90s stink on it. As a description of hybrid cuisine, it's rather limiting and in desperate need a rebrand. Enter chaos.
But are fusion and chaos cooking one in the same? Are they both simply the act of melding cultures and ideas on a single plate? I think there are some important distinctions to be made.
Chaos cooking vs. fusion food
Back in September 2022, Eater reported on the chaos cooking trend. "Part neo-fusion, part middle finger, a new, brash food style is changing the face of restaurants," Jaya Saxena writes, citing dishes like cheeseburger arancini, masala cheesesteaks, dosa-battered onion rings, big mac pizza, and biscuit-and-gravy pierogi as examples of how colorful the concept has become. It's cooking without rules, essentially, embracing odd yet delicious combinations with a focus on beautiful, messy individualism.
Yet "chaos" might not be the most flattering way to describe a chef's cooking, as it implies a sort of thoughtlessness. Diners don't want their food to be some dashed-off, wacky experiment. And in a technical sense, making food at restaurant scale, producing the same product over and over again, is the opposite of chaos.

"Fusion," while it might be a somewhat antiquated way to describe foods that blur cultural lines, at least implies some intention, some thoughtful engineering on the part of the chef. The problem with labeling food as fusion, though, is that it flattens each cuisine into a linear, self-contained concept. Thing + Thing. Mexican and Italian. Korean and Filipino. The world today is much more diverse and multidirectional, and we have a cooking style to reflect that, with chefs drawing inspiration from dozens of different cultural highways.
What chaos cooking looks like on restaurant menus
In Los Angeles, chef Diego Argoti's wildly popular popup, Estrano, responsible for the aforementioned biscuit and gravy pierogi, has served crunchwrap supreme lasagna and hot pocket agnolotti, but also broccoli and beef ravioli and tortellini en pozole verde; all told, Estrano bounces between chaos and fusion in equal measure. Fitting, since Estrano means "strange" in Spanish.
One of LA's best new restaurants, Chelou, translates to something similar in French: strange, dodgy, weird, and unexpected. Its menu follows: Thai-inspired carrots topped with shoestring potatoes, cocktails with flavor combinations impossible to identify. "Strange" is certainly a word that might begin to describe this new form of cooking. And though it's probably an even less flattering descriptor than "chaos," it indicates that you're about to experience something you've never seen before, a dish informed by the uniquely vibrant life experiences of the chef who made it.
I wonder if chaos cooking will be a saving grace for Carmy, Sydney, and the rest of the staff at The Bear. Even if it turns out to be an imperfect plot device for the show, it might invite the rest of us to celebrate our strangeness.