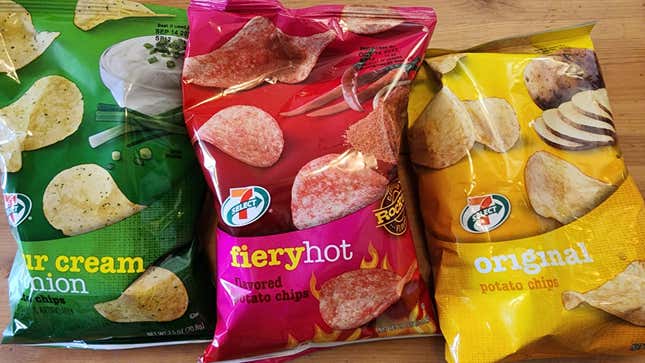 My name's Danny Palumbo, and I'm from Pennsylvania—home of Herr's, Utz, Snyder's, Wise, Middleswarth, Martin's, Gibble's, and many more. In short, this is where chips live, baby. And although I no longer live in the Keystone state, I still have a profound admiration for all things potato chips. In this column I will be reviewing some of the best the country has to offer. Welcome to Chip Country.

Does This Dr. Pepper Really Taste Like Bourbon?
---
In Los Angeles, 7-Eleven is where I go to find the best little bags of chips. Currently, the convenience chain carries Herr's creamy ranch and habanero wavy chips, Herr's jalapeño popper cheese curls (more on those next week), TGI Fridays cheddar & bacon potato skin chips, and Tapatío Doritos. In short, it's the church at which I worship my gods of salt, fat, oil, and MSG. Alongside its reliable selection of snack brands, though, 7-Eleven sells its own line of "7-Select" potato chips that I've never sampled. Time to investigate.
While the 7-Eleven house brand (which has been around a while) includes kettle chips, wavy chips, and cheese puffs, I chose to focus my investigation on 7-Eleven's regular ol' fried potato chips. My location offered a selection of Original, Sour Cream & Onion, and Fiery Hot—and two of them surprised me with their delicious simplicity.
7-Select Original Potato Chips
These are so fucking salty, and also very greasy. In short, this is everything you want out of a 7-Eleven potato chip. It's pure junk food, man. I could (and did) inhale this entire bag. The aesthetic here is Lay's; in fact, 7-Select Original chips share the same fat and sodium content as the classic Lay's potato chips. Yet somehow these taste way, way saltier. There's something about a plain Lay's potato chip that just rocks. It's fat, it's salt, it's everything you need. Same with these.
G/O Media may get a commission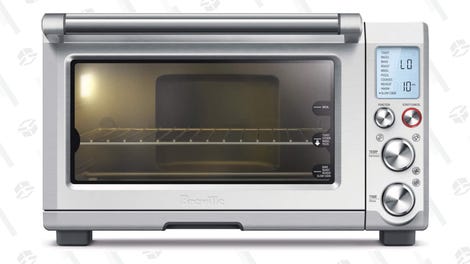 36% Off
Breville Smart Oven
7-Select Sour Cream & Onion Potato Chips
My least favorite of the three flavors I tried, these Sour Cream & Onion chips do contain MSG but could have used much more. They don't taste salted enough, despite their 240mg of sodium per serving. There's a bit of an oniony kick, but none of the desired pungency, and they're not very creamy, either. 7-Select Sour Cream & Onion chips are just weak, and I'm starting to wonder whether this potato chip flavor is just flat-out overrated across the board. I'd much rather dunk a plain potato chip into a good dip that contains these flavors, to be honest.
7-Select Fiery Hot Flavored Potato Chips
These are actually hot, and I'm into it. It's a dry heat, but there's a bit of sweetness and extra aromatic flavor from onion powder and garlic powder. They're also kind of smoky and savory, and I suspect that's from the torula yeast (a key ingredient we covered in Tim's jalapeño chips). I would absolutely buy these again. These are spicy chips that have great added flavor, not that acidic, almost metallic taste you get from a lot of Flamin' Hot products. Good job, 7-Eleven.