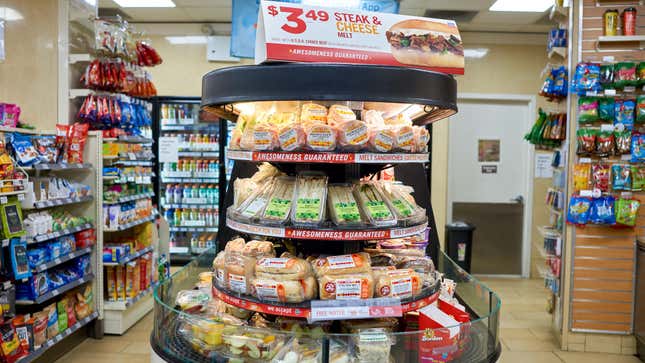 We've all heard horror stories about so-called gas station food, and we're primed to consider it a last resort. If, say, you start feeling queasy after eating a tuna salad sandwich purchased during a pit stop, you'll probably be met with a "well, what did you expect?" attitude from everyone around you. But QSR Magazine reports that convenience store chains across the country are actively working to change that perception by taking a fresh approach to their food offerings. If they succeed, then gas stations might soon become our preferred dining destinations.
How To Dispose Of Cooking Grease The Easy Way After Frying
How convenience store food is changing
The shift has been quiet and gradual over the years, but the results are notable. Casey's, a chain of gas stations and general stores throughout the Midwest and South, is a stalwart in convenience store cuisine. People absolutely love Casey's pizza, so much so that it was the fifth-largest pizza chain in the U.S. in 2021. Meanwhile, the convenience store's afternoon and evening sales—the time of day when we're typically craving pizza—amounted to $1.2 billion in revenue last fiscal year.
The National Association of Convenience Stores reports that 80% of all fuel purchased in the U.S. is obtained at locations with convenience stores attached. About 44% of people who buy gas will enter the convenience store, and of that segment, roughly one-third will make a purchase while inside. Who wouldn't want to capitalize on that hungry market segment?

With lunch and dinner safely in the bag, Casey's recently turned its attention to revamping its breakfast offerings. For more than 20 years, the store's Breakfast Pizza has been a fan favorite, bringing people in the door during less crowded times of day. A hearty slice might bring in those customers, but chief merchandising officer Tom Brennan hopes that better quality coffee and a new breakfast burrito will keep them coming back for breakfast.
Gas station food is becoming more gourmet
Kwik Trip, another Midwestern gas station/convenience store chain, has also shifted focus to improving its food quality and overall menu. "Our goal is to get the food in our customers' mouths," Paul Servais, retail food service director for the brand, told QSR Magazine.
It might sound like a simple goal, but it's a lofty one, considering pervasive notions about the quality of gas station food. Kwik Trip has leaned on prepared foods for years, but more recently began offering entire rotisserie chickens for $4.99 each—a move that is perhaps intended to rival Costco's beloved chicken deal. On top of that, Kwik Trip produces its own dairy and has two bakery plants that make bread and sweets. Creating this proprietary space for itself in the grocery category allows Kwik Trip more room for innovation and at a faster pace, according to Servais.
Gas stations and convenience stores are now full-blown restaurants
The nation's leader in convenience, 7-Eleven, is another prime example of how C-stores are breaking out of the category and changing perceptions about food offerings. Not only are these stores nudging their way into the grocery business with a premium candy selection, but they are also competing with leading fast food options as well. In 2021, a 7-Eleven hybrid location debuted the chain's first drive-thru; in addition to tacos from the attached Laredo Taco Company, customers could order virtually anything from 7-Eleven's shelves, heat lamps, or soda fountain. (So, yes, you can tack a Slurpee onto your order.) The chain has also introduced Evolution Store prototypes, which included a full Laredo Taco Company restaurant complete with beer, wine, frozen margaritas, and a patio on which to enjoy your meal.
I'll admit that buying some things at a gas station, like sushi, still sounds like a bad decision. But I'm not ruling out the idea that a poke bowl offering at one of these revamped 7-Elevens could change my mind. In the near future, taking a chance on a little roadside lunch might not feel like much of a gamble at all.