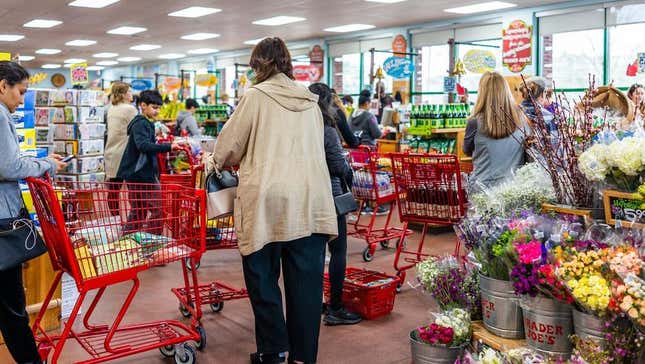 Robots scan shelves for inventory, smart shopping carts register purchases before customers hit the checkout line, and some grocers let customers pay by palm—but Trader Joe's continues to resist any and all of that newfangled technology.
How To Dispose Of Cooking Grease The Easy Way After Frying
Whether you love or hate shopping at the chain, Trader Joe's is nothing if not consistent on this front. In a recent episode of the Inside Trader Joe's podcast, CEO Bryan Palbaum was not shy about sharing his distaste for self-checkout and why the brand has no plans to incorporate that sort of technology, or any other similarly high-tech advancements, into the Trader Joe's shopping experience.
Why Trader Joe's stays low-tech
Trader Joe's stands apart from other popular grocery chains in a few key ways. Take for example the fact that most major supermarkets now have mobile apps and loyalty programs to offer coupons, promotions, and other perks for customers. TJ's has actively chosen not to create a reward system.
In a previous podcast episode, representatives from the brand's marketing department explained that implementing a loyalty program would require more complicated relationships with manufacturers and closer tracking of individual customers' purchases. Instead, Trader Joe's prefers to track overall sales of products to determine how to stock its shelves. It's a simpler approach that does not require customer information like email addresses, phone numbers, or card swipes, and it saves a lot of money in product development.
Trader Joe's also does not list its products online, nor does it allow for delivery or pickup orders at all. Even in the midst of the pandemic, Trader Joe's chose to continue its operations without any grocery pickup or delivery options. Tara Miller, VP of marketing, has explained that online customers generally shop with a product or brand already in mind, whereas the TJ's experience is more like a "treasure hunt." Trader Joe's customers are encouraged to peruse the aisles and explore the rotation of products on the shelves, which usually leads to a larger cart purchase. (It's easy to see why.)
Both Palbaum and Trader Joe's president Jon Basalone explained on the most recent podcast that self-checkout kiosks will not have a place in any Trader Joe's store because they would place more work on the customer. They also noted that implementing self-checkout would likely lead to replacing workers for the sake of efficiency and the company has no desire to do so, especially because self-checkout often contributes to bad customer experience.

"That's like the time I was in a store, and I couldn't get the thing to scan," said Basalone. "And then the person came over and was trying to explain to me. I'm like, I do this for a living, and I can't get this thing to work."
Palbaum and Basalone also take the opportunity to call out aisle-roaming robots like the ones being tested by Midwestern grocery chain Schnucks. These robots scan aisles, checking prices and inventory, and are part of the company's solution for labor shortages. The Trader Joe's heads note the company is better off focusing on product innovation and expanding the brand with more locations.
Beyond what the company says about its desire to staff human employees, remove any burden from the customer, and provide everyday value on groceries, it's possible that Trader Joe's shies away from technology like self-checkout for another reason: space. As Trader Joe's has explained in the past, its locations have an intentionally smaller footprint than the typical grocery store, meant to make it feel more like your local market than a gigantic corporate chain. Self-checkout machines have the potential to create even more bottlenecks at the registers than they already have, with multiple lines crowding around multiple kiosks and blobbing out further into the store.
When the robot apocalypse arrives and all our AI-driven "innovations" keep bumping into each other on their way to destroy humankind, we can all take shelter inside a Trader Joe's. We might need to survive on Mandarin Orange Chicken, but who's complaining?