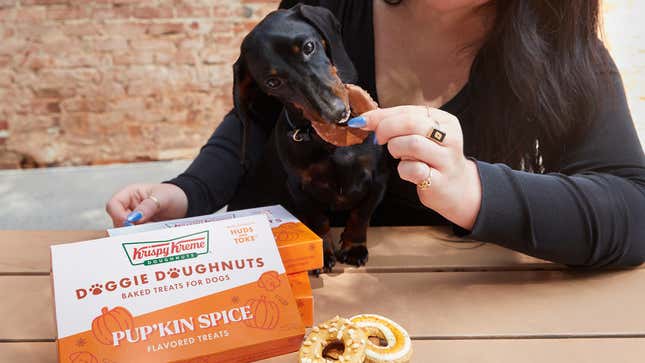 We're coming to the end of August, and we all know what that means: blistering heat, back-to-school promotions, and pumpkin spice everything. Yes, though it might seem ridiculously early for fall flavors, pumpkin spice fans and the companies aiming to please them would argue that this time of year can't come soon enough.

How To Dispose Of Cooking Grease The Easy Way After Frying
Starbucks, Dunkin', 7-Eleven, and many other chains have already debuted their fall menus, which, after so many years of earlier and earlier release dates, has become expected. But what's less predictable is the annual onslaught of products that hit the market in concurrence with the lattes, trading on "pumpkin spice" in unconventional and sometimes truly bizarre ways. Here are some of the weirdest pumpkin spice products that have been announced so far in 2023.
Busch Pumpkin Spice Dog Brew
You know the phenomenon where people start to look like their pets? Well, perhaps they also start to develop similar tastes. Busch Light has launched Busch Pumpkin Spice Dog Brew, an alcohol-free drink for dogs made with pumpkin, cinnamon, ginger, turmeric, and water. The pup-friendly beverage is sold in a four-pack and is available while supplies last at ShopBeerGear.com.
Hefty Cinnamon Pumpkin Spice Ultra Strong Trash Bags
Forget about scented candles. What you need is trash that doesn't smell like trash. Packs of Hefty Cinnamon Pumpkin Spice Ultra Strong Trash Bags will be available in September at nationwide retailers like Walmart and Target for $5.99.
Krispy Kreme Pup'kin Spice Doggie Doughnuts
To go along with the release of its pumpkin spice doughnut collection and to honor National Dog Day, Krispy Kreme is launching Pup'kin Spice Doggie Doughnuts. These baked doughnut-shaped dog biscuits will be available August 26-31 at participating shops. The treats contain ingredients like pumpkin, peanut butter, and carob, and flavors include Pup'kin Spice Original Glazed®, Pup'kin Spice Cake, Pup'kin Spice Maple Peanut, and Pup'kin Spice Cheesecake Swirl, sold in a six-count box.
Pumpkin Spice Avocado Oil Caviar
Buying a Pumpkin Spice Latte is so basic. But you know what isn't? Pumpkin-spice-flavored caviar. Chosen Foods, an avocado oil maker, is launching the first-ever caviar of its kind, made with the brand's avocado oil and a blend of fall spices including cinnamon, ginger, nutmeg, and allspice—no fish eggs included. The caviar is exclusively available on the brand's website for $19.99 while supplies last.
Pumpkin Spice Latte Body Wash
If you love pumpkin spice so much that you, uh, wish you could coat your entire body in it, now is your chance. Tree Hut has released its Café Collection, which includes a Pumpkin Spice Latte Body Wash. The seasonal wash contains notes of pumpkin, orange zest, cinnamon, and nutmeg. You can get your hands on the PSL body wash in store or online at Target, Ulta, and Walmart.
Pumpkin Spice Latte Engagement Ring
Jewelry company Angelic Diamonds has brought back its Pumpkin Spice Latte Ring, aka "The perfect ring for when it's love at first sip," per the company's website. This £10,000 custom ring features features a rose gold band that holds white diamonds and orange sapphires in a conical shape mimicking the foam atop a PSL, with emeralds studding the band down the sides. It comes in a box with a pumpkin-shaped clasp and a cardboard wrap reminiscent of the sleeve on a hot cup of coffee.
DUMPkin Spice Wipes from DUDEwipes
This April Fool's Joke made reality seems to drive home the idea that pumpkin spice products should retain the same fall fragrance as they both enter and exit the body. These wipes are exactly what you think they are: rear-end wipes "made with clove, nutmeg and other fall sh**," according to the brand. The wipes are available for purchase on Amazon for $14.99 (but please, if you use them, do not flush them).
If you're only getting your pumpkin spice fix from lattes, clearly you're missing out. In 2023, there's no limit to how this flavor can be enjoyed—so let it extend outward into every facet of your life, and spread the PSL joy to your dog, your trash, and your butt.