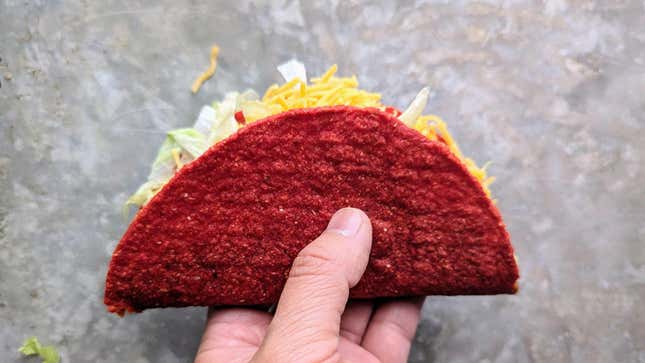 With its recent barrage of throwback campaigns, Taco Bell's been holding everyone's attention. The chain briefly resurrected the beloved Enchirito (my personal favorite) in May, and it will be reviving an item with a cult following, the Beefy Crunch Burrito, this coming August. But today, now, you can get another throwback for a limited time: the Taco Bell Volcano Menu. Fans have been clamoring for it since it went away in 2016, and it'll be available nationwide starting June 29 for a limited time.
How To Dispose Of Cooking Grease The Easy Way After Frying
The Taco Bell Volcano Menu, explained
Taco Bell's Volcano Menu is nice and tight. It only consists of three items: a Volcano Burrito ($3.99), Volcano Taco ($2.49), and Lava sauce ($1 as an add-on). If you want to try it all, a Volcano Meal costs $7.49 and includes the Volcano Burrito, Volcano Taco, and a drink.
The Volcano Burrito features seasoned rice, a double helping of seasoned beef, three-cheese blend, sour cream, crunchy Fiesta strips, and Lava Sauce, all wrapped up in a flour tortilla. The Volcano Taco, meanwhile, is pretty simple: seasoned beef, lettuce, a three-cheese blend, and Lava Sauce, all in what the brand calls an "iconic fiery red Volcano crunchy taco shell."
Lava Sauce is a spicy nacho cheese sauce that's unique to the Volcano Menu, and it's the ingredient that distinguishes these offerings from all of the other Taco Bell items. The Lava Sauce itself can be purchased as an add-on to any other item on Taco Bell's menu. It's sure to add some nice heat to a Crunchwrap Supreme or a very cheap Bean Burrito, and it's well worth the $1 upcharge.
What does the Taco Bell Volcano Taco taste like?
I'm part of the American population that has never tasted the Volcano Menu before, so I came in with a palate uncolored by nostalgia. I started with the Volcano Taco, which, for all the hubbub surrounding it, is actually pretty minimalistic by Taco Bell standards, since all it contains alongside the beef is cheese, sauce, and lettuce.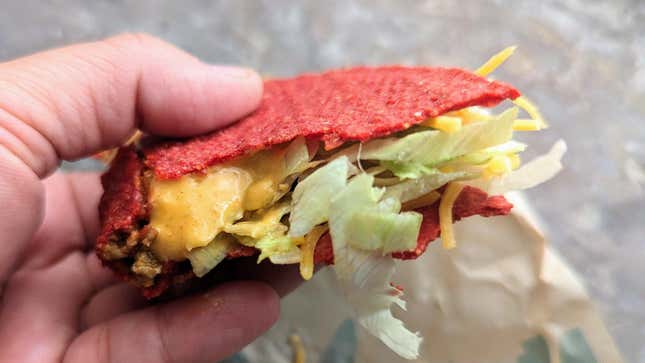 At first I was a bit underwhelmed, but when I finally got to a spot in the taco with a substantial amount of Lava sauce in it, I started to understand the appeal. While I wouldn't call the cheese sauce challengingly spicy, it does have a pleasant kick to it. And although the build on the Volcano Taco is simple, it's also perfectly designed to showcase the Lava Sauce.
It must be said that the shell really is strikingly red in a Takis sort of way, but there's nothing to worry about—it's not spicy. It's just a regular hard corn shell, and the color's just for show. If there were a combo meal of three Volcano Tacos and a drink, I'd crush that in a heartbeat (but alas, there isn't one).
What does the Taco Bell Volcano Burrito taste like?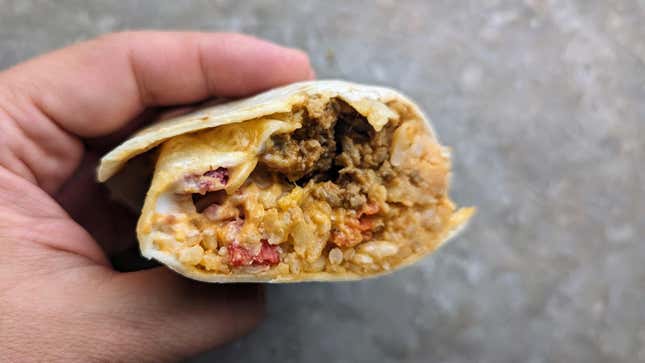 Frankly, the Volcano Burrito's construction kind of sucks. It boasts a double helping of beef, but with such a large volume of bland rice in it, the extra meat is hard to detect. My love of Taco Bell's crunchy Fiesta strips, by the way, is very conditional. If I'm eating them right away, I love them, since they're still crunchy. If you have to wait for five minutes to dig into your burrito, they're already mushy, destroying their entire appeal. The strips couldn't hold on for the few minutes it took to get my food home, and by the time I bit into the burrito, they were baby food. There's no way they'll last for anyone who orders delivery.
The real star of the show is the Lava Sauce, which unfortunately becomes lost in the starchy rice. And though I normally love sour cream in a Taco Bell burrito, in this case it only serves to further dilute the flavor of the Lava Sauce. For a menu item that's supposed to showcase its spicy sauce, the total package was surprisingly bland. Hard pass on the Volcano Burrito.
The best way to enjoy Taco Bell's Volcano Menu (while you can)
In order to best enjoy the Volcano Menu, I'd simply recommend that you add Lava Sauce to your favorite existing Taco Bell menu item. After all, the sauce is really the crux of the new menu, and it's a versatile one. The Volcano Taco is fine, but it's so minimal that it might leave you craving something more complex. Why not get creative instead?
You can think bigger. The Lava Sauce complements a Crunchwrap Supreme, makes a great add-on to the Nachos Supreme, and act as a great dipping sauce for Nacho Fries (if you can find them anywhere). Hell, it would even make Taco Bell's standard quesadilla nice and gooey with an added kick. Why restrict yourself to a few lone promotional items? There's not one thing stopping you from turning Taco Bell's entire menu into one giant lava flow, which means, of course, that you should.