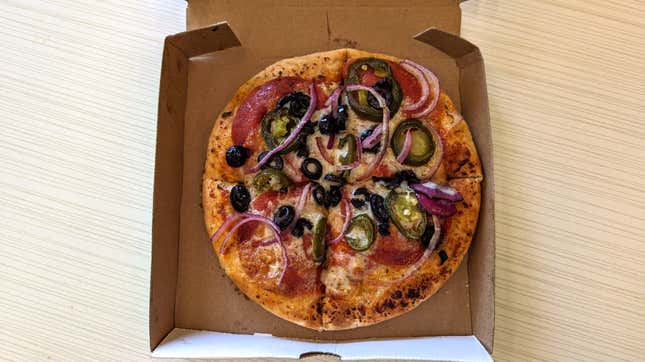 I recently found myself doing some careful menu research on Subway's website, perusing the newest sandwich offerings for those I'd eventually review on the basis of whether the chain's new on-site meat slicers improve the quality of the subs. Most of the current news surrounding Subway is related to these new slicers, as well as the chain's recent overall sales success, but as I was browsing the online menu, I found an item that felt like a typo. Did you know that Subway (still) sells pizza?
How To Dispose Of Cooking Grease The Easy Way After Frying
Subway's pizza menu, explained
Subway initially added pizza to the menu in 2006, but only some locations still carry it today. It's a personal pizza meant for individuals (no large pies here), and it has quietly sat on the menu for years; I feel like practically nobody talks about it, perhaps because there's shockingly low public awareness around it.
Subway keeps its pizza topping options pretty limited. You can get plain cheese, pepperoni, or veggie, or you can order bacon for an additional charge. If you order your pizza online, you're limited to specific veggies; for example, my location allows you to add spinach, tomatoes, green peppers, black olives, red onions, and jalapeños only. Yet if you order your pizza in person, as I did (more on that in just a moment), the employee will let you add pretty much any ingredient available in the assembly line. Or at least, I was allowed to.
How is Subway's pizza made?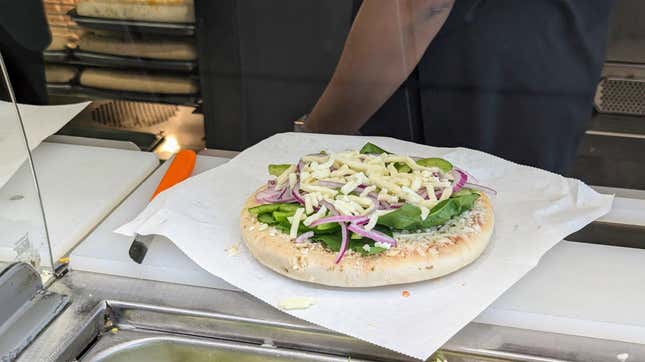 The last time I ate a pizza from Subway was well over a decade ago, and my memory of it is virtually nonexistent, dim at best. I visited my local shop to see how this odd menu item has held up after all of these years.
The base is simply a premade cheese pizza that's kept in the refrigerator, ready to bust out when someone orders one. It resembles a DiGiorno frozen pizza with a thick, doughy crust, and when you order it in person, you're given the option to customize it on the spot.
I ordered two: pepperoni with black olives, red onions, and jalapeños, as well as a veggie pizza with spinach, red onion, and green bell peppers. The employee indicated I could get whatever I wanted on it in terms of veggies—so unlike an online order, where you're corralled into a limited amount of toppings, you can ask for anything at the store. (It's fine that lettuce, pickles, and fresh cucumbers are not offered online, as these would not be my ideal pizza topping choices.)
Once it's assembled, the employee puts more shredded cheese on top to anchor the toppings, and it goes into the same oven that's used to toast the sandwiches.
How does Subway's pizza taste?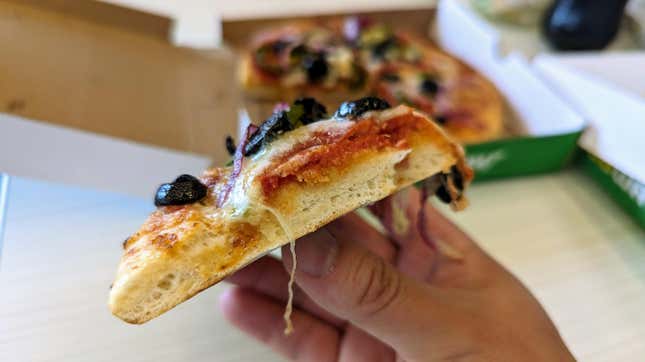 I'd say Subway's fast food pizza is better than a frozen one prepared at home, but not quite as good as that of a chain pizza restaurant such as Little Caesars or Domino's. It's more on par with convenience store pizza than anything else—which makes sense, since many Subway locations share their space with gas stations and rest areas. The crust is fluffy, doughy, and thick, so if you prefer a pan pizza, this could be up your alley.
However, even though this pizza is run through Subway's rapid convection oven for two consecutive heating cycles, the entire thing stays very soft. There's barely any chew to it and zero crispness to speak of. Between the two pizzas I ordered, I liked the veggie a little better because the toppings (spinach, red onion, green bell peppers) were noticeably fresh and light. My fiancée preferred the pepperoni. So really, it's sort of a toss-up, pun intended.
Overall, I can't quite say I'm a fan, but my fiancée insisted that she liked it for what it was—and if you're ordering pizza from a place not at all known for its pizza, you have to take it on its own terms.
Is Subway pizza worth ordering?
It seems as though everyone has forgotten about Subway's pizza, if they ever knew about it at all. As sort of a social test, I put a photo of the Subway pizza on my Instagram Stories and challenged people to identify where it was from. Of the 20 or so replies I received, guesses ranged from Pizza Hut to Papa Johns to a gas station to 7-Eleven. Only a couple people correctly guessed it was from Subway, and I suspect some of them might have been throwing out the suggestion as a joke.
I hesitate to recommend Subway's pizza over its sandwich menu, but that's because, well, it's a sandwich shop. The brand focuses mainly on its subs, as it absolutely should. The pizza is an option for a very specific set of circumstances: you're absolutely sick of sandwiches, maybe, and aren't in the mood to eat a salad, and there aren't any other lunch spots on your route, or you're in the car with a hungry, picky kid. In these cases, it's nice to know the option still exists, and it's not a half bad one—but I think people have sort of forgotten about Subway's pizza offering because, ultimately, it's forgettable.