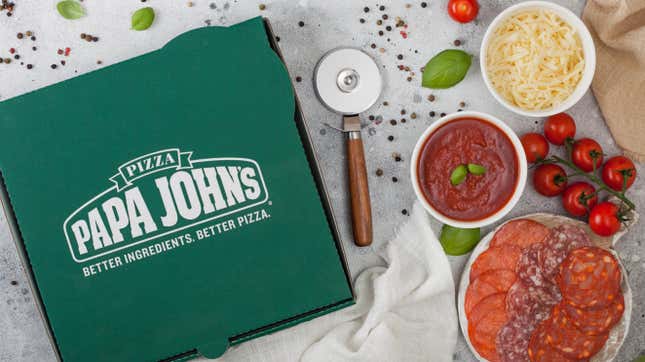 Fast food corporations are notoriously aggressive about expansion—that's how they become corporations in the first place—and in the modern landscape, it's not enough for a restaurant chain to grow within its home country. Filipino fast food giant Jollibee is in the midst of growing internationally, expanding operations in China, Southeast Asia, and the United States. Subway, too, has set its sights abroad, planning thousands of new restaurants across South Asia. It's no surprise, then, that Papa Johns is now joining those ranks and targeting one very specific emerging market: India.
McDonald's Shrinks Its Restaurant for the Digital Age
Papa Johns' growth plans in India
QSR Magazine reports that Papa Johns has announced, in partnership with PJP Investments Group, plans to open a whopping 650 new restaurants in India by 2033. That's a lot of stores. According to Papa Johns' filings, as of 2019 the chain consisted of 3,142 locations in the United States and 5,395 restaurants worldwide. The new locations in India would account for 11% of all Papa Johns units—which is wild, considering the restaurant operates in 49 other countries.
India's middle class is rapidly on the rise, which means there are plenty of opportunities for the fast food pizza chain to gain a foothold. But India's not the only new market Papa Johns has its eye on.
Other places Papa Johns plans to expand
Papa Johns has also announced some pretty ambitious expansion plans in China, since India and China are the world's two most populous countries. Last year, Papa Johns announced a partnership with private equity firm FountainVest Partners to open more than 1,350 units across China by 2040.
We're likely to see similar strategies from practically every internationally operating fast food chain in the future. Starbucks has made its eventual plans known already; the coffee giant aims to have 9,000 locations in China by 2025. KFC is aiming for exponential growth in foreign markets too.
There's no word from disgraced Papa Johns founder John Schnatter about all of this, and honestly, that's probably a good thing. But it looks like it's just a matter of time before the rest of the world catches up on the joys of garlic-flavored dipping sauce.