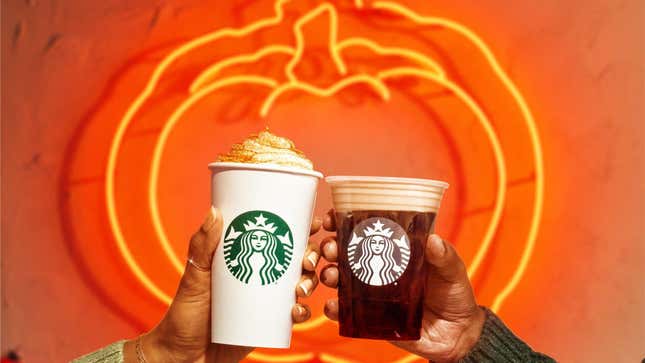 August 2023 saw some of the hottest summer days on record across the United States, which might have made the August 24 return of the autumnal Pumpkin Spice Latte seem comically premature. But heatwaves apparently didn't do a thing to dampen the success of Starbucks' most popular annual rollout—in fact, maybe people bought the #PSL aspirationally, itching for a taste of fall. Whatever the case, new data shows that foot traffic spiked at Starbucks on PSL launch day more than in any year since at least 2017. Yes, it's still that popular. Even in August.

How To Dispose Of Cooking Grease The Easy Way After Frying
The success of the 2023 Pumpkin Spice Latte launch at Starbucks
According to foot traffic analytics firm Placer.ai, the number of average visits per venue—that is, the foot traffic at each Starbucks location—spiked 26.4% on PSL launch day over a baseline of June 1, 2023. It was also the biggest single-day spike attributed to PSL launch day since Placer.ai started measuring such data, with 25.1% more traffic on this year's launch day than the Sept. 5 release in 2017. The only other year foot traffic came close to this spike was in 2019, with a 19.3% increase.
The pandemic year 2020 was, of course, the lowest slump for the brand, with a 17.6% drop in foot traffic compared to 2017 launch day. But Starbucks rebounded sharply in 2021, with visits up 8.1% compared to launch day 2017. The next year dipped slightly, but that just makes the 2023 data even more dramatic by comparison.
Why #PSL Launch Day was so popular this year
As Placer.ai notes, one potential explanation for the Pumpkin Spice Latte's success this year is its unconventional release day. The PSL has historically launched on Tuesdays, but this year's Thursday release was situated closer to the weekend, perhaps leaving customers feeling more spendy. Also, Tuesday tends to be a higher traffic day for Starbucks, since commuters are more likely to head into the office at the start of the week. Thus, a Thursday launch of the Pumpkin Spice Latte would cause the spike in foot traffic to be larger, since it's starting off at a lower point overall. Data comparing the launch day to that day of the week's average foot traffic supports this theory.
Given that the spike in average visits per venue occurred on a Thursday, Starbucks was able to ride that traffic wave into the weekend, with Starbucks visits on Saturday, August 26 up roughly 50% over the typical number of Saturday visits throughout summer 2023. And while foot traffic data doesn't indicate what exactly people ordered, it stands to reason that autumnal treats accounted for the bulk of purchases, especially since pumpkin spice fare comes in both hot and iced formats. In the heat of summer, notes of cinnamon and nutmeg can still taste refreshing. Just ask the beer industry.