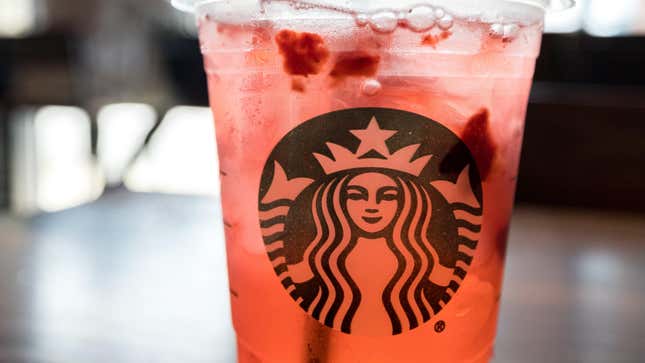 In a change that immediately pissed off some dedicated customers, Starbucks has announced that it will now be charging an extra dollar for Refresher drinks made without water, CBS News reports.

How To Dispose Of Cooking Grease The Easy Way After Frying
The additional charge was only just implemented on Tuesday, but fans of Starbucks' Refresher cold drinks are already irritated.
"Another reason why I now avoid Starbucks," commented one Reddit user in a thread discussing the change. "I know it won't happen, but if we could bring back Starbucks from circa 2010 that would be amazing."
"Starbucks making you pay an extra dollar if you ask for no ice/less ice in your refresher is the proof that they barely put anything to begin with," one Twitter user wrote. "Why would I pay more for … less ?"
The frustration isn't just shared among customers, either. Part of the issue with this surcharge is that many Starbucks employees are unsure how to apply it.
"It's such a fucking disaster," wrote one Reddit user and Starbucks barista. "One of my supervisors has been telling customers for weeks that light ice will be a surcharge for all drinks. I didn't want to correct her, so I guess she'll find out tomorrow."
"This is not accurate in the US," another user posted in response. "Light ice will still be orderable and neither light ice nor no ice will carry an upcharge. The new upcharge is only for water-based refreshers with no water, and light/extra water will not be orderable for refreshers."
Confused by the complexity of it all? We'll explain.
What's in a Starbucks Refresher?
Starbucks first launched its Refresher drinks in 2012, and they've remained a popular menu staple ever since, with a number of different flavor offerings such as the Mango Dragonfruit, Pineapple Passionfruit, and Strawberry Acai.
At their base, Refresher drinks contain flavored juices, freeze-dried fruit chunks, green coffee extract, and water. Various milk options can also be added, or the drinks can be made with lemonade. The fact that they're customizable is part of what has led to the current upcharge debacle.
Why Starbucks is charging extra for no water
Starbucks loves touting its ability to cater to customers' unique drink customizations. Some of the more creative customizations are better known online as "hacks," and in recent years certain popular ones have even led to full-fledged menu items.
Take for example the Starbucks Pink Drink, which was originally a customization and only available via Starbucks' secret menu. Eventually the Pink Drink's popularity grew to the point where it not only made its way to the regular menu but is now also available in grocery stores as a bottled beverage.
However, there's one customization that falls under Starbucks' new upcharge, and Nation's Restaurant News speculates it's because the hack was causing the business to lose money. A popular trick to get more volume out of a Starbucks Refresher order is to request it with less ice, or "no water" at all. While this creates a larger drink for the customer, it also requires the barista to use more of the base ingredients than usual to fill the cup. For that reason, the upcharge is necessary in that it accounts for the additional use of ingredients.
"This change allows us to provide a more consistent approach to customization, similar to other beverage customizations such as an adding an espresso shot or syrup which incur an additional charge," a Starbucks spokesperson told The Takeout via email.
The representative additionally clarified that Starbucks Refreshers Beverages can still be customized with light or no ice free of charge. As for the upcharge, customers are not being charged for a lack of water, but rather for additional Refreshers mix.
Starbucks has plenty of dings on its public record already, whether it's allegations of union busting or the changes to its loyalty program that made it worse for customers but better for the company's bottom line. I digress. The point here is that despite the indignation toward being charged for no water, there's at least some math and a legitimate business reason informing the change. Unlike, say, the decision to add olive oil to coffee.