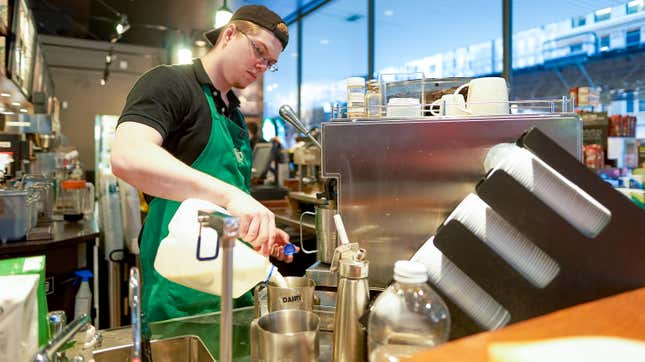 A triple-blended venti Frappuccino with drizzle, whipped cream, extra ice, Salted Butter Topping—oh, and some sprinkles on top. This is the kind of order that is likely to cause some exasperation among Starbucks baristas. Yet Starbucks leadership has identified these elaborate requests as some of the company's most lucrative opportunities.
Business Insider reports that, in an effort to streamline custom drink orders, Starbucks is headed to the patent office. As far back as July 2021 the coffee-chain filed patents for a machine designed to make creating custom drinks easier and quicker for baristas. Just recently, on January 26 and February 9, the company filed two related patents, the latter of which involved a system for creating drinks of a desired color. However, there has been no indication from the company that the machine (or machines) has even reached the prototype stage.
Despite the headaches that TikTok-inspired drink hacks might cause some baristas, Starbucks has known for some time that customization is a major selling point, a feature that differentiates the brand from its competitors. In an effort to appease both frustrated employees and the customers who demand personalization, Starbucks limited some over-the-top modifications on its app in 2019.
But in the company's 2022 fourth quarter earnings call, Howard Schultz, interim CEO of Starbucks, seemed only to celebrate customers' ability to get as elaborate as they like.
"There is no other coffee company anywhere in the world that has our ability to respond instantaneously to a customer's request about customization, nor there isn't a coffee company that has our ability behind the counter in terms of flavors, syrups, modifiers, foam, etc., to provide the customer what they want," Schultz said on the call.
Sara Trilling, executive vice president and president of Starbucks North America, also noted on the call that 60% of Starbucks beverages sold in the U.S. during Q4 were customized, contributing to $1 billion in annual net sales of drink "modifiers." Those modifiers include syrups, sauces, and other additions at the customer's request.
"Our cold customized beverage strategy is working," Trilling said. "We're seeing growth in both hot and cold and increasing customization."
Starbucks new drink machine, explained
Despite the murky details surrounding Starbucks' potentially wondrous, not quite confirmed new machine, the patent filings optimistically detail its many benefits for both customers and employees.
The most recent patent filing notes the machine will help alleviate "arm fatigue and potential injuries" for baristas who often have to make hundreds of drinks per shift and use manual syrup pumps to do so. Baristas are also expected to memorize 80 to 100 drink recipes and their various customizations, notes the patent filing, which can create complexity for employees and can limit the store's overall output. The custom beverage machine is allegedly pre-programmed with many drink recipes, already equipped to dispense the proper amount of each ingredient in the proper order, all from one device.
The patent also describes an auto-cleaning cycle that eliminates the need for baristas to spend time cleaning and refilling pumps manually.
On the customer end, the benefits of this machine could mean shorter wait times and even more potential for order customization, like having a drink made to the exact color you prefer. This could play out in a number of ways; maybe customers will be able to ask for a drink with an indigo-colored base and gold toppings, or choose colors from a wheel, or use a reference photo and ask for a drink of that hue.
Other potential features for the drink dispensing machine include voice recognition and wifi connection so that new recipes can be programmed into the machine quickly. (Though we know how voice recognition often turns out.)
"Starbucks takes a customer-centered approach to beverage innovation and is always looking for new ways to delight our customers as part of the Starbucks Experience," a Starbucks spokesperson tells The Takeout. It doesn't sound like the company is ready to talk about these innovations just yet, but when they arrive, they could mean a fundamental shift in how we take our morning caffeine.