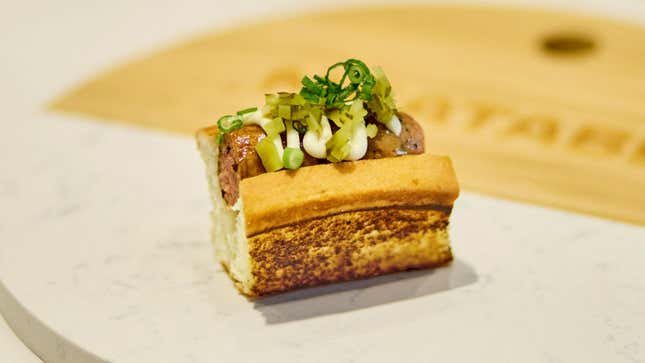 The momentum around plant-based meat substitutes has been slowing for a while. The downward slide is due to a number of factors: market saturation, reluctance from chefs, faded novelty, or just the fact that people don't always like the way these meat substitutes taste. But as the interest around plant-based meat options continues to plummet, investors have begun to look elsewhere.

How To Dispose Of Cooking Grease The Easy Way After Frying
Jacob Cohen, analyst for The Hustle, writes that venture capital funding for plant-based meat startups has absolutely tanked this year. The first quarter of 2023 saw $75.2 million raised for companies in this sector, which pales in comparison to 2022's first quarter, which brought in $703 million. And let's not forget about the particular struggles of Beyond Meat, whose stock is down 76% since its initial public offering in 2019.
So why do investors have a glimmer of hope in their eyes? Because they're turning away from plant-based meat and instead embracing lab-based meat.
Lab-grown meat is poised to be the next big thing
There's been a lot of interest in this new type of meat lately, which is alternatively called lab-grown, cell-cultured, and cultivated meat. Simply put, it harvests cell samples from actual living animals (no cruelty required), then grows that muscle tissue by replicating the cells in tanks. Mmm... future meat.
A company called UPSIDE Foods recently received the green light from the USDA, allowing it to sell its lab-grown chicken product in the United States. Currently UPSIDE chicken is currently only available on a tasting menu at Bar Crenn in San Francisco.
GOOD Meat, another cultivated chicken purveyor owned by Eat Just (the company that also produces JUST Egg), is serving its version at China Chilcano by chef José Andrés, in Washington D.C. Investors are champing at the bit to make projects like UPSIDE and GOOD the next big thing, even though most of them probably haven't even tasted the product yet.
The Hustle notes that while plant-based meat companies raised $75.2 million in Q1 2023, lab-grown meat companies raised $356 million in funding. The numbers being thrown around in this space are vast: Cultivated pork startup Meatable recently raised $35 million on the promise that it can "produce real muscle and fat cells in only eight days."
Where to taste lab-grown meat
Aside from traveling to either coast to sit through an entire tasting menu, diners have other options if they want to taste cultivated meat for themselves. Singapore was the first country to approve of the consumption of lab-grown meat by GOOD Meat in 2020. Granted, that's a pretty long plane ride to try meat grown in a tank, but if you needed an excuse for a vacation, you've got a (weird) reason to book one now.
Lab-grown meat won't have wide distribution for some time, but all signs point to continued experimentation with cultured animal cells. There are all sorts of ways to design cruelty-free food, but since this latest technology means consumers wouldn't have to sacrifice any of the flavor and texture of the real deal, it's no wonder investors are getting excited.